New York City
Congestion pricing's next obstacle? The exemption debate.
A panel will consider who won't have to pay the new tolls – an endeavor some members said could be a slippery slope.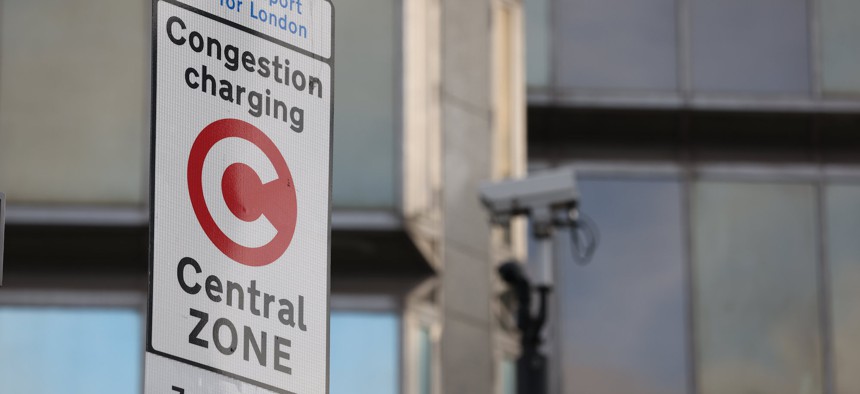 After years of moving at a tired crawl, New York's congestion pricing program is finally picking up speed.
A draft of the environmental assessment for the road tolling program in Manhattan below 60th Street is expected to be released soon, and the six members of the Traffic Mobility Review Board, which will recommend the specifics of the fee structure, have all been named. They included five business and real estate leaders approved by the Metropolitan Transportation Authority board, and Transport Workers Union International President John Samuelsen, who was named to the board by New York City Mayor Eric Adams.
Congestion pricing is expected to raise $1 billion in annual revenue once it's implemented, which will be used to finance crucial infrastructure and accessibility upgrades in the MTA's capital plan. Few disagree that that revenue is needed by the cash-strapped MTA. But a lot of people don't want to pay for it.
Even among proponents of congestion pricing – or people who have begrudgingly accepted that the tolling program is coming to New York City – there are those who argue that certain vulnerable groups should be exempt from paying. At the 18 hours' worth of public hearings held on the program last fall, exemptions were argued for on behalf of motorcyclists, seniors, outer borough and New Jersey residents, first responders, commercial truckers, people traveling to medical appointments and more. Those calls came from residents and lawmakers too, including New Jersey Gov. Phil Murphy, who wanted Garden State drivers credited not just for trips to Manhattan via the Hudson River tunnels but also for the George Washington Bridge to avoid "double taxation."
The law that created the program included only three exemptions – for emergency vehicles, vehicles carrying people with disabilities and for residents of the congestion zone who earn $60,000 or less annually. (The latter would be repaid for the cost of tolls in a tax credit.) The Traffic Mobility Review Board was tasked with considering any other exemptions, though it's possible their recommendation will be that no further carve-outs or a very limited number should be included.
Transit advocates were also pushing for fewer exemptions, arguing that the road to carve-outs and special dispensations to forgo the congestion pricing toll was a slippery one. MTA officials have often pointed out that the more exemptions that are created, the higher the toll will be for those who have to pay it, because the program is required to fund $15 billion in capital improvements. At least a couple members of the new Traffic Mobility Review Board were well aware of the slippery slope of offering exemptions to congestion pricing. But when another round of public hearings on the program kicks off later this month, the calls for exemptions – calls Adams himself has made – will likely only grow louder. "I think they're going to be under tremendous political pressure," said Nicole Gelinas, a senior fellow at the Manhattan Institute. "There's going to be a lot of sympathetic voices. You're going to have people say, 'I have to drive my kids to a special school in Manhattan. I have to go get medical treatment in Manhattan. I have to drive to visit my elderly parents.' Everybody is going to have a truly sympathetic point of view. But if you start offering these exemptions, then you basically don't have a program."
Kathryn Wylde, the president and CEO of the Partnership for New York City and one of the members of the Traffic Mobility Review Board, told City & State that she wanted to limit exemptions, echoing advocates' argument that including too many could defang the program. "The statutory goal of the program is to be able to fund a billion dollars a year of the MTA's capital program, which is essential for the modernization of our mass transit system," Wylde said. "Every exemption means that those who are paying will have to pay more." MTA officials estimated that the peak toll could range from $9 to $23 for E-ZPass users and $14 to $35 for people paying by mail.
Wylde, who in a 2019 op-ed said that those clamoring for exemptions "need to chill out," mentioned a few issues that she considered "legitimate questions," including whether a florist from Queens who had to enter the congestion zone multiple times in a day, for example, should be charged multiple times. The congestion pricing law required that passenger vehicles will only be charged once per day for entering the zone. Wylde also mentioned taxis and for-hire vehicles, which since 2019 have faced a congestion surcharge and are therefore "already taxed."
In addition to Wylde and Samuelsen, the Traffic Mobility Review Board includes Chair Carl Weisbrod, the former director of the New York City Department of City Planning; John Banks, the former president of the Real Estate Board of New York; Scott Rechler, CEO of RXR Realty; and MTA board member Elizabeth Velez. None of the members live in the congestion zone, which spans Manhattan below 60th Street.
The largely real estate and business-aligned makeup of the board was quickly noted when the members were named. "There are no social justice warriors on the board, that's for sure," said Danny Pearlstein, policy and communications director at Riders Alliance. "But on the other hand, there's a pervasive right-wing trope that whatever is happening in the news today is the last straw and after that everyone's going to leave New York. Real estate isn't leaving New York. They're here forever, and they have our future in mind."
Samuelsen, meanwhile, remarked that while he gets along with many members of the board, he will be the only voice representing working-class New Yorkers. "Let's be honest, not one of them has a loyalty to blue-collar New York. I do," Samuelsen said. "And it's obvious now that the mayor does, as evidenced by placing me into this position."
Adams has been a proponent of congestion pricing, but during the mayoral campaign and more recently, he has revived the call to ensure that congestion pricing isn't a burden on low-income people who have to drive into the city or people going into the zone for chemotherapy treatments, for example. A spokesperson for City Hall declined to comment further on potential exemptions.
A study by the Community Service Society reported that only 4% of outer borough residents with incomes below the federal poverty level rely on a car to travel into Manhattan for work. It also found that of an estimated 481,000 low-income essential workers who commute into Manhattan from the outer boroughs for work, only 15,500 commute by vehicle.
Samuelsen, Adams' appointee to the Traffic Mobility Review Board, told City & State that it was premature to have a conversation about exemptions. (Weisbrod, who chairs the review board, said the same thing in an email.) But Samuelsen said that while he's open to the possibility of including no further exemptions beyond what's already laid out in the law, he would fight to include a potentially large class of workers if that conversation begins. "For me, it's got to be all or nothing. If there's none, there's none. But if there's going to be a conversation about exempting anybody, then I'm going to ensure the blue-collar workforce is included in that conversation," Samuelsen said. "I don't intend to proactively seek exemptions. But if others do, it's going to be met with a response in defense of the blue-collar essential workforce that carried New York City through the pandemic."
A final decision on the environmental assessment for congestion pricing from the Federal Highway Administration is expected in January, and if it gets the green light, the Traffic Mobility Review Board could begin their proceedings to make recommendations on pricing and potential discounts or exemptions.
The review board members' reactions to public comments at hearings set to begin later this month could be the first sign of whether the exemption debate will be a prolonged back-and-forth or one that's decided quickly. "I think it depends on whether any unforeseen concerns come out of the hearings at the end of August," Wylde said, though she expressed a desire to limit exemptions. "I think that if we hear any legitimate issues that justify an exemption, I think that will make an impact."
Despite many delays and setbacks to implementing congestion pricing, transit advocates were hopeful that a prolonged debate over exemptions won't slow down the program any further – even if other impediments like lawsuits or a change in the federal administration could. "I think litigation is the biggest concern," Pearlstein said, though he added he was cautiously optimistic that a judge would allow the program to proceed while a potential case was pending.
State Sen. Leroy Comrie, who has warned against further exemptions, said: "Unfortunately, this is New York, and when people don't get their way, they go to court."