Transportation
We watched 18 hours of congestion pricing hearings so you don't have to
Public speakers had concerns about charging too much, but much public testimony landed in the tolling program's favor.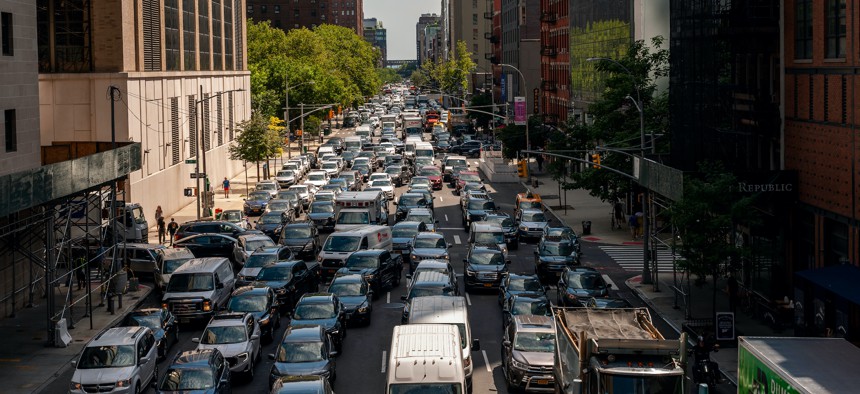 After nearly 18 hours, hundreds of public speakers and an admittedly small number of technical glitches, the first series of virtual public hearings on congestion pricing is complete. The plan to toll vehicles in Manhattan's Central Business District – south of 60th Street – has languished for two years despite passing the state legislature in 2019. In those years, it has at times seemed like the headlines declaring that New York City would be the first in the nation to implement such a scheme would be in need of re-writing. It's been a long two years for advocates of congestion pricing, the goal of which is to lower congestion, and thus air and noise pollution, in the heavily clogged zone and raise $15 billion for the Metropolitan Transportation Authority to fund transit improvements in the process. 
Still, the completion of this first round of public hearings is the most action congestion pricing has seen since 2019. Ten virtual public hearings that wrapped up on Wednesday night offered residents of New York City, suburban counties, New Jersey and Connecticut the chance to comment on the plan. Progress on implementing congestion pricing ground to a rush hour-like standstill under the Trump presidency, whose Federal Highway Administration declined to give the state necessary guidance on what kind of environmental study would be required to jumpstart the program. The MTA now has that guidance, but laid out a timeline that would see congestion pricing implemented at the earliest in 2023, two years after it was originally slated to start. 
If you missed the chance to comment on the program in the last two weeks, have no fear. There is expected to be plenty more public comment periods through future phases of the project. That includes Thursday night, when a series of three public hearings focused on the impacts of congestion pricing on environmental justice communities – described as including low-income and minority populations – kicks off.
In the roughly 18 hours of public comment so far, three general groups of people have emerged. There are those who want to see the tolling program implemented as quickly as possible, and with zero exemptions. There are those who support congestion pricing but who argue that certain exemptions – for Manhattan residents, for first responders, for motorcyclists and more – are crucial. And then there are those who don't want to see it implemented at all. The vast majority of commenters seemed to fall in one of the first two categories. While the public hearings were broken up geographically – Thursday night for residents of the Central Business District, Friday morning for New Jersey, for example – members of each of these cohorts showed up at virtually every hearing.
Across the first 10 public hearings, these are a few of the noteworthy or oft-repeated ideas we heard, summed up in some standout quotes. 
Congestion pricing can't come fast enough for some
"Hearing that you're still going to be in the planning and public comment phase in 2023 made me want to cry." – Charlie Todd, a resident of Hell's Kitchen.
"You know you have a big problem when your idea is so overdue that the Wikipedia page about it is too long to read." – Miles McManus, a resident of the Central Business District.
For supporters like Charles Todd of Manhattan, congestion pricing can't come fast enough. New York City has seen the havoc that extreme weather can wreak on its residents and infrastructure – in multiple events this summer alone. And the environmental benefits of lowering congestion and vehicle use are obvious. But the timeline laid out by the MTA to complete the environmental assessment required by the federal government and determine a tolling structure and any possible exemptions has left supporters frustrated. 
No exemptions … with a few exceptions.
 "We should create exemptions for seniors with mobility impairments, people with chronic, terminal and other serious medical conditions, and those with temporary disabilities for whom public transportation is inaccessible." – Assembly Member Linda Rosenthal, who represents the Upper West Side and Hell's Kitchen. 
"There should be no exemptions. Definitely not for the NYPD." – Michael Streeter, Brooklyn resident. 
A somewhat popular argument among legislators who spoke up at the hearings was that congestion pricing is absolutely necessary – an imperative for fighting climate change, reducing car crashes and funding the MTA. But some are wary of charging their constituents too much. They suggested discounts for people living in the different geographic areas and for people who can't already access public transit. The list of people asking for exemptions is endless, including residents of Manhattan, residents of Staten Island, motorcyclists, commercial truckers and many, many more. Two exemptions are baked into the state legislation authorizing congestion pricing, including a carve-out for emergency vehicles and vehicles carrying people with disabilities. Residents of the tolling zone who earn less than $60,000 per year would also be eligible for a tax credit. Fervent supporters of congestion pricing said that no other exemptions should be granted. The more carve-outs, the higher the toll will be for the people who are subject to it. Estimates for a peak hour toll range from $9 to $23 for E-ZPass users.
How rich are car-owners really? 
"The idea that local motorists are rich elites is laughable." – Rene Luciano, a motorist and commercial vehicle driver, who is a resident of the Bronx. 
In New York City households that own cars, the median income is more than twice as high as in car-free households, according to data from the 2015 American Community Survey 1-Year Estimates. Research from the Community Service Society in 2017 found that only 4% of outer-borough residents commute into Manhattan via car. Still, concerns about congestion pricing burdening low-income and working class commuters were raised at these hearings. While the revenue from congestion pricing is set to fund public transit improvements – including in outer borough transit deserts – some speakers wanted to see commitments for how exactly that money will be used to make transit a more efficient option for them than cars. 
Go big or go home
"I think that the current plan is too Manhattan-focused and that we actually should consider congestion pricing that encompasses the outer boroughs." – Chris Hayward, a Brooklyn resident. 
Congestion pricing is undoubtedly a controversial program, but for some it's not monumental enough. Several commenters suggested that the tolling zone should be expanded beyond the Central Business District, capturing all of Manhattan, or even other boroughs. If the program is really going to reduce congestion and improve air quality, after all, why shouldn't other boroughs reap those benefits? Others specifically raised concerns about neighborhoods just outside the congestion zone being overwhelmed by cars parking there to avoid being tolled. But given the time and trouble it's taking to tax drivers south of 60th Street, we'd be surprised to see the MTA take on anything beyond the current congestion zone.