Opinion
Opinion: The removal of women and gender-expansive people from Rikers Island takes on a new urgency
After 11 deaths at the city jail, the population's exit from the Rose M. Singer Center needs to be prioritized.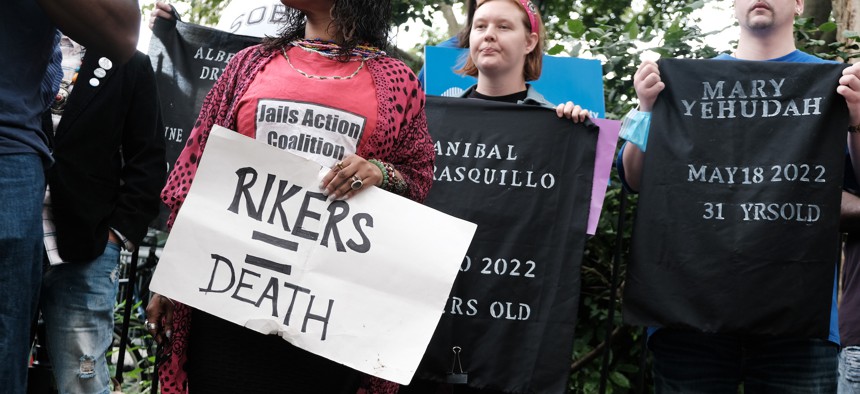 Eleven people detained at Rikers Island have died so far this year, including three in a single week at the start of the summer. Among them is Mary Yehudah, who had been at the Rose M. Singer Center – the women's jail known as Rosie's – for four months when she reportedly overdosed. According to her lawyer, the 31-year-old had no felony record and had been seeking substance use and mental health treatment.
While the jail complex is legally required to close by 2027, these deaths bring new urgency to get people off Rikers Island sooner. In June, we joined nine prosecutors, corrections officials, and formerly incarcerated people urging the city to start by moving the roughly 300 women and gender-expansive people off Rikers, people who are now scheduled to be among the last to leave.
This population is uniquely vulnerable in jail and has distinct needs that are largely unmet in a system that was primarily designed for men. According to a report by Columbia University and the University of Texas, 82% of women at Rikers are treated for mental illness, a rate two-thirds higher than that of men. Roughly 70% are parents and nearly 87% have children under age 18.
Alternatives to incarceration providers reported that as many as 93% of participants diverted from Rosie's had experienced physical, sexual, or emotional violence. Nationally 77% of women in jail are domestic violence survivors. The afore-mentioned report also found that women had lower rates of recidivism than men in New York City.
For men, the city's plan to shut Rikers and replace it with four borough-based jails is a significant improvement. It would reduce the incarcerated population and replace dangerous facilities with modern ones in local communities. 
For women, it is a partial setback. Rosie's, a standalone facility for women and gender-expansive people, would be replaced by a new Kew Gardens, Queens, jail that has shared spaces and staff with men. Given the high numbers of domestic violence victims, this risks retraumatization and potential exposure to one's own abuser. Additionally, Harlem, Brownsville and East New York in Brooklyn, and parts of the Bronx sent the most women to Rosie's over the past five years. Families from these neighborhoods would face long commutes to visit loved ones in Kew Gardens.
Furthermore, when there are few women in a male-dominated jail, experience tells us that it is a men's jail, with women as an afterthought. 
New York City should prioritize these mothers, daughters and sisters. A recent report by the Lippman Commission estimates that the population at Rosie's can be safely reduced to under 100. At the height of the pandemic, criminal justice stakeholders successfully collaborated to bring the number of incarcerated women down to 149. With careful planning and investments in community-based services tailored to women and gender-expansive people, the number of women New York incarcerates can shrink even further. 
For those who remain, the city should transform the closed Lincoln Correctional Facility in Harlem into a "Women's Center for Justice," a panel of experts testified before the City Council's criminal justice committee in June. This would be a more readily available, centrally located site that separates incarcerated women from men. The experts estimated that renovating Lincoln would save the city time and millions of dollars compared to new construction at Kew Gardens.
The proposed center should use a new approach that focuses on the unique needs of women and gender-expansive people. The experts recommended that the center's programs and reentry services should be operated largely by nonprofits, providing a more therapeutic setting that focuses on mental health, connections to family and community-based services, and skills building. By reducing harm, rather than exacerbating it, this can be a place that helps break the cycle of incarceration. 
This goal is attainable. In the face of dire conditions in state youth prisons, New York enacted the Close to Home initiative in 2012. It removed nearly 500 youth at the time – more than the number of women at Rikers – from brutal state facilities and placed them in small residential programs run by nonprofits in the city. Under Close to Home, young people receive therapeutic services in small group homes, rather than large, punitive youth prisons. The small facilities had remarkable educational and treatment outcomes, and arrests of young people declined after Close to Home was enacted.
This is a critical period for our city to save lives on Rikers and address public safety. We can and should meet this moment with a new model of care and justice for women. 
Jennifer Jones Austin is CEO of the Federation of Protestant Welfare Agencies and former chair of the New York City Board of Correction. Vincent Schiraldi is Senior Fellow at the Columbia Justice Lab and former commissioner of New York City's correction and probation departments.
Powered By
NEXT STORY: Opinion: A potential party raid is brewing ahead of the Aug. 23rd primary