Criminal Justice
Nearly 70% of detainees at Rikers women's jail can be safely released: advocates
Criminal justice advocates and experts called on the city to study how it can free women and gender-expansive people housed at the Rose M. Singer Center following the death of inmate Mary Yehudah in May.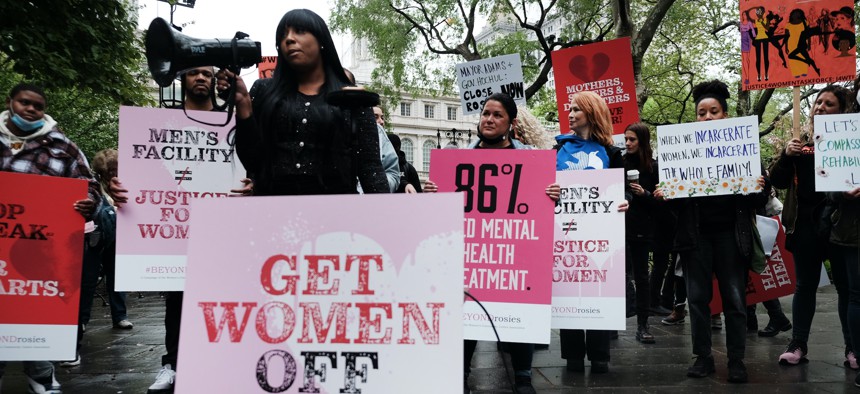 A coalition of criminal justice advocates and experts are calling on New York City officials to study ways to safely release women and gender-expansive people being held at the Rose M. Singer Center on Rikers Island, where they said the population has nearly doubled over the past two years and more than 80% of detainees have a mental illness.
The proposal was accompanied by testimony from nine criminal justice experts, including former Manhattan District Attorney Cyrus Vance and former Department of Correction Commissioner Vincent Schiraldi, at a City Council Committee on Criminal Justice hearing Tuesday. The plea comes a little over a month after a female inmate, Mary Yehudah, became the fifth detainee of the island jail complex to die. Yehudah, 31, overdosed on drugs at the Rose M. Singer Center for female inmates, the Daily News reported. 
"This population is uniquely vulnerable to sexual abuse and retraumatization in jail, has distinct needs, and is less prone to violence and recidivism than men," Schiraldi testified on behalf of the group. "The majority of women detained in New York City's jails are primary caregivers and are more likely than men in custody to have primary child-rearing responsibilities."
The groups behind the report – the Women's Community Justice Association, the Independent Commission on New York City Criminal Justice and Incarceration Reform, the Data Collaborative for Justice at John Jay and Center for Court Innovation – called on the mayor's office to form a "population review team" to examine each detainee of the Rose M. Singer Center to determine whether they are a good candidate for release. The groups laid out a series of recommendations, including clearing COVID-19 case backlogs and offering expanded diversion programs, with housing options, for detainees with mental illnesses. By following the guidelines, they predicted the city could reduce the population at the women's jail from about 300 detainees to 95. The city was able to decrease the number of women and gender-expansive people housed at Rikers to 149 in April 2020, at the onset of the pandemic, according to the report, which notes "there is no evidence these releases led to any significant increase in crime."
The group also reiterated calls made previously to relocate female and gender-expansive detainees to the Lincoln Correctional Facility in Harlem, rather than a new jail planned for Kew Gardens when Rikers is closed. Advocates have raised concerns that the Kew Gardens facility would not be centrally located and would house men. Lincoln, which closed in 2019, is also close to social service providers and faith-based organizations in Harlem, Schiraldi said. In May, a group of state lawmakers, including state Sens. Julia Salazar and Cordell Cleare, also sent a letter to New York City Mayor Eric Adams and Gov. Kathy Hochul asking them to reconsider the move from Rose M. Singer to Kew Gardens. The proposal would require the state to agree to allowing the city to use the land Lincoln is housed on, former deputy director of the Mayor's Office of Criminal Justice, Dana Kaplan, told Crain's in May.