New York City
Chaos at Rikers is partly due to COVID-19 quarantines
So why is the complex quarantining people for longer than the CDC recommends?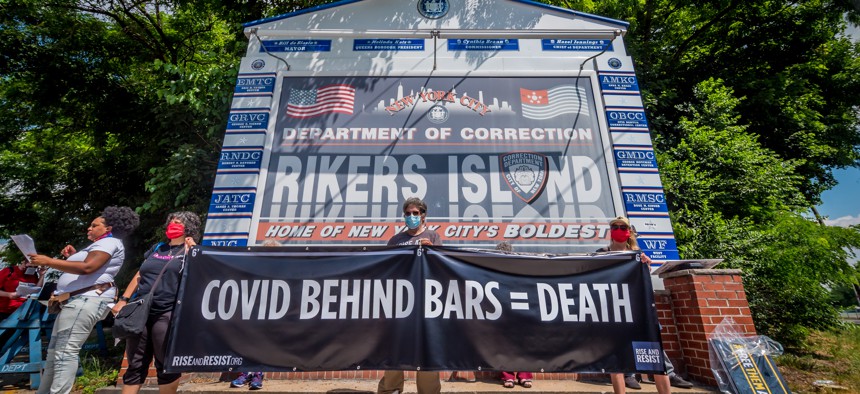 Detainees at the New York City Department of Correction's Rikers Island admissions center are subjected to overcrowding, violence, understaffing and unsanitary conditions that have become increasingly severe in recent months, Board of Correction members who recently visited the facility said at a meeting this week. While the DOC has attributed the overcrowding, in part, to COVID-19 protocols requiring all newly admitted detainees to quarantine for at least 10 days, the policy is outside the scope of standard recommendations from the Centers for Disease Control and Prevention. What's more, many detainees languish in squalid conditions for longer than 10 days before being released into general population housing, BOC members said. 
The CDC, in its correctional quarantine policies updated on May 3, recommends "maintaining 10-day quarantine periods as much as possible for all residents and staff in correctional and detention facilities who have been potentially exposed or come into close contact with someone with COVID-19 (emphasis ours)" as a standard approach. The CDC suggests a modified approach, dependent on community-alert and spread levels inside the facility, that includes 10-day quarantines only for "exposed residents and staff not up to date on their COVID-19 vaccines and who have not recovered from a prior SARS-CoV-2 infection in the last 90 days." The agency also recommends quarantined detainees be released into the general population if they have been there for at least five days and test negative for COVID-19.
According to the CDC, all newly admitted detainees who test negative and have not been exposed "can join the general population unless the facility decides to implement stricter measures due to lower risk tolerance," CDC spokesperson Jade Fulce said. 
The CDC leaves the policy open to interpretation by individual correctional agencies, depending on their specific needs. However, it notes that residents' mental health, access to services and programs, safety and space constraints inside the facility should also be taken into consideration.
"Quarantine protocols for staff may also need to be modified during case surges to ensure adequate staff coverage to maintain safety, security, and essential services in the facility," the CDC policy states.
All newly admitted Rikers detainees are tested upon arrival, the DOC said. Newly admitted Rikers detainees who refuse to be tested or test positive are transferred to a separate housing area at the island's West Facility, the DOC said. As of Wednesday, 18 Rikers detainees had active COVID-19 infections, according to Correctional Health Services data. The positivity rate for new admissions as of Wednesday was 2%. Vaccination levels among detainees, however, are lower than the 79% rate city-wide, at 42%. The city's COVID-19 alert level is currently "high."
The Department of Correction, in response to questions from City & State, said that "CDC guidelines for the management of COVID in correctional facilities give wide latitude to jurisdictions to implement different COVID-mitigation strategies. Throughout the pandemic, (Correctional Health Services) has implemented COVID testing and quarantine strategies that are responsive to the local epidemiology in the jails," while also noting that quarantine protocols are "not the primary determinant of how many people are housed there."
When asked whether the BOC's claim that people are housed in the admissions facility longer than the 10-day quarantine period is true, the DOC said "No. The time spent in new admissions may vary."
The New York City Department of Correction during the pandemic moved its intake facility from the Otis Bantum Correctional Facility to the Eric M. Taylor Center, and in recent months, conditions have become increasingly abhorrent, BOC members said Tuesday. 
"I've been to a lot of jails and many, many visits, but (the Eric M. Taylor Center) was really frightening," Board Member Bobby Cohen said during the Tuesday meeting, following his trip with other board members to Rikers on June 10. "I've never seen something as chaotic as this in the department . . . there were 100-plus people crowded into pens without basic, basic services. Filthy pens without capacity to urinate in a urinal."
Since March, there has been a 22% increase in the number of detainees housed at the Eric M. Taylor Center, and incidences of violence have spiked, according to BOC statistics. The average rate of slashings and stabbings, along with use of force, are higher there than within the department overall, the BOC reported. In May alone, three detainees were hospitalized following incidents of violence at the Eric M. Taylor Center, BOC member Freya Rigterink said. Scans that can detect if a detainee is concealing contraband inside their body using x-ray technology have also decreased significantly. Of the approximately 1,200 people admitted per month, only 40 were scanned in May, Cohen said. In the first 12 days of June, the DOC conducted only seven body scans on newly admitted detainees, he said. "You're trying to prevent drugs coming into the facility and weapons, but you're doing nothing, you're doing very little about it. You have a great tool, and it's not being used," Cohen said.
When asked about the issues at the admissions center in Tuesday's meeting, DOC Commissioner Louis Molina cited CDC quarantine policies and inadequate staffing levels. 
"As any new guidance emerges from the CDC, we will evaluate the department-wide operations, including the intake process," Molina said, attributing the understaffing to a lack of funding. "It's a problem to run a jail that's not funded, and that's why we have unstaffed posts."
At the Cook County Jail in Chicago, detainees are also quarantined for 7 to 10 days, a spokesperson said. The New York State Department of Corrections and Community Supervision does not quarantine newly admitted prisoners who test negative at local jail facilities prior to being taken into state custody. Those who refuse testing must be quarantined at the local jail facility for 10 days, a DOCCS spokesperson said.
Council Member Carlina Rivera, who chairs the criminal justice committee tasked with overseeing Rikers, said she supports the DOC's quarantine policy, but would take "immediate action to prioritize moving all people who complete their quarantine to their housing unit as quickly as possible."
"If (Correctional Health Services) believes the quarantine period is necessary to prevent the spread of COVID in our jails, then we should be focusing on solving the root causes of the conditions discussed at this week's BOC meeting: that DOC is currently unable to transfer people out of (the Eric M. Taylor Center) after their quarantine period is complete in a timely manner," Rivera said in a statement. "These delays are leading to the overcrowding, which is leading to the inhumane conditions."
Public Advocate Jumaane Williams repeated his call to close Rikers following the BOC findings, and said that "aligning with CDC guidance would be an improvement, but so much more is needed to address these crisis conditions."