Opinion
Opinion: Why Kathy Hochul will win
Tightening polls are to be expected, but New York's first female governor has the résumé to continue to lead in a deep blue state.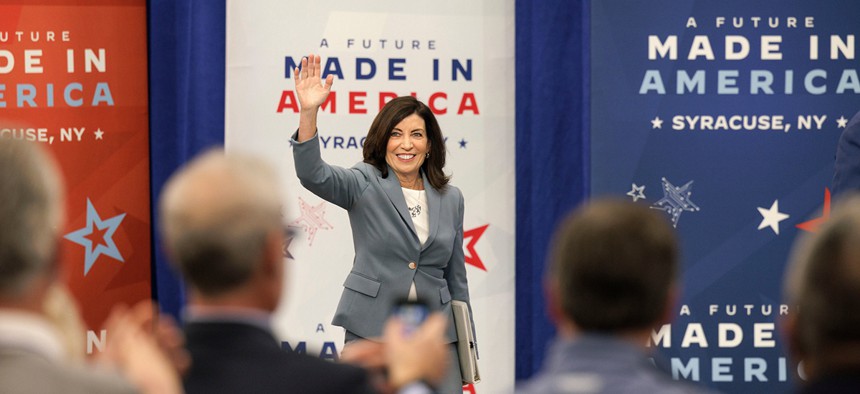 Click here to read an opposing commentary by Republican New York City Council Member Joseph Borelli on why Rep. Lee Zeldin will win in November.
Recent polls have shown a tightening race for governor of New York, shocking political pundits and providing a surge of energy to Republican voters with over a week to go before the election.
But for those of us who have worked in politics and campaigns for a long time, a bounce in Republican polling was to be expected. Races almost always tighten right before Election Day, and it was always unrealistic to expect Democrats to win by similar margins at the height of then-President Donald Trump's daily displays of craven corruption and incompetence. In any case, the fact remains that every single poll not paid for by the Republican nominee or his allies has shown Gov. Kathy Hochul winning the election – even in the face of millions spent on racist, fear-mongering attack ads from far-right dark money groups. New York has an inherently Democratic voting bloc: In a state where there are 2.3 enrolled Democrats for every Republican, there is almost no viable path to victory for Zeldin and the far right.
But looking beyond the numbers, Hochul's résumé gives her a clear edge in this race: She has demonstrated an ability to work across different constituencies and has a proven track record on key issues compared to her extremist opponent.
Hochul took on the job of governor amid her predecessor's scandal – and in the middle of a pandemic. In her first term, she faced rising costs and inflation, continuous attacks from the far right on our democracy and a tragic mass shooting in her hometown. In the face of these challenges, Hochul had the opportunity to show New York what her governing style would be – and it carried none of the bombast, arrogance and self-serving attitude of the previous administration. Hochul was prepared to do the work, and do it quietly. And an electorate wary of showmen in office paid her back in kind, choosing her as the Democratic nominee by an overwhelming majority.
Now, her job is to unite the party and continue the retail politics that she was known for as lieutenant governor. Her path to victory is clear, should she choose to take it – and that means building a coalition that spans Latino voters being courted by Zeldin, progressives disenchanted after primary and voters who refuse to be treated as a monolith. That also means standing firm on issues that appeal to the entirety of the Democratic tent, from passing a universal fair wage for tipped service workers to expanding health care access across the state.
If she does this, it won't matter what attacks Zeldin lobs her way. She can win, and she already has a record to stand on that will help her.
In her first term, she signed nation-leading legislation to protect patients' rights and empower reproductive health care providers in anticipation of the U.S. Supreme Court overturning Roe v. Wade and the constitutional right to an abortion. Hochul built a coalition of labor and business interests to secure the nation's largest chip manufacturing facility outside Syracuse, which is projected to create 50,000 jobs. She helped establish a hub for battery technology at Binghamton University, which will play a key role in building the next generation of the Empire State's clean energy industry – supercharging economic development and job creation along the way.
Hochul has also made protecting New Yorkers from the scourge of gun violence a top priority, working with communities most affected by gun violence to pass landmark legislation to immediately strengthen the state's gun laws and close the critical loopholes that shooters in Buffalo and Uvalde, Texas, exploited. It was a continuation of the organizing and retail politics she excelled at as lieutenant governor, where Hochul established a reputation for building relationships in her travels across New York.
In the face of sustained threats to our democracy and civil rights, as well as high gas prices and the effects of inflation, voters are looking for stable, steady leadership. Zeldin is not that candidate, and no matter how much the polls have tightened, the fact that he is still several points behind Hochul proves it.
Voters in New York have rejected the conspiracy that Trump won the 2020 election, and the violent insurrection on our U.S. Capitol that followed; Zeldin has promoted these lies, continued to back Trump and rejected efforts in Congress to investigate the insurrection that led to as many as eight deaths.
As Republicans threaten to institute a wildly unpopular nationwide abortion ban, Zeldin also cannot be trusted to protect our rights. In Congress, Zeldin voted to ban abortion without an exception for protecting the mother's health and to criminally penalize doctors who perform abortions. Zeldin's last-minute attempt to distance himself from his extreme position is sadly reminiscent of now-U.S. Supreme Court Justice Brett Kavanaugh called Roe v. Wade "settled as precedent" during his confirmation hearings – and we can look at Cuomo's ousting in the face of public pressure to prove that, above all else, New York voters hate liars.
In these challenging times, the differences between Hochul's competent, steady leadership and Zeldin's duplicitous, self-serving political opportunism could not be starker. Even as polls tighten in the days leading up to the election, I'm confident New Yorkers will deliver for Hochul. The choice is just that clear.