Opinion
Opinion: Why Lee Zeldin will win
For the first time in more than a decade, the conditions are right to elect a Republican governor in New York.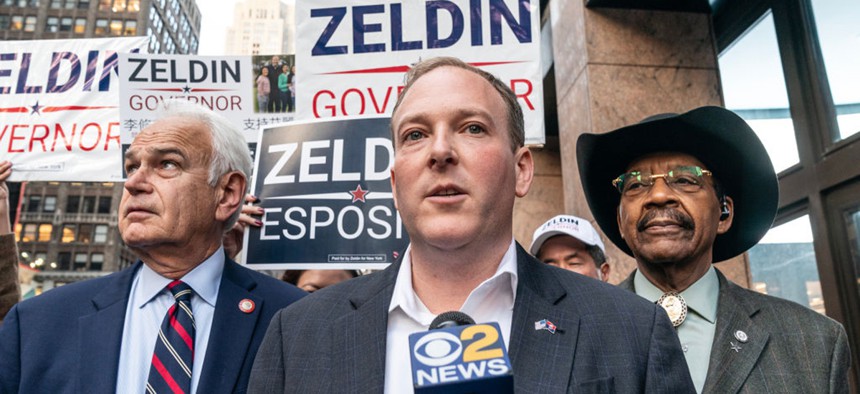 Click here to read an opposing commentary by Democratic consultant Camille Rivera on why Gov. Kathy Hochul will win in November.
Fall is the season of armchair quarterbacking America's two favorite sports: football and politics. But if you're handicapping this year's governor's race, it's wise to start at the bottom.
In elections, the floor is more significant than the ceiling. And this year, the floor bodes well for a GOP win.
Although Gov. Kathy Hochul has yet to be elected to a full term, the previous two races give us a solid foundation in determining a starting point for Republican challenger Rep. Lee Zeldin.
By all accounts, 2018 was a banner year for Democrats nationally, breaking records in blue states like ours. Then-Gov. Andrew Cuomo received more votes than any New York governor in history. Not only was Cuomo breezing through a popular period of his tenure, but there was also another New Yorker on the ballot who drove statewide turnout to its highest point, by far, in generations: Donald Trump. More than 2.2 million of those votes went to GOP gubernatorial candidate Marc Molinaro, more than Cuomo received in 2014, though it only amounted to 36% of the total.
I know, this doesn't sound promising so far, but bear with me.
In 2014, a low turnout year, Republican Rob Astorino garnered just over 40% of the vote. In every established poll leading up to Election Day, Cuomo never dropped below 52%, while Astorino never got higher than 34%. That means Astorino got a 6- or 7-point bump between the fall polling and Election Day.
This year, Hochul has been barely treading water at or barely above 50% in the polls, while Zeldin did not poll lower than 41% in October. A recent Marist College poll also revealed a wide enthusiasm gap between the candidates, while the Siena College and NewsChannel 13-SurveyUSA polls clearly showed the GOP has momentum.
In 2018, with record turnout by motivated Democratic voters, it was Cuomo who saw the big fourth-quarter swing. Is anyone suggesting voters are eager to pull the lever for Democrats this year? Absolutely not.
That's why the 46% that backed Zeldin in a Quinnipiac University survey is probably his real floor.
We also should not forget what happened the last time a Cuomo won three straight elections. Mario Cuomo was up about 4 percentage points in the polls during the final week of the campaign for his fourth term as governor in 1994. He lost to George Pataki by 3 points.
Now, perhaps you're saying to yourself, "Sure, but Hochul ain't no Cuomo." That's where we certainly all agree.
For starters, Andrew Cuomo was an established name, had incredible political acumen and is from the part of the state with the most voters. Although I disagreed with his politics and genuinely disliked him, had he been the candidate this year, he would be rattling off a long list of chits and conquests.
Hochul, on the other hand, has the bearing of a sophomore not quite ready for the varsity team. Polling on what New Yorkers are most concerned about has been incredibly consistent: crime and the economy. Yet, while Zeldin has been effectively hitting the governor and her Democratic colleagues on these issues with almost daily press conferences, Hochul has floundered to keep the conversation focused on anything but what little she's done to address them. Her campaign message has effectively consisted of: "Abortion!" Cut a ribbon. "Orange man bad!" Repeat.
The drop-off from Cuomo to Hochul is steep. According to comparable October polls from Marist, Hochul's favorability is underwater by 19 points with independents, while Cuomo's favorability was 46% to 42% unfavorable in October 2014. In comparable Siena College polls from October 2014 and October 2022 of key Democratic constituencies, she has registered 6 points lower with Black voters than Cuomo, 6 points lower with union households, 13 points lower with women and a whopping 19 points lower with New York City voters overall.
In addition to her shortcomings in New York City, Hochul is also facing serious national headwinds, far worse than what Cuomo faced in 2014. According to the Real Clear Politics' generic congressional ballot tracker, Republicans are up 2.3 percentage points, which is close to the 2.4-point final polling advantage the party had in 2014. However, in that year, the actual vote tallies came in with a 5.7-point edge for the GOP. In the roughly eight competitive House seats that form the battleground for the governor's race, Republicans are going to overperform. Even safe GOP seats upstate have voters turning out in high numbers (think: Elise Stefanik and Nick Langworthy). In the district where I go to work every day, Dan Goldman is running to fill an open seat, and it's unclear whether people are even aware there is an election.
You don't have to believe my analysis of the race, but surely you must have noticed the Hochul campaign has the same take. There's an old saying in politics … OK, there's a new saying in politics I just made up: If your campaign has to do a complete 180 as you hemorrhage votes in the final two weeks before an election, you are losing.
You don't need be James Carville or Karl Rove to understand that.
Joseph Borelli is the minority leader of the New York City Council.
Powered By
NEXT STORY: Opinion: How a court's mission aligned with its response to Superstorm Sandy