Opinion
Opinion: Don't judge LaSalle before giving him a state Senate confirmation hearing
The judicial nominee deserves a chance to talk about his record in the face of criticism that has labeled him too conservative.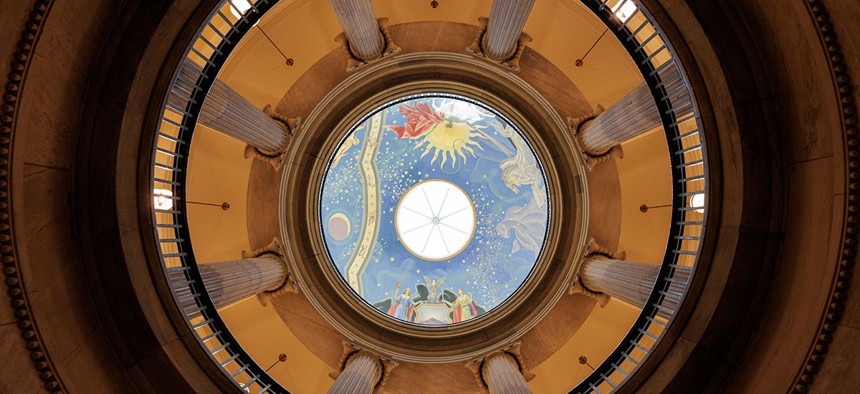 The barrage of attacks against Presiding Justice Hector LaSalle, Gov. Kathy Hochul's nominee to serve as New York's next chief judge raises serious concerns. While weighing in on a high court nominee is a helpful and healthy part of the process, launching an onslaught of unfair and baseless allegations is not. Of particular concern is the way in which certain select court decisions have been mischaracterized in a law professor letter to lend a veneer of credibility to wholly unsupported claims which are being amplified in a coordinated media attack to sway state senators to deny Justice LaSalle even a confirmation hearing.
The campaign against Justice LaSalle centers on essentially three cases – all of which are misrepresented and/or overblown. The narrative being spun is that these cases show LaSalle is anti-choice, anti-union, and anti-due process. They show no such things. 
Do the reading. An even cursory review of the cases reveals that they do not support the sweeping allegations being made against Justice LaSalle. First, Justice LaSalle did not author any of the decisions cited in the "law professor letter" that appears to be the basis for various "cut-and-pasted" attacks against him. Second, the decisions do not support the claims made. 
For example, in Evergreen Ass'n v. Schneiderman, Justice LaSalle and three judges concurred in an opinion authored by a fourth judge narrowing the scope of an attorney general subpoena in an "unauthorized practice of medicine" action against a crisis pregnancy center on First Amendment associational grounds. The matter involved whether all of the requested information in the subpoena was discoverable. Some was. Some wasn't. The claims that the judges in the case and Justice LaSalle in particular "intervened to shield the (Crisis Pregnancy Centers) from the application of health care licensing laws" or that the case evidences a "cavalier attitude toward reproductive rights" are completely unsupported by this case. Another case Cablevision Sys. Corp. v. Commc'ns Workers of Am. Dist. 1, concerned a motion to dismiss a defamation action against union leaders sued officially and in their individual capacities. The court dismissed the action against the defendants in their official capacities but allowed it to proceed against the defendants in individual capacities. The decision does not make it more or less likely that any of the three judges who joined are pro- or anti-union. The third decision, People v. Corbin, which the detractors claim demonstrates a disdain for due process - concerned whether a criminal defendant had waived his right to an appeal. LaSalle joined in the majority opinion holding that the defendant had waived his right to appeal. The decision does not make it more or less likely that any of the judges who joined in the majority opinion are against due process. In short, none of the decisions support the broad indictments for which they are cited. 
Moreover, Justice LaSalle's record shows that he is highly qualified to serve as chief judge on New York's highest court. LaSalle was appointed as an associate justice of the Appellate Division, Second Department, in February 2014 and in May 2021 was elevated to presiding justice of the court. He oversees twenty-two justices handling appeals from ten diverse New York counties that reflect the composition of New York State. 
Justice LaSalle may be more moderate than some progressives would prefer. Some of us might have preferred other candidates, including three sitting Court of Appeals judges of color who were excluded from the commission on judicial nomination's list of seven proposed nominees (raising concerns about the commission's process). Yet these are not reasons to pillory Justice LaSalle with false accusations and venomous attacks.
Nor are they reasons for New York state senators reflexively to jump on the bandwagon and announce that they will vote against LaSalle without even having held a hearing. 
A fair hearing and an opportunity to present facts, correct the record, and clear one's name are fundamental principles of our justice system. The state Senate confirmation hearing process is an important component of the Court of Appeals selection process. This is especially so in the face of such an unprecedented attack against the first-ever non-White nominee to lead New York's highest court. 
It is understandable that there is concern for the state Court of Appeals at a time when the court must stand as a bulwark of state constitutional rights in the face of a U.S. Supreme Court majority hostile to well-established fundamental rights. Yet detractors point to nothing in LaSalle's record that warrants the mischaracterizations and baseless attacks against him as threatening New York's core values of justice, fairness, and the rule of law. By contrast, the nature and tenor of the attacks against LaSalle and their apparent impact on the nomination and confirmation processes are deeply concerning. 
Gov. Hochul's historic nomination of Presiding Justice Hector LaSalle to serve as the chief judge of the state Court of Appeals deserves a fair hearing. He must be given a fair chance to share his record and rebut the relentless "spin" against him. The process must be allowed to proceed and state Senators must uphold their obligation to be open-minded and conduct a confirmation hearing on the merits. Only then will LaSalle have the chance to make a case for his confirmation based on facts.
Natalie Gomez-Velez is a law professor at the City University of New York. Her opinions expressed are not on behalf of CUNY.
Powered By
NEXT STORY: OPINION: Summary eviction proceedings must end