Opinion
Opinion: Minimum wage proposal for NYC app-based food delivery workers raises concerns
The data backing minimum pay rules has several red flags and needs a closer look to ensure workers' interests are fairly represented.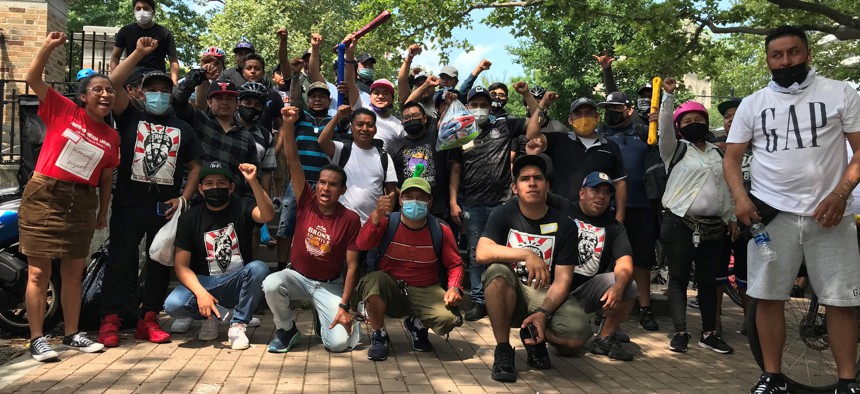 New York City is set to become the latest city to establish a minimum pay rate for app-based food delivery workers, following Seattle's similar measure passed last year. Given the far-reaching and complex implications of this rule-making, these policies deserve thoughtful consideration to ensure they accurately represent the interests of these workers and account for how these platforms are used in practice. 
However, an objective examination of the data and assumptions that form the foundation of policymakers' understanding of these issues reveal fundamental flaws and should be a red flag that changes are needed before ushering in such an untested proposal.
The New York City Council charged the city Department of Consumer and Worker Protection with conducting a study that would inform what the minimum pay rules should be when it first passed a law in 2021 to establish this wage. However, the study and proposed rules, released in November, presents several glaring concerns. 
First, the survey that the department conducted to inform its study had a troublingly low response rate, since only those who use these platforms most frequently were inclined to respond. As a result, heavy users – not the average worker – were significantly oversampled in the survey, which had less than 7% of food delivery workers participating. It should come as no surprise that nearly half of the respondents therefore indicated they worked 30 or more hours per week on average. 
But the actual data provided by the app companies to the department tell quite a different story. For example, fewer than half of New Yorkers who deliver with platforms like DoorDash and Uber Eats even make a delivery in a given week. And during weeks when deliveries are made, the average worker is only spending 12.6 hours per week providing delivery services. 
The result is a clear devaluation of the experiences of more intermittent app-based delivery workers, which effectively ignores their voices and interests. It's also inconsistent with the fact that most workers view delivery as an opportunity to earn extra income on the side and are drawn to the flexibility these platforms provide – not a full-time profession.
Because the report is so heavily reliant on feedback from more full-time workers, it mistakenly concludes that the ideal policy would be one that prefers only the heaviest users at a detrimental cost to the typical worker.
Second, both the study and the proposed rules problematically, and incorrectly, define working time to include time that a worker merely has the app open but is not on a delivery – a crucial misstep that fails to recognize how app-based delivery really works. Unlike "on call time" for employees, these workers are free to ignore or reject offers for work while they have the app open, and workers often use multiple platforms simultaneously to identify offers they prefer most.
The Department of Consumer and Worker Protection's faulty premise is reflected in its novel aggregate pay model, which requires platforms to compensate workers for all the time they have an app open, rather than just those when on a delivery. To meet inevitable rising costs that would come with such a model, it's reasonable to assume that platforms would be compelled to address these costs through restrictive policies that hamper delivery worker flexibility. For example, the city's study expects platforms to significantly limit the number of delivery workers logged into an app at any given time or force workers to accept a greater number of potential deliveries.
The proposed policy aims to increase the time that workers make deliveries while on the app and decrease how frequently they decline offers. This is a solution in search of a problem that would only serve to reduce the number of delivery workers and fails to recognize the benefits that come from delivery worker flexibility and selectivity. Ultimately, this approach will also lead to worse outcomes for the very delivery workers the department aimed to support. 
Forcing platforms to pay for all of the time the app is open and hampering worker flexibility would cause irreparable damage to the entire system. Customers who cannot pay significantly more will stop using delivery services, there will be fewer orders for local businesses and, in the end, fewer opportunities for workers as a result.
Rigorous analysis is the foundation of sound policymaking to guard against unintended consequences. While the city clearly sought a thoughtful approach before issuing this first-of-its-kind proposal, the department needs to take a closer look at the full extent of its effects before moving ahead with such an untested model that could impact thousands of New Yorkers.
Stephen Bronars is a partner at consulting firm Edgeworth Economics and previously led the Department of Economics at the University of Texas.
Powered By
NEXT STORY: Opinion: Don't judge LaSalle before giving him a state Senate confirmation hearing