New York City
Opinion: Adams must take bold steps to bring real change in New York
The mayor's "Working People's Agenda" right now lacks long-term, systemic solutions.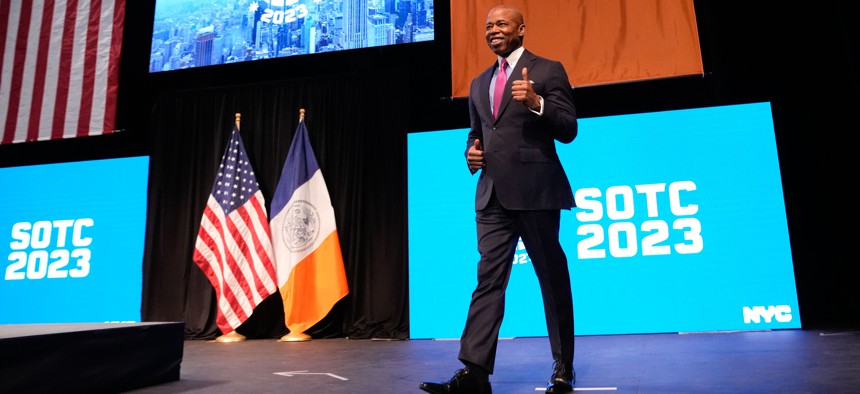 During his State of the City address, Mayor Eric Adams announced a "Working People's Agenda" focused on housing, jobs, safety, and care – providing a timely call to action to ensure more New Yorkers can get access to affordable housing, living wage jobs, safe streets, and quality health care.
As he looks to implement this agenda, however, the mayor and his administration face a big challenge: identifying and carrying out ambitious solutions to problems that require more than surface-level policies.
The New York Community Trust is proud to support several of the Mayor's announced priorities, including placing people with disabilities in internships, ensuring that schools use research-proven reading curricula, creating new public spaces, making Open Streets permanent throughout the five boroughs, and expanding clubhouses where people struggling with mental illness can get peer support and case management services all in one place.
But New York is only as strong as our neighbors who struggle the most. And, unfortunately, Mayor Adams' initial plans are not yet extensive enough to properly address the challenges facing the city's most vulnerable residents. 
Admittedly, the solutions to the city's homelessness and mental health crises are complex and demanding. But now is the time for the city to do the long-term work of generating real solutions. 
New York needs Mayor Adams to think and act big, even in the face of serious fiscal constraints. 
The city needs systemic improvements in the quality of our education – more than mandated phonics curricula and one literacy specialist per school – as well as large-scale job training, supportive housing, and accessible mental health care. These improvements will necessarily be intertwined, and will improve the lives of all New Yorkers for decades to come.
We know what's possible when we invest in holistic approaches that address the underlying causes of homelessness and crime.
While it's important to work closely with our business community, those efforts must be accompanied by making jobs livable. And as the city's recovery lags, many New Yorkers are still looking for jobs and facing desperate circumstances.
The mayor's Future of Workers' Task Force has the potential to coordinate investments in proven programs that give workers the skills to build careers and meet the needs of our city's businesses – while adjusting to changing labor market conditions. And the mayor and City Council can continue to work together on critical worker protections.
Generating deeply affordable housing and reversing years of underfunding at the New York City Housing Authority will be complex and potentially divisive, but will have far greater effects on affordability and habitability than a limited number of affordable housing units. 
And rather than getting people struggling with mental illness out of sight, we need to find ways to provide them the support they need to lead fulfilling lives. Healthcare through the city's shelter system – as the mayor proposes – is one step. But emergency shelters, jails, and short-term hospital stays are not long-term solutions, particularly when even well-insured New Yorkers struggle to find the mental health care they need. 
Supportive housing provides those who are most vulnerable with access to affordable homes supplemented with on-site social services, including mental health care and job training. Supportive housing can keep New Yorkers who face mental and behavioral health challenges housed and off the streets. 
The Trust already invests in nonprofits – including the Supportive Housing Network of New York, Breaking Ground, and Urban Pathways  – that are successfully preserving developments and creating new supportive housing units. 
But nonprofits cannot go it alone.
Our city can invest in and provide incentives to developers and nonprofits to create more supportive housing – which will reduce homelessness and help more of our neighbors live healthy lives. 
By investing in solutions to interrelated, root causes of homelessness and crime, Adams can set New York on a path to being a city that takes care of all its residents. 
Although the coming year will likely require difficult choices, now is the time for our mayor to take the bold steps needed to create a safer, healthier, and more prosperous future for all New Yorkers.