Opinion
Opinion: We need to end the foster system to prison pipeline
Closing Rikers Island so we can reinvest in our communities and our youth is a first step.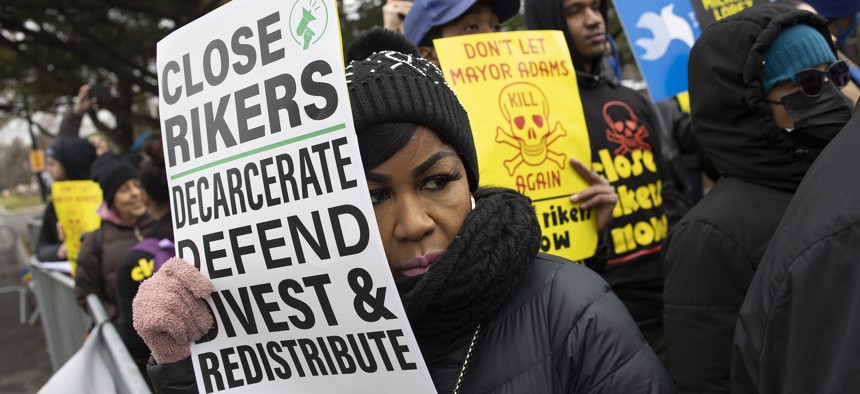 We are now four years away from closing Rikers Island, the New York City jail complex that just had its deadliest year yet. Despite the current law mandating closure and the establishment of borough-based jails, Mayor Eric Adams is publicly calling for the island to remain open. This would be a humanitarian disaster. Incarcerated persons continue to die on Rikers, and those who remain have been going without showers or food and are left in their cells for hours on end without recreation, programming, or medical and mental health services. Meanwhile, officers are still not showing up for work.
Decarceration must be a top priority for this administration. Rikers is an irreparable penal colony where over 90% of incarcerated persons are of color, 85% are there pretrial, and 52% have mental health conditions. Detention is no place for thousands of people who could be more humanely and effectively served, at greatly reduced cost, in their communities. They need treatment and supportive affordable housing, not jail. As the mayor proposes budget cuts, one thing remains abundantly clear: in order to protect young adults and others on the Island, the entire complex must be closed, and the $560,000 currently spent per incarcerated person per year shifted to community reinvestment.
Our Black and brown neighbors, including young New Yorkers, are disproportionately harmed by New York's carceral system. New York City's population of Black people is just under 25%, yet they make up the majority of detainees on Rikers. There are currently hundreds of young adults (18 to 21 years old) on the Island. Young adults are uniquely vulnerable to and adversely affected by incarceration, especially when it comes to isolation and segregation. Incarcerated young adults are more often victims of an overburdened foster system, disproportionate rates of school discipline, and criminalization of their mental health. The excessive surveillance and policing of Black and brown children causes them to be separated from their families and placed in the foster system at a far higher rate than white children. In addition, they are more than four times as likely to be detained or committed in juvenile facilities as their white peers. Young adults need a comprehensive plan for support once Rikers closes; it's on Mayor Adams to take their needs into account as he proposes New York City's 2023 budget.
Several states have enacted legislation focused on decarcerating youth and redirecting funding from facilities in favor of community resources and programs. California, for example, is in the process of diverting youth from prisons and closing its juvenile division in 2023, replacing it with community-based rehabilitation. There is much Mayor Adams can learn from these models of community support about how to meet youths' basic needs and meaningfully address the root causes of crime. Instead of fear-mongering, Mayor Adams should allocate resources to actually serve his constituents and build their communities.
The mayor must focus on implementing policies to keep young adults out of Rikers in the first place, including ending the foster-care-to-prison pipeline, and supporting young people once they're no longer incarcerated. The mayor's proposed 3% budget cuts this year, and 4.75% next year, will be detrimental to funding the preventive services our communities so desperately need, including affordable housing, community mental health resources, support for families, and funding for our schools and libraries.
If the mayor is serious about implementing targeted, evidence-based solutions to the Rikers crisis and ensuring that pretrial detainees receive speedy trials, as he mentioned in his State of the City speech, there is no time like the present to begin decarceration. We urge all New Yorkers to call on Mayor Adams to do everything in his power to follow the law and close Rikers Island.