Opinion
Opinion: Hochul's budget can't afford to ignore homeowner protection from deed theft
With the threat of deed theft displacing Black and brown homeowners, $40 million is vital to include in the state budget to create a stronger line of defense.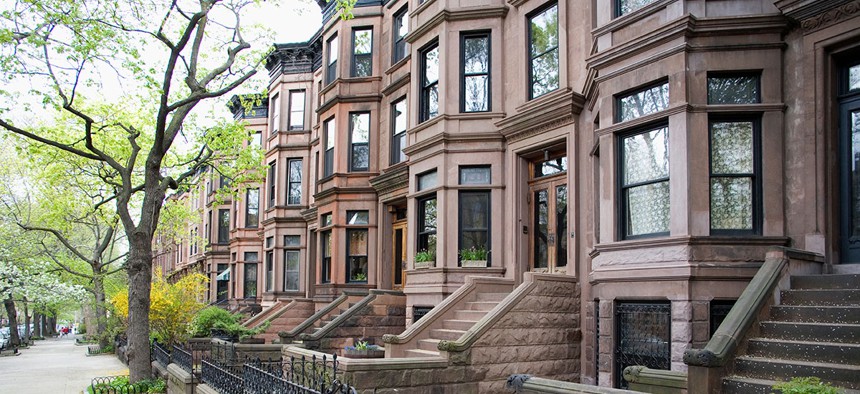 This season's state budget included lots of worthy programs, including a bold $25 billion housing plan. Something that was left out? A crucial $40 million to protect homeowners in New York, with the Homeowner Protection Program. 
If that seems like small fry to you, it has an extremely outsized impact on economic and social equity in our state.  
Last year, the Center for NYC Neighborhoods was contacted by a group of tenants on a rent strike since July 2021 because they found out that their rental payments were going to a scammer. The original homeowner landlord was the victim of deed theft.
Deed theft – when a scammer fraudulently transfers the ownership of a home to a third party through deception, forgery or other means – continues to prey on homeowners and is a major contributor to displacement of Black and brown families, some of whom have owned their properties for decades. Last fall, the state Senate held a hearing on the issue of deed theft where we heard directly from community members impacted by this scourge. 
In New York, especially in New York City, when we think "homeowner," we generally think of families of significant means. But in most cases, a home represents the vast majority of a family's wealth and is the primary launching pad for first generation immigrants and Black and Hispanic families to create wealth and stability for their families – almost always for the first time. Unfortunately, homeownership rates are still lowest for Black and Hispanic households – representing just 26.6% and 15.9% of homeowners in the city respectively.
Maintaining these homeownership levels also presents other, larger, challenges. According to American Community Survey 5-year estimates in 2020, over 30% of New York City homeowners with mortgages were cost-burdened in 2019, (or spend more than 30% of their income on mortgage and other housing needs) which can leave them open to fraud and abuse, especially in a financially precarious time of high inflation like today.
Bad actors have only gotten worse over the past few years. 
As real estate speculation in lower-income, gentrifying communities continues, scammers seek out especially financially vulnerable Black and Hispanic households in foreclosure or behind on their mortgages, taxes or water bills and seniors with equity in their homes living on fixed incomes. They make a promise of financial help in exchange for a signature which, wittingly or not, signs the deed of the house over to the scammer at a small fraction of the actual worth of the property. This happens all over the city – in 2019, a $1.2 million home in Bed-Stuy was signed over for just $120,000. 
The result? The wholesale robbery of many New Yorker's biggest assets and the undermining of decades of wealth and equity-building accrual for Black and brown families. Rapidly-gentrifying areas of Queens and Brooklyn, including neighborhoods in my district like Crown Heights and Prospect Lefferts Gardens, have seen the most aggressive and egregious deed theft in New York City. Recent press reports have noted a decline in the city's Black population – and deed theft is one important reason why.
The legal process for restoring the deed to a property is long, difficult and expensive. The burden of proof of fraud (as opposed to a simple bad deal) is high. Too often the homeowner faces the greatest consequence, ending in foreclosure and bankruptcy.  
Deed theft preys on hardworking low-and middle-income families, while robbing them of the American dream. We must do everything we can to preserve affordable homeownership, closing loopholes that lead to the most outrageous predatory scams and theft of title. 
Fully funding the Homeowner Protection Program, a network of 89 housing counselors and legal experts who provide services around deed theft, scam and foreclosure prevention at no cost to homeowners, would be a critical step in the right direction.
It costs only $40 million – a meager sum in comparison to other line items, just .018% of the state budget of $220 Billion – and it pays for itself, especially in places like New York City, where foreclosures and mortgage delinquency are higher. 
There have been promising signs for buckling down on deed theft at the state level; in November, state Attorney General Letitia James busted an elaborate deed theft operation, where unscrupulous actors impersonated five homeowners in order to steal three homes worth more than $1 million from elderly homeowners in Queens. And just last month, Brooklyn District Attorney Eric Gonzalez obtained a conviction of a Long Island man who forged a power of attorney to steal an elderly woman's home in Bushwick.
These are excellent starts, but Gov. Kathy Hochul proposed devastating cuts to the Homeowner Protection Program in this year's budget – at the precise moment our communities need these resources most. 
We must devote substantial financial resources to addressing the problems of predatory scams, deed theft and displacement that are disproportionately impacting Black and Hispanic households. To combat this monster market, we need even stronger lines of defense for some of New York City's longest-term residents. In New York, nothing short of the American dream depends on it. 
Zellnor Myrie is a state senator representing the 20th District in Central Brooklyn, which includes Crown Heights, East Flatbush, Park Slope, Prospect Heights, Prospect Lefferts Gardens and Windsor Terrace. Christie Peale is the CEO and executive director of Center for NYC neighborhoods.