Opinion
Opinion: New York must invest in training nursing assistants
We need to scale an equity-focused model to address New York's senior care staffing crisis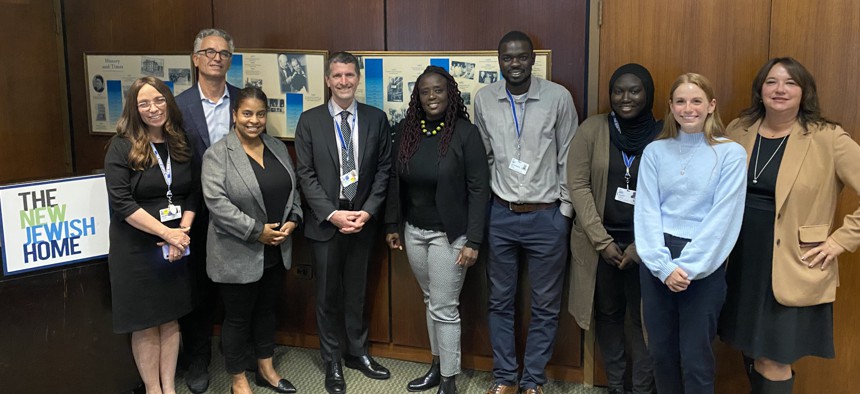 New York is home to one of the nation's largest populations of older adults. By the end of this decade a full quarter of our state, or 5.3 million people, will be 60 or older. Yet today, 75% of New York's 614 nursing homes are unable to meet staffing minimums due to a shortage of nursing professionals. This is troubling news for our growing senior population – and an indication that we urgently need to invest in new solutions to support frontline providers.
As state budget negotiations continue in Albany, we must prioritize investments in programs that enable us to meet our immediate staffing challenges while setting in place the training infrastructure to support New York's next generation of caregivers. Currently, such training is not readily accessible for many New Yorkers, yet it has never been more necessary. We face soaring levels of burnout among nursing professionals and a generation of Baby Boomers aging into retirement, leaving us with a national deficit of 400,000 caregivers and counting.
The good news is that there are communities with untapped potential across New York who can help alleviate the healthcare workforce shortage. We should commit to scaling programs that increase opportunities for skills training and good jobs to more New Yorkers, especially in Black and brown communities that are brimming with talent that is too often stifled by poverty and lack of resources. Such initiatives are a life-changing resource for individuals who might otherwise have few options, enabling them to pursue rewarding careers caring for our seniors.
Some of this critical work is already underway. Gov. Kathy Hochul's proposed FY24 budget includes multibillion dollar commitments to ensure access to aging services. However, much of this funding is limited to supporting Registered Nurses, and we should be expanding investments to develop a broader spectrum of career pipelines – expanding access to other in-demand and more entry-level roles in the industry such as Certified Nursing Assistants.
We have an existing successful model for what a provider-operated program in partnership with local schools and universities can look like. The New Jewish Home, located in Upper Manhattan, is a longstanding nonprofit healthcare system for older adults that has helped hundreds of local residents get their foot in the door toward a long-term career in health care through a program in partnership with local Manhattan and Bronx schools.
The initiative, called SkillSpring, offers programs for high school students and young adults who are disconnected from school and facing additional life challenges. Since 2006, over 1,000 young people have graduated and began their careers as CNAs. Many have since worked up the healthcare career ladder and pursued additional degrees and licenses. SkillSpring graduates are also registered nurses, and even physicians in training. A senior workforce training program like this not only provides much needed experiential learning and mentorship opportunities for underserved young adults, but crucial wraparound social services support for those who are unemployed, homeless, or otherwise at-risk.
We have seen firsthand how this opportunity changes young people's lives, while helping to meet the demand for healthcare workers. Let us tell you about a remarkable young woman named Yolaury Hernandez.
Yolaury was nine years old when her family emigrated from the Dominican Republic and settled in Manhattan's Washington Heights. She was a sophomore at the A. Philip Randolph Campus High School, one of SkillSpring's partner schools, when a teacher encouraged her to apply. Before joining the program, Yolaury had no plans to attend college and expected to work in any available low wage job. Once she joined SkillSpring, Yolaury found her purpose and learned the valuable caregiving skills needed to become a CNA. When the pandemic hit, Yolaury worked at The New Jewish Home on the frontlines providing lifesaving care to older adults. She also earned a Bachelor's in nursing at Lehman College, and is now working as a registered nurse in the medical-surgical unit at one of the city's leading health systems, NYU Langone Health.
In short, New York needs more stories like Yolaury's – of young people in our city who face tremendous life challenges, struggle at the outset of their professional careers, but, given the right opportunity, make the most of it and then some.
Workforce programs that extend career opportunities to disadvantaged young adults while simultaneously helping New York meet the challenge of caring for its aging population are a win-win that the State should commit to expanding in this year's budget. SkillSpring offers us a scalable example. Now it is up to our leaders to act this budget season and ensure such opportunities are available to the next generation.