Opinion
Opinion: How walkable streets strengthen New York's neighborhoods
Prioritizing pedestrians improves public health and makes cities more resilient.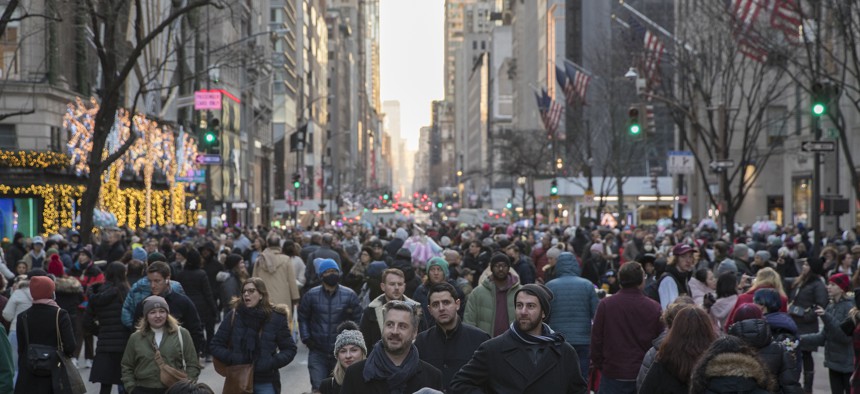 Urban planning is tough work. Determining how to improve city infrastructure can be a grueling process – from conducting in-depth research, to achieving hard-won public consensus, to rolling up sleeves and breaking ground. Of course, urban planning is also essential. When done right, it can help keep our neighborhoods healthy and happy. This is especially true of certain planning projects – like creating more walkable streets. 
Walkability is a difficult metric to quantify and study. However, a careful survey of cities and towns around the world provides undeniable evidence – building more walkable municipalities is absolutely worth the effort. 
So, what can municipal leaders do to make walkability a reality and start reaping these benefits? Begin by updating zoning laws, allowing for mixed use of streets. Consolidate vehicular parking to open up more room for green space and pedestrians. Build wider sidewalks and install streetlights. And plant more trees, which provide natural shade and cooling to pedestrians while reducing stormwater pollution. 
Continued investments in bike infrastructure, an integral part of walkability initiatives, are also essential. Building designated bike lanes and bike racks throughout the city is important – as is ensuring speed limits are at safe levels to protect cyclists, drivers, and pedestrians alike. 
We can see the impact of walkable streets throughout the city. Imagine if a neighborhood like Jamaica, Queens, which is teeming with culture and history, had improved streetscapes so the quality of life for downtown residents was even stronger. The city is already working toward this vision with the Jamaica Now Action Plan – an ambitious agenda to enhance street life by creating the right mix of activities on the street and improve livability for residents and visitors alike. One of the ways they're making this happen is through targeted economic development initiatives designed to foster a dynamic neighborhood. These efforts focus on hosting the right mix of businesses in the right places so the streetscapes make for a pleasant pedestrian experience.
Here are just a handful of reasons New York's municipal leaders should take steps to encourage more walkable neighborhoods:
Walkability promotes social justice. Creating a walkable city is also a way to create a more inclusive city. You're essentially providing free transportation to your constituents. And multisensory navigation elements – like auditory, haptic (i.e. sense of touch), and textural cues – can help everyone navigate their neighborhood safely. 
Walkability improves health. When residents are able to walk to destinations around their city, you're helping fuel a healthier population. Indeed, when Mexico City recently invested in more walkable (and bikeable) streets, there was "a huge range of benefits for the health and wellbeing of citizens," according to a study by C40 Cities. Those benefits included "dramatically reducing the risk of obesity and associated non-communicable diseases, such as cardiovascular disease and type 2 diabetes."
Walkability promotes safety. Making streets safer for pedestrians and bicyclists keeps residents safer, and it's a goal that the city is working toward with initiatives like Vision Zero. This aims to eliminate traffic-related injuries and deaths through engineering, enforcement, and education, and eventually bring traffic-related injuries and fatalities to zero. 
Walkability protects the environment. More people out walking means fewer people driving cars – which makes for a cleaner city. This was one of the main factors behind Paris' "15-minute city" program, which transformed parts of the city into car-free areas. Indeed, prior to the overhaul, the highway that ran along the Seine river "was used by over 40,000 vehicles every day," and "contributed to the city's high rates of air pollution" – so much so that it exceeded legal limits. Paris' investment in a more walkable city has changed that. 
Walkability fuels a strong economy. More walkable cities encourage residents to stop in local businesses and support the local economy. Consider New York City's own Times Square, which is free of cars. Or Stroget in Copenhagen, the "world's longest pedestrian and shopping street." Tourists and natives alike can visit shops and restaurants safely and easily, supporting merchants. There's plenty of data to back this up, like a 2022 NYC DOT report about the positive economic impact of car-free streets. 
In 2023 and beyond, as our city government plans improvements, creating a more walkable city should be high on the list. New York constituents – from residents to business owners – will be thankful.
Melissa Lee is a principal at Public Works Partners, a woman-owned urban planning and consulting firm.
NEXT STORY: Opinion: What would Hugh do?