Opinion
Opinion: What would Hugh do?
A few things Gov. Kathy Hochul can learn from the state's 51st governor as she navigates the challenges of budget season.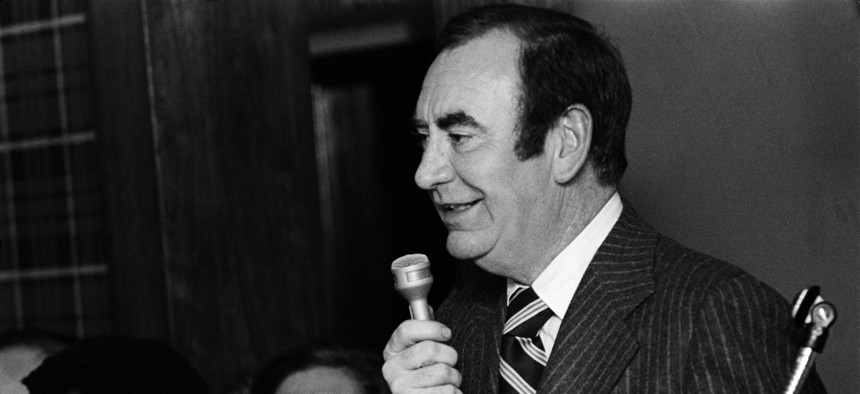 As we approach April 11th, the birthday of Hugh L. Carey, the 51st Governor of New York, it may be interesting to think about how he might handle some of today's problems and issues. Now broadly known as "The Man Who Saved New York" (thanks in large part to a book of that title by Seymour Lachman and Rob Polner), Carey had many other accomplishments to show for his 8 years in office: Protecting the environment; creating the wildly successful I❤️NY campaign; cutting taxes and streamlining business permits; protecting the mentally ill from budget cuts; the former Carrier Dome in Syracuse; rebuilding and refurbishing the MTA while improving freight rail service upstate; building the Javits Center; and keeping Battery Park City viable through the fiscal crisis – these are just some of the areas in which Carey made a mark.
Occasionally, Carey's Irish sense of humor and his disdain for political clubhouse horse trading led to criticisms of his style. His independence from the established "way" things had to be done created a cottage industry of critics who took delight in cataloging his every stumble or misstep. As Casey Stengel said, "You could look it up." 
But between those two points, his accomplishments and his critics, there is one salient fact to note: He's remembered for the first, and the second are a sidebar at best. This is something Gov. Kathy Hochul should keep in mind. 
This thought arose as I kept reading of the Governor's travail, as she tries to land her first budget, reform bail reforms, and figure out how to create more affordable housing. Critics have focused on her failed nomination for chief judge of the Court Of Appeals, the need to replace her first choice for lieutenant governor, and the new stadium for the Buffalo Bills football team. As any look at Gov. Carey's place in history will show us, her tenure will be seen through a prism of her accomplishments and not the musings of political opponents, interest groups, pundits, or any other voices chattering, nattering, or tweeting away. 
In 1975, in his first State of the State speech and about two weeks after being sworn in, Carey spoke about how the days of wine and roses were over. It was a somber speech … just look at the videotape, almost no applause as the packed chamber listened to him go through the challenges facing the state. And this was months before the full extent of New York City's financial problems were known. 
That speech has a lot more in it than a reworked song lyric. It set a tone for the new administration, and if those pre-Twitter pundits had paid attention, they would have seen that Carey laid out not only the issues facing him and the state, but also the yardstick by which to measure his tenure. Apparently, they didn't listen because they spent years looking at him the wrong way. It has often been said that the generals always fight the last war - but that also applies to that class of commentators who think they know it all. But history always rewards those who innovate and are guided by core principles. Fortune favors the bold, or as Ray Brustman, both my and Hugh Carey's Latin teacher at St. Augustine's High School would say, Audentes Fortuna iuvat.
Carey, who would pull together talented teams of people, was also quite capable of deep introspection and very comfortable keeping his own counsel. The same man who put together business leaders Dick Ravitch, Felix Rohatyn, William Ellinghaus, Al Casey, and labor leaders Albert Shankar and Victor Gotbaum to help rescue New York City, would be accused by pundits of being aloof, a loner, with no friends. 
From Carey another lesson for Gov. Hochul: when he left office after 8 years, the editorials focused on the accomplishments, not the personality. And even when the news articles sought out critics, they tended to be political opponents who could take one last shot, like Abe Beame, the New York City mayor who Carey had to muscle aside to bring new leadership to the city amid the crisis. 
So, Gov. Hochul, you had to replace your first lieutenant governor? Carey' s first LG ran against him in a party primary! And his second LG was preparing to run against him if Carey had run for a third term. 
And the state senate turned down your choice for chief judge? Carey was the first governor in over a hundred years to have his veto overturned. 
Your allies in the legislature don't want to pass your bail reform reform? Carey was presented with legislation yearly to reinstate the death penalty which he vetoed a number of times. These vetoes withstood override attempts, surprisingly, since about 80% of the public wanted the death penalty brought back to deal with a real crime wave. At least you have clear public support for your bail reforms. 
Carey once said: "All my life, people have been underestimating me." In rising to power, he repeatedly ignored the conventional wisdom and trusted his own judgment, which he would do again as governor.
He once told a reporter: "A mentor long departed told me that the greatest gift in political life, in any life, is to view yourself objectively, at arm's length, to make an assessment of yourself. So whom do I rely on? I rely on myself."
So, governor, as you suffer the slings and arrows of the commentariat, you may take some comfort from looking at what Hugh would do.
Bill Cunningham is the founder of Cunningham Strategies. He previously worked for the administrations of New York City Mayor Michael Bloomberg and Gov. Hugh Carey and was chief of staff and campaign advisor for Sen. Daniel P. Moynihan.
Powered By
NEXT STORY: Editor's note: Peaceful demonstrators upstage Trump's arraignment