Opinion
Commentary: Shedding light on NYC jail commissioner's inaction shows what a different story he's telling
Despite what Louis Molina has promised the Board of Correction, the oversight panel's work continues to be stonewalled.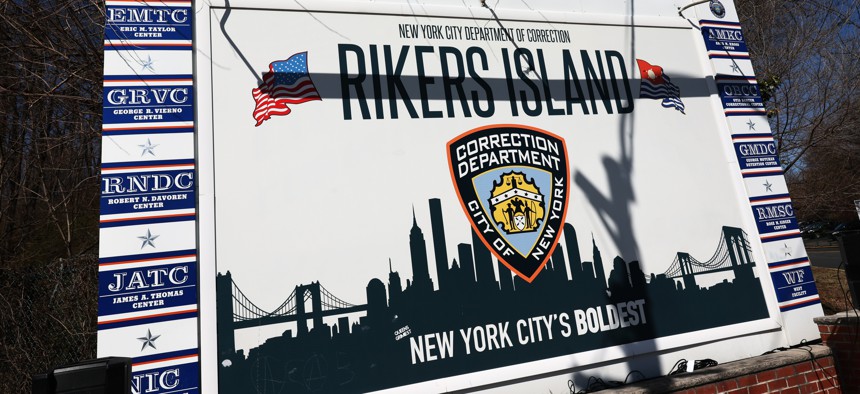 New York City Department of Correction Commissioner Louis Molina has been telling tall tales under oath. Records obtained by City & State reveal he's been misleading the City Council about providing even the limited video access he has promised to the Board of Correction's investigators and about his department's crippling staffing crisis.  
The department has seemed to ignore the board's investigative asks in at least 33% (and maybe as much as 60%) of its video requests, according to emails exchanged between the department and the board. That is the case, even as  Molina testified before the City Council on Jan. 25 that BOC's investigators "have access to view these videos at our headquarters facility. We have set up a station and offices where they can view that in private, when they would like to come during business hours." 
That was weeks after Molina stripped the oversight body of its unfettered access to security camera and body camera footage, in apparent retaliation for the board sharing unflattering footage with journalists. That "war on oversight" resulted in Board of Correction Executive Director Amanda Masters resigning in protest and joining the state Attorney General's office as special counsel for social justice – a role that encompasses oversight of law enforcement agencies like the DOC.
Molina's glib distortions continued during a March 23 Council hearing. "We are not denying access to the BOC," for video, he said. "What they do not have is 24/7 remote access which is what they had. And there were significant numbers of reckless leaking of videos … tremendous leaking of videos … And if they want to view videos they can view them in a secure environment in which they can conduct their investigations."
But at that very same hearing, BOC Interim Executive Director Jasmine Georges-Yilla said the DOC was blocking the board's access to video. "I don't know the exact number, but we've requested constantly … There are outstanding requests – which is also why this is a problem. Because we have requests for body-worn camera footage for a certain span of time that has gone unresponded to. So, we're not able to do our oversight work fully if we don't receive responses to the requests that we're required to make now."
Emails provided to City & State through a Freedom of Information Law request reveal that six of 19 requests were flagged for follow-up by its general counsel, Melissa Citron Hernandez, who sent a list of 13 items that remain open to DOC. One of those "flagged" was sent on the day of the first death of a person in DOC custody this year, Marvin Pines, on Saturday, Feb. 4.  BOC's director of violence prevention, Razeem Gray, emailed DOC's Deputy Integrity Commissioner Patricia Feeney at 6:05 p.m. The ask was shuttlecocked six times until 50 hours after Pines' death when it was finally replied to at 7:31 a.m. Monday, Feb 6. On March 14, Bailey emailed a reply to the same thread to Robertson and was ignored. She flagged it on April 19.  On Friday March 17 at 12:24 p.m., Gray emailed Robertson and titled the note "Gregory Acevedo."  Robertson did not reply to Gray who flagged the request on April 19. On April 6, a fire broke out in the North Infirmary Command on Rikers. On April 7, BOC's director of special investigations submitted a request entitled "Genetec Video" that DOC did not respond to which was flagged on April 19 by Gray. On April 11, BOC's special investigations coordinator, Imahnni Jeffries, sent an email to DOC's Feeney with the subject of "Genetec Requests" and a thirteen-item list in the body of the email which was not responded to. On April 19, Jeffires forwarded this email to Gray who flagged it for the BOC's general counsel.  
Molina has pointed to staff shortages created under prior administrations to justify mayoral emergency executive orders suspending all DOC minimum standards: "Staffing levels continue to contribute to a rise in unrest and disorder and create a serious risk." During the March 23 hearing Molina testified, "decades of mismanagement contributed to the decline … When I became commissioner, [DOC] attritted roughly 2,000 correction officers since the start of the pandemic. Reversing that trend was a priority." City & State's data obtained by FOIL reveals that the trend of staff departures has continued under Molina. When he took office on Jan. 1, 2022,  his roster had 8,846 personnel; as of April 4, 2023: 7,869. More than 1,500 employees have left DOC under Molina while only 611 were hired. Among the departures, 1,157 were correction officers. Under Molina, only 186 correction officers have been hired. 
The department head failed to resist stretching the truth when describing his few accomplishments. "This week for the first time in five years the department promoted a new class of captains. This new class of 26 captains shows our commitment to investing in professional growth" he testified at the Council hearing.  However, City & State's data reveals the DOC has lost 78 captains since January 2022 and as of April 4 of this year, only one person had been promoted to captain.  New York City Correction Captain's Association President Patrick Ferraiuolo told me Molina promoted 25 captains in late April and that under former Mayor Bill de Blasio's administration the DOC lost 300 captains. This works out to an average attrition rate of 37 per year versus Molina's loss of 78 during his first year.  Wardens, analysis, and investigations staffing are in a freefall, according to a City & State analysis. 
 "Add this to the list of failures this administration has been sweeping under the rug. No one knew the true number of people falling off Molina's roster, as he continued to publicly blame his predecessor for his own staffing crisis," Sarena Townsend, DOC's former deputy commissioner of Trials & Investigations told City & State. "Most alarming is the exodus of investigators - a clear sign of protest against corrupt investigative practices." 
The mandates of an "Action Plan" endorsed by U.S. District Court Judge Laura Taylor Swain to stave off federal receivership required the DOC to "create a plan, with concrete and specific timelines, of the staffing initiatives that must be completed in order to develop a reliable and reasonable relief factor … no later than 90 days after the Staffing Manager joins the Department." That person, DOC Deputy Commissioner for Administration Ronald Edwards, was appointed on Sept. 7, and a staffing plan "with concrete and specific timelines" has yet to be submitted. City Hall appears blind to the lack of action from its Corrections Commissioner. Maybe the best advice for Molina comes from Pinocchio's doting father, Gepetto: "Lies, my dear boy, can easily be recognized. There are two kinds of them: Those with short legs, and those with long noses. Your kind have long noses."
A DOC spokesperson, in response to a request for comment, provided a statement by email: "We are an agency deeply committed to transparency. A change in protocol was made concerning how – not if – the Board of Correction can access all real-time DOC camera footage. BOC members are able to view footage at a designated location, which does not impede their ability to perform oversight of our jails and aligns with the City Charter. We remain committed to working with the BOC, and their new Chair, to build a safer and more humane jail system."
Kelly Grace Price is an advocate concentrating on issues faced by women and girls incarcerated in jails and prisons, and the founder of Close Rosie's, focusing on the Rose M. Singer Center on Rikers Island.
Editor's note: This story has been updated to include a statement provided by the DOC in response to a query from City & State.
NEXT STORY: Editor's Note: The Bronx honors Lloyd Ultan, someone truly historic