Opinion
Opinion: Newburgh is a city of immigrants. We should welcome asylum-seekers.
Every level of government must take action to support asylum-seekers and provide them with the resources they need.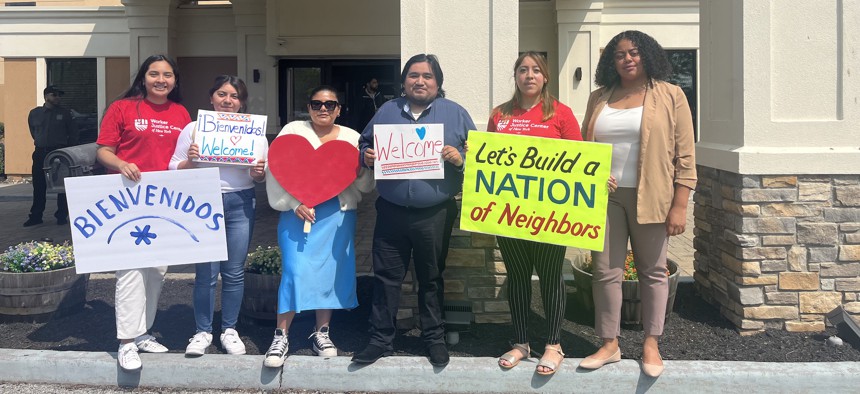 The Mejias trace our lineage back to the 1980s, when my grandfather left Mexico to find farm work. He traveled to California, then Florida, before finally settling in the Hudson Valley. Others followed, and now, Newburgh is one of New York's most vibrant immigrant communities. 
I love my city. My motto is, "I was born in Newburgh, and I'll die in Newburgh – but in a good way!" It's the only home I've ever known, and it's why for the last six years, I've been proud to organize my neighbors for housing, climate, and immigrant justice as part of the Hudson Valley organization For the Many.
That's why, over the course of the past week, our members and I have stood shoulder to shoulder with local elected officials and partner organizations outside the Crossroads Hotel to welcome hundreds of asylum-seekers to Newburgh. As reporters crowded around for pictures and a few racist protestors hurled insults, we held our signs high and spoke to the nervous migrants as the people that they are.
These migrants were bused in by Mayor Eric Adams, who claimed that New York City had "reached our limit." Now, he said, it was the Hudson Valley's turn to take in migrants – invoking the same rhetoric and tactics of extremist Republican governors like Florida Gov. Ron DeSantis and Texas Gov. Greg Abbott.
The tabloids have been even less kind. The front page of the New York Post screamed, "VETS KICKED OUT FOR MIGRANTS," referring to false reports that homeless veterans were relocated from hotels to make room for asylum-seekers. This false dichotomy invited a flood of stories and social media comments attacking Newburgh's new arrivals and demanding they be "sent back."
Let's be clear: None of this is asylum-seekers' fault. They are not part of some malicious plot to take over the Hudson Valley. They didn't choose their hotels and they certainly aren't trying to displace anyone. If anything, this debacle proves that New York State is in desperate need of affordable, stable, long-term housing.
Additionally, contrary to some characterizations, asylum-seekers are not "illegal immigrants." Seeking asylum in the United States is their legal right. Having spoken to many of the migrants myself, they are simply waiting for their cases to be processed. 
In the meantime, they are looking for job opportunities in the region. As Wilson Yriarte of Bolivia told the Times Union last week, "I just really want to work and I want to depend on my work, not on anyone else."
They don't even all speak Spanish; many migrants speak English, Arabic, or Haitian Creole, and many come from Senegal, Guyana, or Mauritania. This is precisely what Newburgh stands for. We are a city of immigrants whose families traveled here from all over the world. Just like my grandfather, these asylum-seekers deserve the chance to settle down and join our diverse community. 
Unfortunately, local Republicans don't feel the same way. In a series of Facebook videos. Orange County Executive Steve Neuhaus proudly details his efforts to force migrants out of the county by issuing executive orders and filing lawsuits. He even cites the need to "protect the residents of Orange County" from asylum-seekers.
Ironically, the first words in the biography on his website are, "I am the son of immigrants, who came to America to seek a better future for themselves and their children."
Right now, it's unclear if Neuhaus' xenophobia will prevail. On Tuesday, a judge granted a temporary restraining order prohibiting New York City from sending any more asylum-seekers to Orange County. But Newburgh has already become a symbol of our country's broken immigration system. Every level of government must take action to support asylum-seekers and provide them with the resources they need.
On the federal level, President Biden must listen to Rep. Alexandria Ocasio-Cortez and twelve other New York Democrats and speed up work authorizations for asylum-seekers.
On the state level, Governor Hochul and the state legislature must secure housing as a human right by passing Good Cause Eviction, the Housing Access Voucher Program, and a plan to build social housing. No one should be displaced from their home, and these programs can ensure that homeless veterans and asylum-seekers are not pitted against each other. 
And on the local level, Newburgh and cities across the state must continue doing what we've done for centuries, just as my grandfather would have wanted when he first came here: Welcoming new immigrants to New York.
Rene Mejia Jr. is a Newburgh community organizer with For the Many, a grassroots progressive organization based in the Hudson Valley.
Powered By
NEXT STORY: Opinion: Labor and the MTA must work together to improve the nation's largest transit system