Immigration
NYC plans to house some asylum-seekers in suburban counties
With the city running out of space to house migrants, the Adams administration will pay for housing and services at two hotels in Rockland and Orange counties.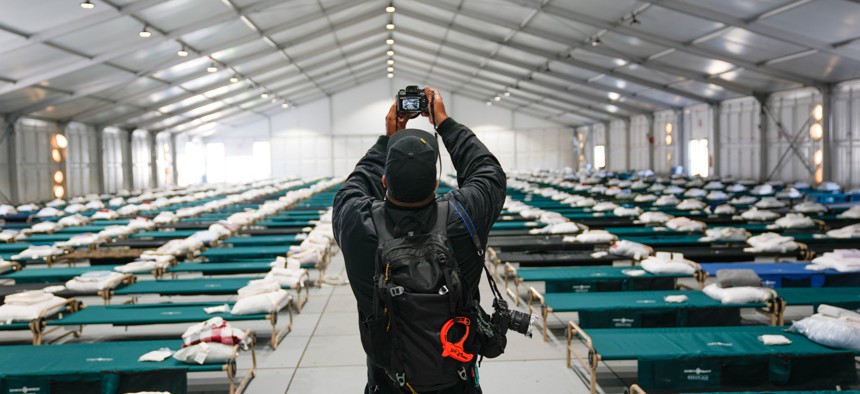 Some asylum-seekers may be heading to the suburbs after all, as New York City Eric Adams' administration says the city is running out of space to house migrants in the five boroughs. City Hall announced Friday afternoon it plans to move some single adult male migrants to two hotels – one in Orangeburg, in Rockland County, and one in Orange Lake, in Orange County. The city will continue to pay for their shelter for up to four months and provide the same services – like meals, laundry and health care – that it does at emergency shelters in the city.
So why the move, if it won't save money? "Because we have run out of space," Adams' press secretary Fabien Levy told City & State. More asylum-seekers are coming to New York City ahead of the expiration of a stricter, pandemic-era immigration law on May 11, and the Adams admin said it expects that number to stay high. The city is considering more emergency housing options, including tents in Central Park, airplane hangars or public schools during the summer months, according to CNN. 
The announcement came the same day that the Federal Emergency Management Agency allocated almost $31 million to the city to help cover the cost of housing and serving migrants from out of the country. But the Adams administration formally requested 21 times that amount, $654 million, from FEMA, since City Hall expects to spend $1.2 billion through the end of June. This was just the first round, however, and FEMA told NY1 the city could expect more money in the future.
Adams announced a pilot program in March to send migrants from the city to Sullivan County to take college classes and work with a local nonprofit. But City & State reported soon after that the program wasn't getting off the ground. 
Adams has criticized Texas Gov. Greg Abbott for sending asylum-seekers from the U.S.-Mexico border to New York City without any coordination. Levy said the city providing housing and services in other counties is different because he gave local elected officials a heads-up and the city government is covering the costs.
Orange County Executive Steve Neuhaus told City & State that Adams called him earlier on Friday, which he was happy about, even as he wasn't pleased with the situation as a whole. Neuhaus is a Republican – like Rockland County Executive Ed Day, who did not immediately respond to a request for comment – and wrongly called the men who would be coming "illegal immigrants." The population migrating to New York has mostly, if not entirely, been immigrants who are residing in the United States while their asylum claims are pending. The county has a rising homeless population, Neuhaus said, and "can't handle more people coming here for services." He blamed the situation on the state government's policies welcoming migrants. "New York said send 'em here … and then said whoa, whoa, we can't handle all of this."