Policy
NYC's plan to relocate some asylum-seekers to the Catskills may not happen
Partner organizations said Mayor Eric Adams' announcement was premature, and details are still being worked out.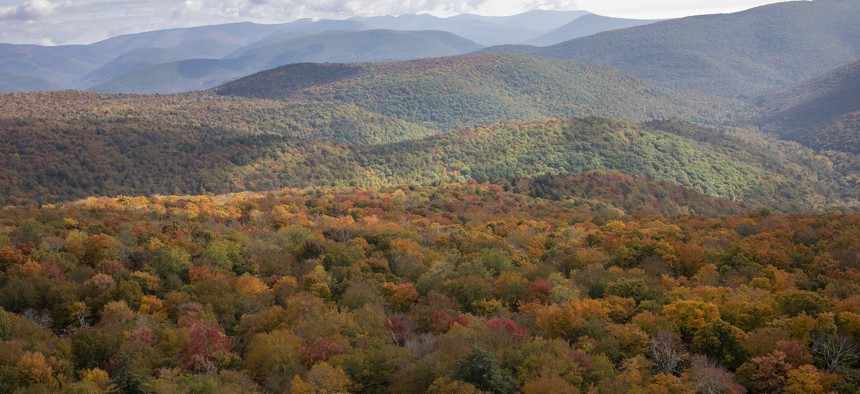 New York City Mayor Eric Adams' plan to offer around 100 asylum-seekers the chance to relocate upstate to earn a post-secondary credential or degree, live in college residence halls and receive workforce training isn't a sure thing after all.
Nothing is confirmed at this point, but officials at both SUNY Sullivan, the Catskills community college, and The Center for Discovery, a nonprofit health and education provider, said that details are still being negotiated – and cast some doubt on whether the pilot program would happen at all. Both representatives declined to give further details until the program – should there be one – is finalized in the future. 
"The mayor's announcement, as we've told all of the members of the media who have reached out, was premature. The parameters of any program, should there be one, have not been finalized," said Michael Rosen, executive vice president of marketing and communications for The Center for Discovery, in an email.  
"We are unsure as to whether this program will ever happen, as the details are still being negotiated," Eleanor Davis, SUNY Sullivan dean of communications & admissions, also wrote in an email.
The city maintains that launching the pilot program is proceeding.
"We don't get into private conversations and look forward to launching this pilot program for asylum-seekers," a spokesperson for Adams said.
The program, described as the migrant workforce training pilot, was first outlined March 7 in Adams' new blueprint plan on how the city will address the influx of asylum-seekers going forward. While announcing that plan, Adams explained that the city needs to shift from a 24/7 emergency response to more of a steady, long-term approach that prioritizes sustainability. Giving asylum-seekers the chance to go upstate for the program, aligns with what Adams has said about wanting to help new arrivals become self-sufficient as soon as possible. Interested asylum-seekers would be able to fill out a survey to express their interest in the pilot, which would initially serve about 100 people, according to the city. Those who were accepted would live in SUNY Sullivan housing while receiving workforce training. 
Some Sullivan County leaders and high profile New York Republicans expressed initial concerns about the prospect – particularly after the New York Post published a story that claimed associated costs for the program would likely exceed $1.2 million during the first year. That number, which was based on estimates for two semesters at SUNY Sullivan, hasn't been confirmed by officials. According to the city, that cost has already been factored into the $4.2 billion estimate that Adams' administration anticipates spending on the asylum-seeker crisis this fiscal year and next. 
The mayor defended the plan while appearing on WABC radio's Sid & Friends on March 13, explaining that the city isn't paying for people to get a four-year degree. The idea is in part a decompression strategy to move people out of the city as well as a way to relocate new arrivals to somewhere they can learn basic skills, he said.
"We're doing an experiment with 100 asylum-seekers to teach them skills, so they won't be dependent on our city to teach them English, to teach them some type of trade," Adams said. "They will be self sufficient, which they want. Everywhere I go and I speak with the asylum-seekers, there's only one ask they ask of me. They don't ask for a place to sleep, food to eat, clothing. They only ask one thing, 'Can we work? Can we have a job?'"
Sullivan County Legislature Chair Robert Doherty didn't respond to a request for comment, but a news release from the office released March 10 said that county officials met with representatives from SUNY Sullivan and The Center for Discovery regarding the plan after Adams' announcement, coming away "tentatively optimistic regarding a positive result." The release said only single adult asylum-seekers would be eligible, with preference given to individuals who have already completed post-secondary courses or worked in health and human services. 
Sullivan County, about a 90 minute drive northwest of Manhattan, has a lower cost of living, a growing economy, and a notable and increasing Hispanic population.
Sen. Peter Oberacker, a Republican whose district encompasses SUNY Sullivan and The Center for Discovery, told City & State he has some optical concerns about the plan, but he intends to seek further clarity from local leaders.
"Is this simply the mayor putting his issue on to those of us in Sullivan County and those I represent? Is this a convenient way to address the issue?" Oberacker said in an interview last week. "I know we're saying that these folks are going to be coming up and they're going to be getting education and so on, and optically that looks good, but I can tell you too that I've got folks in Sullivan County and hardworking families that would love to have their children go to SUNY Sullivan for nothing,if you use that term, and get educated."
New Immigrant Community Empowerment Executive Director Nilbia Coyote said it's vital that asylum-seekers have access to workforce training and other forms of support as they wait for work permits, because those tools can help new arrivals avoid becoming the victim of worker exploitation. The Queens-based nonprofit organization has long fought to provide aid to immigrant workers. Coyote said she's hopeful about the idea of the pilot program as it would empower participants through education while providing them with housing, food and other resources – in short, stability. 
"You cannot welcome and really equip these newly arrived immigrants without providing them those opportunities. You need to make sure they have the tools to be able to work here," Coyote said. "Whether they wait for months for a work permit or not, they need to work and they are going to be victims of violations so you need to make sure that doesn't happen."