Immigration
NYC hopes to relocate asylum-seekers to other places
Mayor Eric Adams released a blueprint for the city's path forward, as the Biden administration weighs immigration policy changes.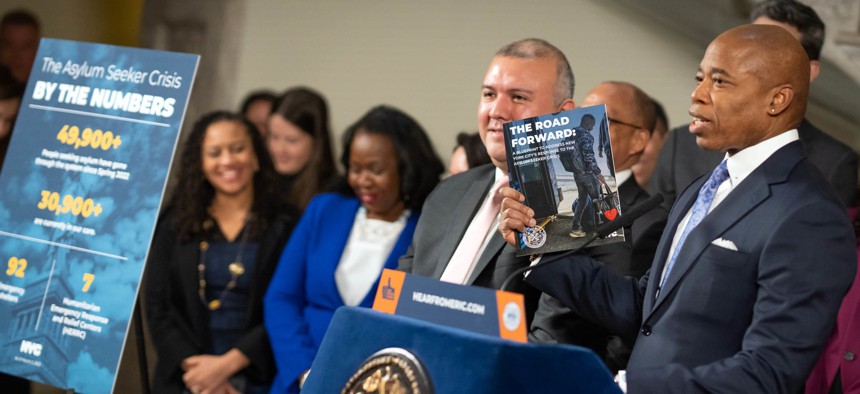 New York City Mayor Eric Adams is moving to relocate some asylum-seekers to other cities in the state and across the country where long-term housing is easier to come by. He's just not saying where yet.
"We're going to move towards long-term housing and resettlement, including resettlement to pre-vetted cities and municipalities that welcome asylum-seekers," he said. "And please don't ask me which cities, because I don't need you running to the cities and stopping us from getting asylum-seekers there. So we're not telling you."
Adams unveiled a blueprint for the city's path forward with asylum-seekers Tuesday. The city says some 50,000 asylum-seeking migrants have been processed since April 2022, and about 31,000 are still sleeping in city shelters. 
Adams' blueprint comes ahead of the expected expiration of a pandemic era federal rule known at Title 42. That change would result in an increase in border crossings into the United States from Mexico. President Joe Biden's administration is mulling its own new stricter immigration policies in response that could mean fewer migrants coming to New York City. Adams, for his part, is not expecting asylum-seekers to stop coming to New York. But once here, he's planning to encourage some of them to leave.
"I believe that New York is going to continue to get the influx and the bulk of asylum-seekers. So the more people we can show how to stabilize in other parts of the country, the better it is for us to be able to handle the influx that we have," he said. "We want to make sure people know that there are other places in the country where they can have the quality of life that they deserve."
The city is in the midst of an affordable housing crisis, and migrants – let alone low-income New Yorkers who have lived in the city for longer – have struggled to find a place to live. The Adams administration has set up emergency shelters across the city in hotels and – in a sign of desperation – some congregate shelters with rows of cots head-to-toe. The city says it has spent nearly $700 million on the effort so far, and expects to have spent $4.2 billion by the middle of next year. Adams reiterated his call for funding from the federal government, as well as "real immigration reform" without getting into the specifics. Adams has been careful not to criticize Biden directly, since he considers his fellow Democrat to be an ally. He may have to be extra careful now – Biden's political team added Adams to a national advisory board of supporters expected to campaign for the president's expected reelection effort. 
Another Democratic ally, Gov. Kathy Hochul, has largely been quiet on the city's struggles providing adequate housing and services to asylum-seekers. And she has resisted resettling migrants in other parts of the state, saying it may be best for them to stay in the city "instead of falling between the cracks" and falling out of the process of claiming asylum. Still, her executive budget included $25 million in "resettlement funding for asylum-seekers." Adams is counting on it. "New York State will pay for up to one year of the cost of housing for these families, as well as case management and related services," the blueprint reads. 
Adams wouldn't say where migrants would go, but WGRZ reported in February that the Erie County executive's office has discussed the possibility. And some migrants will be going to the Catskills in Sullivan County. The city is launching a pilot program for about 100 asylum-seekers to live at the SUNY Sullivan campus in the town of Fallsburg and receive workforce training. 
The resettlement effort – still in "the early stage," according to City Hall  – could put Adams in a political sticky spot. His hesitancy to name the destinations alludes to the anti-immigrant pushback that local governments welcoming asylum-seekers could receive. And while the Adams administration says it's hoping to provide services and set up these immigrants to the United States with a better life, there is at least an echo of the mayor's own gripes about politicians like Texas Gov. Greg Abbott and El Paso Mayor Oscar Leeser sending migrants from the U.S.-Mexico border to New York – where they could have a better life. 
For another part of the plan, the Port Authority Bus Terminal in Midtown will no longer function as the primary destination for newly arrived asylum-seekers. A portion of the main floor has been cordoned off for months as a welcome center. The city plans to open a "24/7 Arrival Center" that will handle reticketing services, shelter intake, legal information, and coordinating medical care instead – centralizing services to one location, according to Adams. 
The mayor is also planning to centralize management, creating a new Office of Asylum-Seeker Operations. Within that office, City Hall named a number of ongoing issues that it hopes to make better plans for. That's looking for ways to get more asylum-seekers legally working and earning money. And that's providing legal assistance to support migrants' immigration cases. City & State covered last month how difficult it has been for asylum-seekers to find legal assistance, with providers stretched beyond their capacity. 
Despite those struggles, Adams took a minute Tuesday to trumpet the city's response to the flow of low income migrants coming from Latin America. 
"That's unimaginable that you could spend months making your way here to a country where others have tossed you to the side," Adams said, addressing an asylum-seeker from Venezuela named Abraham who joined the press conference at City Hall. "Others did not give you the basic opportunity to participate in the American dream. But New York did. And the men and women behind me played that role with a full government approach."