Editor's Note
Editor's note: There's no such thing as homelessness fraud
If someone is seeking a bed in a shelter, it's because they need a bed in a shelter.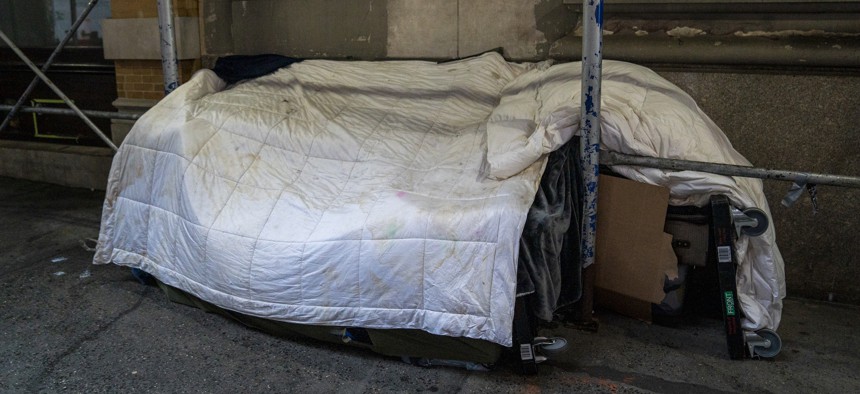 Innovation means being willing to jettison old ideas that are getting in the way of building the world we want. Last week, under pressure from the City Council, the mayor did just that when he eliminated the rule requiring homeless people to stay at a shelter for at least 90 days before receiving more permanent housing. But many more obstacles remain to getting homeless people the services that they need.
New York's legally-mandated "right to shelter" guarantees that anyone without a home can receive a bed in a shelter, but there's a catch – first, they have to prove that they're really homeless.
For families with children, that means going to the Prevention Assistance and Temporary Housing (PATH) intake center in the Bronx to explain to Department of Homeless Services "fraud investigators" every place you've lived over the past two years and why you are now out on the street.
As the name suggests, DHS fraud investigators are tasked with ferreting out supposedly fraudulent claims of homelessness. If they determine you don't technically meet the definition of homelessness, they'll kick you out of the shelter you're staying in and force you to go back to the intake center to start the whole process over again. This happens a lot. In 2021, DHS denied over 70% of families' claims of homelessness, and a report by the comptroller's office found that one homeless family had gone through this cycle more than 30 times.
Of course, there's no actual epidemic of people secretly living in apartments who pretend to be homeless just to get a shelter bed on the government's dime.
As the city looks for innovative solutions to problems like homelessness, it shouldn't hesitate to move beyond this outmoded approach to providing services.
Homelessness Case Studies
Powered By
NEXT STORY: Editor's Note: New York City trees need the City Council's protection