Opinion
Opinion: To address NYC's growing housing crisis, the city must fully fund the Anti-Harassment and Tenant Protection Program
The little-known AHTP program provides funds to legal service providers to help New Yorkers get repairs, stop tenant harassment and stay in their homes.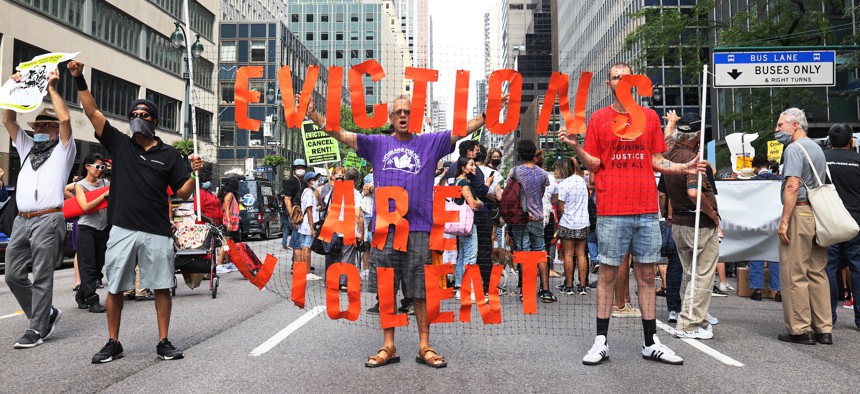 New York City is facing one of the worst affordable housing crises in its history. 
More than a third of all New York renters are severely rent burdened, paying more than 50% of their income on rent. The average rent in Manhattan soared past $5,000 last year, an all-time high, while rents in other boroughs also jumped drastically. Even rent stabilized units continue to see record-high increases, with the Rent Guidelines Board's recent decision to hike rents. And homelessness reached a record high, with nearly 66,000 people sleeping in city shelters last year and new waves of immigrants and others seeking shelter this year. 
Thousands of low-income New Yorkers are displaced each year by gentrification, landlord harassment and unfathomable rent increases. While Mayor Eric Adams' housing plan includes steps to expand the city's affordable housing stock over the next ten years, his administration must also work to preserve the affordable housing that already exists and keep New York families safely in it. 
One way the administration can achieve that is by funding the city's Anti-Harassment and Tenant Protection Program (AHTP) in this year's budget – a little-known but critically important city program that provides funds to legal service providers to help New Yorkers get repairs, stop tenant harassment and stay in their homes. It is a program that New Yorkers rely on to fight gentrification and keep their families with a roof over their heads. 
The city created the AHTP program in 2015 as part of a housing development plan to prevent harassment and displacement of Black and brown families in neighborhoods that were targeted for rezoning. Since then, the program has expanded to protect tenants citywide. Through free legal assistance and representation, AHTP providers affirmatively force unscrupulous landlords to fix hazardous living conditions such as lack of heat and hot water, vermin infestations, mold and non-compliance with fire safety codes. In addition, AHTP providers fight to stop tenant harassment, egregious rent overcharges and illegal evictions, many times before cases end up in court. 
Importantly, AHTP providers and community partners also build tenant power by informing tenants of their rights, helping them build tenant associations, and learn how to advocate for themselves by partnering with elected officials, city agencies and the media to fix longstanding housing problems and hold landlords accountable.  
One AHTP provider, Legal Services NYC's Tenant Rights Coalition, recently stopped a landlord's flagrant attempt to deregulate an entire rent-stabilized apartment building in the Bronx, a move that would have displaced hundreds of tenants and removed those units from New York's dwindling affordable housing stock. Legal Services NYC's Tenant Rights Coalition worked with Community Action for Safe Apartments to help tenants prove to the state's Division of Homes and Community Renewal (DHCR), the agency that oversees rent-stabilized buildings in New York, that the landlord was illegally exploiting a regulatory loophole. In response, DHCR rejected the landlord's application and forced them to renew tenants' rent-stabilized leases, preserving their affordable, rent-regulated apartments. 
Another AHTP group, The Legal Aid Society, represented Latinx tenants in Sunset Park who alleged that they were being racially harassed by their landlord in an attempt to force them out of their homes and turn their rent-stabilized apartments into market-rate units. The Legal Aid Society filed and won a class action federal lawsuit that resulted in a court order forcing the landlord to stop the harassment and baseless evictions, comply with all housing laws, re-regulate previously illegally deregulated units, give Latinx former tenants the right of first refusal for any vacant apartments going forward and agree to monitoring of compliance with the settlement for several years. 
And in Queens, the AHTP provider TakeRoot Justice represented dozens of tenant association members in a rent strike, forcing the landlord to stop neglecting essential repairs, pay money back to the tenants and start treating the tenants with dignity and respect. 
This kind of affirmative, group-oriented representation has proven to be a critical part of the city's plan to preserve affordable housing and keep families in their homes. More and more, low-income tenants are facing an unaffordable housing market with no good alternatives when they find their landlord is not complying with the law. Instead of going into our overcrowded shelter system, the AHTP program allows tenants to fight together to enforce tenant protections and housing laws. 
Sadly, the city funding has not kept up with the costs and needs of the program, despite the Adams administration highlighting efforts to fight tenant harassment and housing instability in its Housing Blueprint last year. In fact, the city hasn't provided a general funding increase since the inception of the AHTP program or a cost-of-living increase since 2020 – despite offering such increases to the New York City Law Department and district attorney offices. As a result, AHTP providers have had to dip into other funding sources to supplement salary increases and other expenses, such as technology and overhead, at a cost to other critical programs. 
If City Hall is serious about making a dent in New York City's housing crisis and keeping families out of the city's already overburdened shelter system, it must fairly fund its vital AHTP program in addition to building more affordable housing across the city. 
Without continued and fair funding, more and more tenants will get pushed out of their homes and into overcrowded shelters, more rent regulated housing will be lost, more communities and cultures will be decimated and New York City's housing crisis will continue to grow.
Pierina Ana Sanchez is a member of the New York City Council representing the Bronx and chair of the City Council's Housing Committee. Shekar Krishnan is a member of the City Council representing Queens.
Powered By
NEXT STORY: Opinion: Get ready for the return of the 'unexpected voter'