Budget
Opinion: Budget cuts threaten meals for older adults
Mayor Eric Adams proposal to cut $12 million from the aging department couldn't come at a worse time with record inflation and food insecurity.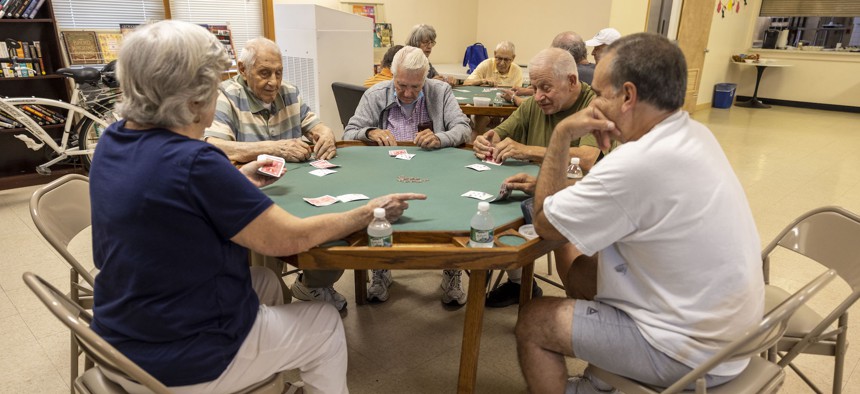 There are many poor choices in the current iteration of New York City Mayor Adams' fiscal year 2024 executive budget. Still, it was shocking when Adams announced a $12 million cut to the New York City Department for the Aging budget that pays for many millions of congregate and home-delivered meals for older adults. More than 500,000 of those meals come from Encore Community Services on the West Side of Manhattan. The mayor's office calls the cut justifiable due to lower-than-expected utilization of meal programs for older adults, but City Hall's metrics fail to capture the real and vast needs.
The scale of food insecurity is so vast, the administration can't adequately track it, relying on sporadic reporting from case managers and qualitative data from advocates. But the mayor certainly heard about these needs last month when he toured Encore's packed Aging Through Art center. Adams heard firsthand about the needs of the community members that utilize these centers. The aging services sector emerged from the worst of the COVID-19 pandemic only to be hit by record inflation levels that stretched older adults' fixed incomes to their limits. Staple food costs have soared, in some instances up 90%.
Many older adults remain traumatized by the pandemic and are, understandably, uncomfortable with congregate settings. While this drives down the top-line utilization rate of certain meal programs, it says nothing about real need. Some older adults turn to a grab-and-go program. Others find themselves completely shut out of the system. In short, the needs of older adults are changing even as the population grows. The 2022 annual plan from the aging department indicates that the older adult population will reach nearly 2 million by 2040.  It is precisely this evolution that the mayor's budget needs to address.
Complicating matters further is an ongoing divide between the state and the city on whether or not Medicaid clients can continue to qualify for city-funded home-delivered meals and case management services. In this way, there could not be a worse time for the city to cut funding.
In addition to nutritious meals, providers like Encore offer other forms of assistance. Older adult centers need funding to create outreach programs for people who require supportive services, including in-person and virtual programming to benefit the entire continuum of well-being in aging. Support for older adults isn't just about delivering meals. Promoting social connections, companionships, arts, lifelong learning and recreation is also crucial. That mission is central to avoiding social isolation, cognitive decline and food insecurity for thousands of older adults.
During the height of the pandemic, nonprofit and social service workers were deemed essential in keeping the city running. Today, these same workers are once again on the back burner. Despite already being among the city's lowest-paid workers (predominantly women and people of color), the executive budget represents a functional pay cut, continuing a yearslong trend of disinvestment. Human service workers deserve their requested 6.5% cost of living adjustment. The mayor, however, has offered them nothing.
In contrast, the New York City Council's preliminary budget response rejects the mayor's irresponsible cuts to the aging department and called for the city to add $18 million for home-delivered meals: $14 million for inflation costs and $4 million to fund weekend and holiday meals. "The $14 million in funding reflects a 27 percent inflation adjustment, based on extensive surveys conducted by advocates for HDMs (home-delivered meals)," according to the City Council. "Additional meals funding should also provide community-based providers the flexibility to provide urgently needed raises for kitchen staff, delivery drivers, kitchen inspections, and/or health and safety mandates." The City Council's plan is based on a thorough understanding of the needs of older adults and the challenges providers face in delivering care.
At a recent City Council budget hearing, New York City Department for the Aging Commissioner Lorraine Cortés-Vázquez testified that "uplifting and supporting our city's growing older adult population is a key priority for this administration." We applaud the commissioner's steadfast commitment to older adults. But how does the mayor's budget demonstrate that this population is a key priority? In total, the City Council asked for $101 million in additional funding for the aging department for fiscal year 2024. City Hall responded with a counteroffer of $0.