Opinion
Opinion: Restoring cuts to NYCHA's Vacant Unit Readiness Program
The Adams administration's proposed cuts would have left thousands of NYCHA units vacant in the middle of a housing crisis.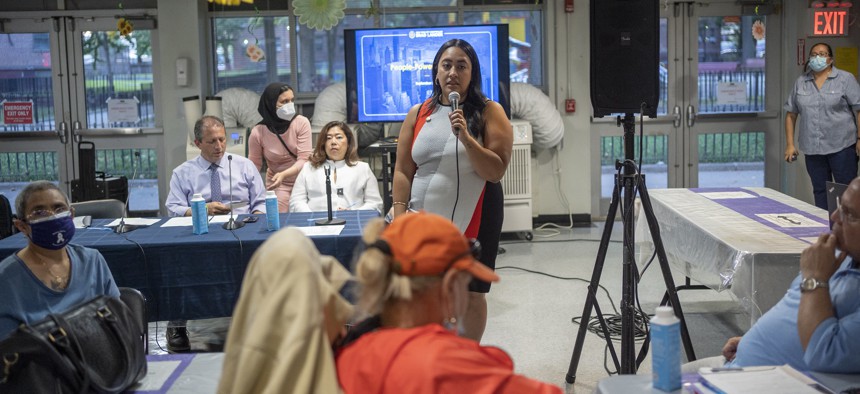 Over 500,000 New Yorkers rely on New York City Housing Authority (NYCHA) developments for stable housing, making it one of our city's most effective tools to address the high rates of homelessness and evictions. Yet, instead of initially investing in NYCHA to secure more housing for New Yorkers, the Adams administration's answer was to mandate $31 million in cuts, effectively undermining the Vacant Unit Readiness (VUR) Program. Today, we will vote on this year's city budget, which thanks to the City Council's fierce advocacy, will include $32.9 million to reverse the administration's November cuts to NYCHA.
Right now there are approximately 250,000 individuals and families on the waiting list for a NYCHA unit. These are people who are currently experiencing or are on the brink of homelessness, senior citizens for whom the cost of living has exceeded their fixed income, survivors of domestic violence whose lives are in danger, as well as families with children in the foster care system who await reunification pending placement in stable housing. The Vacant Unit Readiness (VUR) program offers a solution here, as it helps prepare and rehabilitate NYCHA units for turnover to be occupied by New Yorkers through placement from Department of Homeless Services (DHS) shelters, emergency transfers and NYCHA's general waiting list. This is why it was one of the Council's main priorities 
My office sees constituent cases related to this almost weekly. At a Public Housing Committee hearing earlier this year, the Council heard testimony from a mother who had to struggle between child care, work and the healthcare needs of her family, all while engaging in an over five month back-and-forth exchange with NYCHA to get the apartment she so desperately needed. In her testimony, she stated, "I had to work, but it was very difficult…you're in the street crying because you can't find anyone to help you. Only waiting, waiting for NYCHA [to call]." Through the advocacy and diligence of City Council offices like mine, some residents are able to get the help they deserve. While she was finally able to leave the shelter system, her case is the exception. There are thousands more in dire and similar situations who await relief. 
NYCHA's own data shows the upward trend in vacant apartments, as well as an increase in the average turnaround time of these units. It takes NYCHA approximately 399 days to rehabilitate a unit, which is far too long to ask our neighbors to wait while they endure instability, homelessness, violence and/or family separation. 
The impact of the November cuts have been clear. Vacant apartments increased from about 490 in December 2021 to 3,300 just one year later. Today, it stands at more than 4,000 vacant apartments. In the middle of a growing housing crisis, the city cannot afford to leave more than 4,000 New Yorkers and their families without a roof over their heads.
These units must be made habitable and available to New Yorkers as soon as possible, and now we will be able to do just that. Housing New Yorkers is a top priority of the Council, which is why we fought to make this necessary allocation to alleviate the growing shelter population and the increasing number of people facing eviction and homelessness across the city.
The adopted budget restored the $31 million for NYCHA's Vacant Unit Readiness Program, and the Council will continue to work to address the capacity issues that have decimated NYCHA's ability to house New Yorkers and our city's chance at solving the ongoing housing crisis. The solutions are right in front of us: we have the units, so let's empower NYCHA with funding and resources to turn these vacant apartments into homes for New Yorkers of all ages. 
As the City Council member for communities in the Southeast Bronx and someone who represents eight NYCHA campuses, I know how deeply this issue is affecting communities like mine every single day. I am proud to have negotiated this budget under the leadership of Speaker Adrienne Adams and alongside my colleagues on the Budget Negotiation Team, which not only fully restores the VUR funding, but also adds $1.9 million in additional funding, with a total of $32.9 million committed to the program in the Fiscal Year 24 Budget.
Amanda Farías is a City Council member representing Soundview, Parkchester and Castle Hill in the Bronx.
Powered By
NEXT STORY: Opinion: Mayor Adams, protect our city by funding our parks