Housing
Opinion: For a healthier city, New York must pass the Community Land Act
Here's how this transformational legislation can deliver environmental, health and housing equity.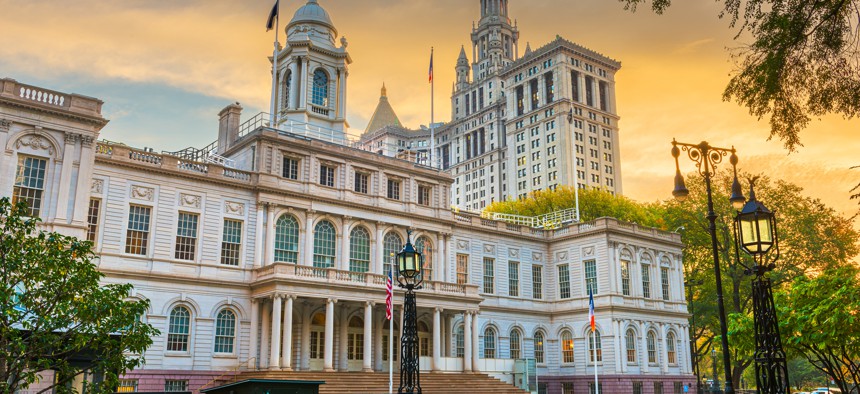 After the abject failure of the state to pass any meaningful housing legislation despite a historic housing crisis and record homelessness, the Rent Guidelines Board, under the direction of Mayor Eric Adams, added insult to injury by voting in favor of a 3% rent hike on over one million rent-stabilized tenants. This comes just two weeks after the climate crisis showed up at New York City's door, with dense smoke from Canadian wildfires blanketing the city in toxic air. Emergency room visits for asthma skyrocketed, disproportionately in Black neighborhoods. New Yorkers are in desperate need of meaningful solutions to address housing affordability and environmental health disparities. 
There is still time to act. New York City Mayor Eric Adams and Speaker of the New York City Council Adrienne Adams have a chance to pass transformational legislation to improve the city's environmental, health, and housing equity. Both have already indicated at least partial support for doing so.
The "Community Land Act," or CLA, is a package of visionary bills. One part of the CLA, "The Public Land for Public Good" bill (Intro. 637) sponsored by Council Member Lincoln Restler, would direct the city to prioritize nonprofits and community land trusts when it sells off city-owned land. Community Land Trusts are nonprofits that own land. Their governing structure centers community residents, users of the land and experts to ensure that land is used for the public good, including to create permanently affordable housing and accessible community spaces. Mayor Adams cited CLTs as an important policy tool in his mayoral campaign, and Speaker Adams cited them in her State of the City address in March.
While CLTs are often linked to deeply and permanently affordable housing, they go beyond that. Indeed, as environmental justice advocates, we see the potential for the CLA to enhance public health equity, access to green space in underserved communities, and a chance to mitigate the disproportionate pollution burden that communities of color have been forced to bear as a result of racist public and private land use decisions.
The CLA recognizes that the city regularly leases and sells land it owns to private developers at deeply subsidized rates – as low as a dollar – and with tax subsidies, to boot. In our communities of Harlem and the South Bronx, where asthma rates are high, we have seen developers pursue profit, even if it means polluting our neighborhood. Our organizations were founded, decades apart, in struggles to hold the city and developers accountable for the environmental harms they brought. We are still struggling. We have seen the city neglect vacant space that could be used to meet community needs only to see these same spaces given to for-profit companies that do not really consult with anyone in the community, that break promises, and change their plans when it suits their bottom line. But CLTs and nonprofits have a different bottom line, namely the community's well-being and real community input. As a result, CLTs can provide: deeply affordable housing; health, educational, and cultural facilities; green spaces; and light manufacturing, among other spaces focused on public benefits. Rather than public land being used to create private profits, regardless of the profound quality-of-life costs to under-resourced Black and brown communities – the CLA gives us a chance to enshrine people-centered priorities in our law and practice.
The CLA would also enable nonprofits and CLTs to have the first bid on privately held housing when it goes up for sale via the Community Opportunity to Purchase Act (Intro. 196) sponsored by Council Member Carlina Rivera. The CLA would not treat community harm as an irrelevant cost in the profit-making equations of real-estate sales, as our current system does. When tenants have a say in running their housing, they do not willingly ignore lead paint laws, toxins, mold and maintenance problems or energy inefficiencies and harmful emissions from burning fossil fuels. 
Further, in the face of meteorically rising rents and hypergentrification, we are concerned that our decades-long fights to make our neighborhoods livable after waves of racist redlining, landlord and city neglect, and public and private dumping of environmental hazards, will only result in our displacement. Others will profit, but we will be barred from enjoying the successes we fought so hard to win. 
The CLA requires a reversal of these dynamics. It commits public land to the public good and creates a pathway for resident and community control in  private-market housing transactions. The mayor and the Speaker, by backing the Community Land Act, have a chance to put New York City's communities at the beating heart of the city. Which is where they belong.
A. Mychal Johnson is a founding member of South Bronx Unite, a community-based organization that brings together neighborhood residents, community organizations, academic institutions, and allies to improve and protect the social, environmental, and economic future of Mott Haven and Port Morris.
Annie Carforo is the Climate Justice Campaigns Manager at WE ACT for Environmental Justice, a Harlem-based nonprofit building healthy communities in Northern Manhattan by ensuring that people of color and/or low-income participate meaningfully in the creation of sound and fair environmental health and protection policies and practice
Powered By
NEXT STORY: Opinion: Why won't Albany support building green space on the BQE?