Opinion
Opinion: The PLAN Act promotes fairness for formerly incarcerated people
The proposed legislation would bring greater transparency to the state licensing process, which is currently discouraging would-be nurses and social workers from entering their fields due to barriers relating to conviction history.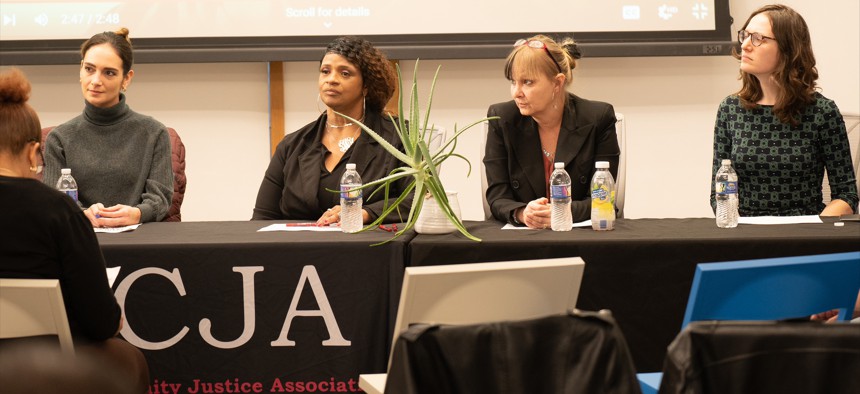 In 2015, I, Reverend Sharon White-Harrigan, found myself on a sidewalk in the Bronx, my mind racing after having walked for hours from the Manhattan office where I had just stood before a "moral character board," recounting traumatic stories of my life before and during incarceration. Prior to this meeting, I had paid hefty exam fees and applied to become a Licensed Master Social Worker – a milestone years in the making following my graduation with an MSW from Lehman College. Only after I had dedicated multiple years and invested thousands of dollars in pursuit of my social work license was I given the devastating news: despite being out of prison for 11 years and otherwise meeting the requirements for licensure, the New York State Board of Regents could deny me a license to practice the profession of my choice based on my conviction history – a fact that I had no way of knowing prior to submitting my application. 
To prove to the Board of Regents that I met the vague criteria of "good moral character," I had to bare my traumas in the hope that the board would consider my qualifications in totality, and not just my convictions. In that moment, I felt as if I had been transported back in front of the Parole Board, left to persuade a group of strangers that my character comprised more than my past actions, despite having excelled in my program with a 3.9 GPA at graduation. Fortunately, the board did ultimately recognize that I was not defined by my history and approved my license. But many more are not so lucky.
To address some of the exclusivity present in New York's current licensing application process, we – state Sen. Julia Salazar and Assembly Member Phara Souffrant Forrest – have introduced S3250/A4893, the Preliminary License Application Navigation Act, or PLAN Act. We believe it's a necessary step to fostering economic independence and encouraging financial stability.
This proposed legislation, aims at its core to encourage individuals with conviction histories to enter professions that they may have otherwise avoided due to systemic barriers. The current "moral character" process puts applicants in a holding pattern as they wait months to years for a result. This long process and wait for credentials leaves many with no choice but to find separate, lower-level employment despite their higher education. With the PLAN Act in effect, applicants will be able to enter the job market at the same time as their peers who don't have conviction histories, increasing competition.
On the front-end, individuals exploring career options are often deterred from pursuing professional fields requiring licensure because they may already know of the barriers awaiting them after years of commitment. With the PLAN Act, people can confirm or deny that fear through the preliminary application process – which allows an individual to verify whether they will be prohibited from obtaining licensure – allowing them to explore career options accordingly and in the best interest of the public, employers, jobseekers and the economy. Furthermore, if an applicant is given a negative determination from the licensing board during the preliminary process put in place by the PLAN Act, they will have the opportunity to appeal that decision and provide additional evidence demonstrating their qualifications.
Nearly one in four professions nationally mandate a state or city-issued occupational license, clearance, or certificate – encompassing professions from barbers and nail technicians to nurses and engineers, or, in my case, social workers. These professions often offer higher salaries, better benefits, longer tenure, more room for advancement and generally increased career stability than non-licensed careers. While it can be necessary for some professions to have a formal evaluation process for applicants, it is also essential to be transparent about the requirements for those jobs. The absence of transparency impacts already vulnerable groups, like formerly incarcerated people, the most.
Across New York, there are nearly 2.2 million New Yorkers with conviction histories and pending charges who may be confronted with unfair barriers from licensed professions due to a lack of outline guidelines and requirements. When nearly 75% of formerly incarcerated people are unemployed a year after being released, major career setbacks like licensure denial can add an unmanageable burden to already difficult economic circumstances. 
We believe that everyone deserves transparency and fairness in their pursuit of career advancement, and that individuals like me, of whom there are many, should not be told at the last minute that their convictions might bar their future success. Had the PLAN Act been law when I went through the licensing process, I would have known about the Board of Regents' requirements prior to investing thousands in licensure. There are many people out there who will simply never pursue certain professions because of the uncertainty and barriers currently present. Beyond that, all of us acknowledge the lifelong burden that records bring to individuals who are simply trying to build a better life for themselves and, in turn, for their communities. Who we are now is not always who we have been – and allowing people to demonstrate their current character, in light of their past, is worthwhile. New York must pass the PLAN Act to promote personal development and restore hope in millions.
Reverend Sharon White-Harrigan is a woman of faith, licensed social worker and the executive director of the Women's Community Justice Association. Julia Salazar is a democratic socialist state Senator representing the Brooklyn and Queens neighborhoods of Williamsburg, Bushwick, Cypress Hills-East New York, and Ridgewood. She is the chair of the Senate Committee on Crime Victims, Crime and Correction. Phara Souffrant Forrest is a part-time nurse and a democratic socialist Assembly member representing Brooklyn neighborhoods including Fort Greene, Clinton Hill and Crown Heights.
Powered By
NEXT STORY: Editor's Note: I confess I too forgot Staten Island