Ari Espinal
Assemblywoman Ari Espinal adopted someone twice her age
Assemblywoman Ari Espinal is the legal guardian of a 50-year-old man with developmental disabilities, taking responsibility for caring for him after his mother died in 2013.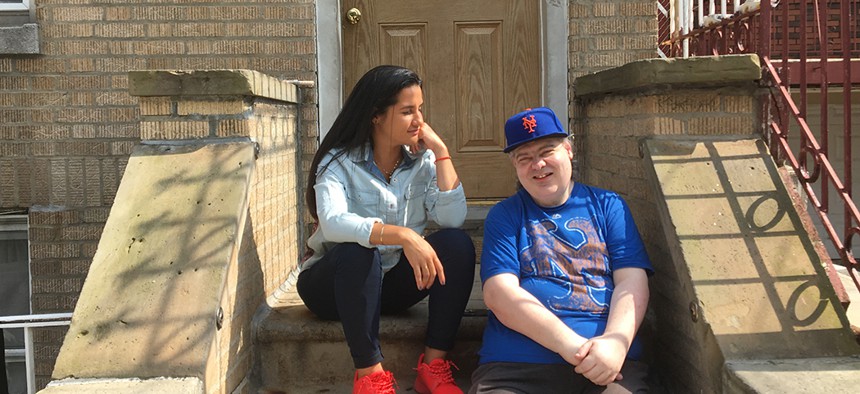 Assemblywoman Ari Espinal takes constituent services to a whole new level.
While most would settle for helping community members with enrolling in a government program like Medicaid or resolving an immigration problem, Espinal has become someone's legal guardian.
Clayton Caming, a 50-year-old man with developmental disabilities, had lived his whole life in Brooklyn when he met Espinal in 2011. At the time, she worked for then-Assemblyman Francisco Moya as director of constituent services – but Caming wasn't even a technically constituent in the Queens-based district. (Espinal was elected to replace Moya in the Queens-based 39th District in April.) Caming's mother, Patricia, worked at the front desk of the building where Moya's office was located and she often brought her son with her to work. Espinal, who passed them every day on her way to work, befriended them.
"He's the life of the party. His smile is endless," Espinal said of Caming. "I love him as if I grew up with him. … He's like a big old teddy bear."
One day, Patricia approached Espinal, asking for help filling out Medicaid forms for her son. Espinal obliged, unaware that Patricia had been diagnosed with cancer. When she died in June of 2013, Clay, who is largely incapable of living independently, was left with no other family members to help care for him.
"One day he came in with a letter, and his management was trying to evict him because of he wasn't on the lease," Espinal said. "He did live there forever, it's the only place that he calls home."
After learning that he had no other relatives, Espinal named herself his next of kin while finding a way for him to stay in his apartment. But she knew that in order to make sure she could continue adequately helping Caming, she would need a firmer legal arrangement. So in 2015, at only 25 years old, Espinal became his legal guardian.
"He's become part of my family. Clay has been a huge part in my every day," Espinal said. "He is someone that I have grown to love, and when he didn't have a family, I gave him one."
Espinal figured out that Caming had succession rights to his apartment, meaning that even though his name was not on the lease, the lease could be transferred to him. After successfully keeping him in his home, Espinal began looking into what other resources he would need, including disability benefits and food stamps, and got to work on those applications. This was made slower by the fact that she was not his legal guardian, which took two years to become official.
Aiding in the lengthy guardianship process was social worker Carmen Perez, whom Espinal initially reached out to for assistance. "This case is very exceptional. And Ari pretty much has a heart of gold," Perez said. She had never seen a case quite like this one, where a non-family member became the guardian of a special-needs adult. "Ari did whatever she could for him. … And he trusts her implicitly."
Espinal used her own money to pay Caming's rent and utility bills that were overdue. If she hadn't been able to keep him in his apartment, she said she would have moved him in with herself and her mother. "I couldn't resist helping him," Espinal said. "I couldn't think or go to sleep or wake up every day that I that I was home with my mom or I had every everything that I needed at that time."
Despite the extraordinary nature of her relationship with Caming, Espinal does find not the situation unusual. She felt it was simply the right thing to do, something she hopes anyone in her shoes would have done. "I'm getting a lot of, 'No, that's not the case. I don't know what world you live in, Ari,'" Espinal said. "But I would hope that there's others like me."
Today, Espinal considers Caming like a brother (a much older brother). He celebrates holidays and birthdays with Espinal's family and considers her and her sister's home safe havens like his own apartment. Espinal has Caming on her mind when she thinks of her future as well.
"I have this dream, and this dream of mine is to buy my first home (and) to have Clay in it," Espinal said.