New York City
Would Grace Meng replace Crowley as Queens chair?
Rep. Grace Meng on potentially replacing Joe Crowley, whether she's supporting the IDC challengers and what she's doing as DNC vice chair.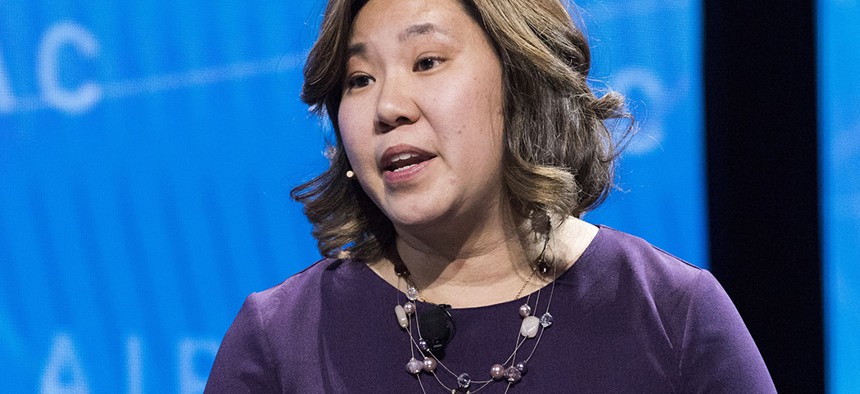 The first Asian-American to represent New York in Congress, Grace Meng's influence extends beyond the boundaries of her eastern Queens district. The Democratic National Committee saw this and elected her as a vice chair in 2017. Now she's focused on helping Democrats win seats – nationally and in her own backyard. She talked to City & State about changes in Queens politics, her role with the DNC and who she's backing for the state Senate.
This interview has been edited for length and clarity.
Rep. Joe Crowley has lost his seat, and some are calling for him to step down as chairman of the Queens Democratic Party as well. Would you be interested in the job?
I'm really flattered that some people have mentioned my name. Joe Crowley is still our chairperson right now and that will be a decision that he will have to make later on. I'm willing to play whatever part I can to make the Queens Democratic organization a stronger organization and one that has even better outreach. And whatever role that is in, I will be happy to be involved.
You're a vice chair of the Democratic National Committee. What have you been doing in that role ahead of the midterms?
Everyone who is an officer, from the Chairman Tom Perez on down, we all travel around the country. We sort of all have different portfolios. I work a lot with women's groups, communities of color, rural communities and millennial voters. Those are sort of my focus areas. … What I talk about a lot in Democratic politics is the importance of reaching out to underrepresented communities. And I think whether you are talking about minority communities, the millennial voters or rural communities, there are many pieces that they have in common with each (other) and that I've tried to work hard to make sure the Democratic Party is doing better outreach among those groups and areas. My district is not rural at all, but there are many underlying feelings that are similar between these groups.
Democrats are hoping to win control of the state Senate, the U.S. Senate and the House this year. Are you confident they'll win all three?
I am very, very cautiously optimistic. I think yes, as we've seen from results in special elections, whether it's (Pennsylvania Rep.) Conor Lamb's victory (in a district) where Trump won by about 20 points to (U.S. Sen.) Doug Jones' victory in Alabama, we've seen that the Democrats are super motivated and turning out at record numbers to vote. However I am very cautiously optimistic. I think that we have a great chance at winning back the House. We only need to win back 23 seats. However I believe that the Democratic Party has much work to do, even beyond just winning back the House in 2018. We are in a situation where we lost about 1,000 seats in the last 10 years. And we've won back about 47 of them locally (laughs) but we have a lot more to go. As a party, we have to continue to do the hard work. There are no shortcuts in making sure that we're reaching out … just to make sure that people feel like the Democratic Party is listening and paying attention to their concerns.
What about the state Senate? Is that a focus or yours, or are you looking more nationally?
I'm focused more nationally, but we have realized at the DNC that it's important to make sure that our races up and down the ballot are focused on – New York, obviously, is in a very unique situation when I tell my colleagues about the IDC, people are very surprised that that has been happening. It's not a new problem; this is a situation that has been going on for years in New York and I think in this era of Donald Trump, people have realized how detrimental a situation it is in terms of passing legislation.
So yes, I'm working – I'll give you one example of how I'm working in conjunction with state races and federal. In New York state, we have about five top priority congressional seats to flip from red to blue. In these five districts, we have about 23 college campuses. So I've invested a decent amount of money in the state party not just to register young voters for the congressional races' purposes, but there are also state and local races going on in those areas, and so I've invested money to hire an organizer in each of those five districts to solely focus on millenial and college-age voters because I do believe that registering them and increasing the turnout will be helpful for races, whether you're talking about the state Senate or Congress.
Your congressional district overlaps with two former IDC's members' Senate districts, Tony Avella and Jose Peralta. Are you getting involved with either of those races?
I have endorsed (Avella challenger) John Liu. I've worked closely with him in the past when he was an elected official. I've stayed out so far of the (Jessica) Ramos-Peralta race. I have a little less of that district, but I've stayed out of that one.
The state Legislature hasn't made any changes to the admission process to New York City's specialized high schools yet, which is a big topic in Asian-American communities. What are you hoping happens with that debate?
This issue has always been an important issue. All of us, regardless of which side of the issue you've been on in recent months, we all agree that increasing diversity in these schools is important. However the way that the city went about it – pushing legislation in the last week or two of session – is not the most effective way to get something done. This is something that's in the jurisdiction of the state Legislature. I know that (Assembly) Speaker Carl Heastie and Gov. (Andrew) Cuomo have been working with various community leaders and elected officials in making sure that all voices are included in this discussion in how to implement change, but also making sure that the Asian communities' voices are heard. Because comments made by the city and excluding the Asian community in these discussions in how to make change has not been productive at all.
Powered By
NEXT STORY: Who's up and who's down this week?