Zellnor Myrie
Zellnor Myrie's fight is not over
An interview with Democratic state Senate candidate Zellnor Myrie.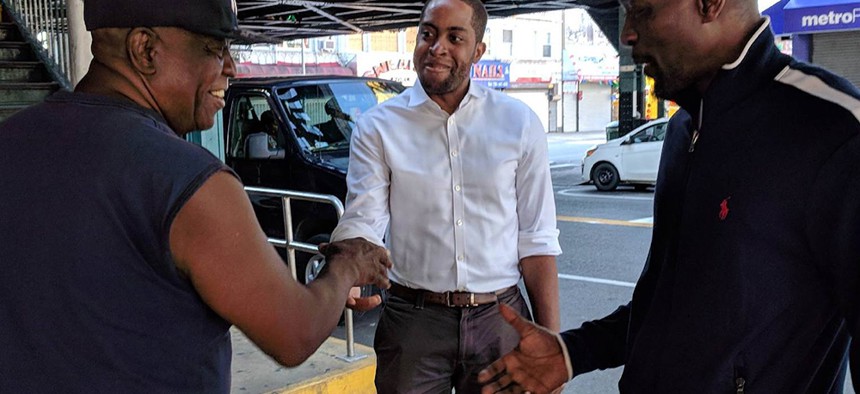 The backlash against the state Senate Independent Democratic Conference culminated with the defeat of six of the eight former members of the breakaway conference in the September primaries. One of the victors, Zellnor Myrie, beat Brooklyn state Sen. Jesse Hamilton and is likely to win in November's general election. In a Q&A with City & State's Jeff Coltin, Myrie talked about the IDC's cooperation with state Senate Republicans, the possibility of Hamilton continuing to run on third-party lines, and the looming fight over renewing rent regulations next year.
Your parents are from Costa Rica – do you identify as Latino? Do you speak Spanish?
I speak Spanish, but it is not as good as it should be. Both of my parents are from Costa Rica, and they're from the Caribbean side of the country, where most of the black people are. … My grandparents are from Jamaica – a lot of the black people in Costa Rica have Jamaican heritage, so the fact that we have a strong Caribbean population in the district – sometimes we assimilate.
What's the latest from your opponent in the primary, state Sen. Jesse Hamilton. Could he still run in the general election? (Hamilton's campaign did not respond to a request for comment, though his tweets the day after the election seemed like an acknowledgement his time as a senator is over.)
He has not said that, certainly not to me. I haven't heard from him, he hasn't, to my knowledge, communicated with anyone from my team. There are whispers (that he might run), but those are ones he's communicating with other folks, and not us.
We are continuing as if he is, because he has not conceded yet. And so with the knowledge he has those two third-party lines (the Independence Party and Women's Equality Party), we are assuming that he is going to mount some kind of campaign. We're going to continue the race.
It's a very interesting approach given that we spent a lot of this Democratic primary talking to the voters about who was going to be the real Democrat, who was going to represent Democratic values. And I think the voters spoke unequivocally on Sept. 13 in the primary, and so it'll be interesting, what that discourse is going to look like leading up to Nov. 6.
Hamilton criticized you during the campaign for working for "ultra-conservative" Democratic New York City Councilman Fernando Cabrera. Did you openly disagree with Cabrera on his opposition to same-sex marriage and other views?
I think the voters knew what my history was, what my values were, and they chose to support us instead. While I worked for the City Council, it was always very clear to the councilman where I stood on equal rights and reproductive health. I had the opportunity to work on some of the things that I ran on, like the Tenants' Bill of Rights, and got to see how local government worked.
It was a very rich attack, coming from someone who empowered the Republicans in their current job as a state senator in Central Brooklyn. I talked about my time there, and all the organizations that fight for choice and reproductive health and equal rights, they looked at my record and they looked at my opponent's record and they chose to support us instead. I think my values have always been clear, not just to the councilman but to the community, and I'm glad that the voters saw right through that attack.
Hamilton's membership in the IDC was a big part of your campaign. Were there any particular votes Hamilton made that you would have done differently?
I think the vote that I had most issue with was the vote to not have Andrea Stewart-Cousins be the (state Senate majority) leader. That is the vote that unlocks all the other votes, and the leadership of the chamber determines what legislation comes up for a vote. Part of what was so insidious about the IDC was that they were able to hide behind things like co-sponsorship. They'd say, 'Well, we have co-sponsored some of these very bills that you guys are advocating for.' But of course the co-sponsorship means nothing if the Republicans remain in control and control the agenda. So the biggest vote and most important vote I think was the abstention from voting for Andrea Stewart-Cousins.
Right after Hamilton joined the IDC, state Sen. John Flanagan was voted leader in January 2017 with 32 votes – all the Republicans, plus state Sen. Simcha Felder. No other Democrats, no IDC members voted for him.
I think – it's unclear to me whether that is true. I think at the time, Felder communicated that he would go – there was some indication to the public that he would vote with the majority, whichever way it swung. It's unclear – I would hate to hypothesize what Felder would have done if all of the Democrats had said, 'We're going to be behind Stewart-Cousins.' But that did not happen. And I think the people certainly in this district wanted to see some consequences for that.
Regarding housing policy, you've talked about wanting to repeal the Urstadt Law, ending vacancy decontrol and closing the preferential rent loophole. Is there one that's most important to you?
It's hard for me to pick one, because I think that they all work in tandem and they're all going to be part of this discussion in the renewal of the rent laws this June. One of the biggest incentives for landlord harassment is vacancy decontrol and the eviction bonus. Because the tenants who are more vulnerable in rent-regulated apartments really need the rents to stay where they are, but the profit incentive for the landlord is to get as much for that unit as possible. So those two incentives work against each other, and I think it's one of the biggest sources of putting people out.
But I plan on advocating for all those things, and it's going to be a fight. Real estate special interests spent a lot of money in this primary investing in people like my opponent and the rest of the IDC, and you better believe they're going to be ponying up again after the general election because we still have not only IDC members who haven't conceded and are possibly running races, but also Republicans on Long Island and the Hudson Valley and other places in the state where they have been solid allies of the real estate industry and I think that we're going to be up for a fight next year.
If the state Senate Democrats had been in the majority, would they be doing what you want? Or do you think the conference needs to become more progressive?
The wrangling of votes and the persuading people on particular progressive issues is a job that I really do believe Andrea Stewart-Cousins is more than capable of doing, and I think she's going to do an excellent job leading the chamber. But I think it goes without saying that there are Democrats of different stripes within the Legislature, and my job – as a member that was elected on a very progressive platform – is to push as hard as possible.
When I would talk to people on the streets, on the doors or at the subways, it wasn't a promise that we were going to get everything done and that we were going to get everything done in year one. The promise was that we were going to fight and advocate and not have our voices stifled by an illegitimate majority. And so what I'm most excited about is that even if there are Democrats who don't necessarily agree with some of our progressive positions, at least we get to have these discussions out in the open. We get to have some debate on the floor, of which we were completely denied under a Republican majority.
Are you generally supportive of bringing deregulated apartments back under rent regulations, and restoring previous rents?
I am. And I think that when that notion has been offered, it has been conveyed as some sort of radical proposition. But the truth is that there was a time in this city, 50, 60 years ago when the overwhelming majority of rent units were under some type of regulation, whether that was rent control or rent stabilization. I think it is not this radical proposition. It really speaks to whether we feel, as a government, that housing is a right that should be afforded to as many people as possible.
After your primary win, have you spent any time visiting other districts helping to elect other senators?
I have not gone to other districts yet. We may still have a pretty contentious race on our hands, so we're going to be spending a lot of energy still in the district. But it is, I think, in the interest of the folks in the 20th state Senate District to have as strong a Democratic majority as possible. And so we will be looking at opportunities to help as many Democrats get into the state Senate as possible.
Any districts you're particularly interested in? Have you talked to Andrew Gounardes, for example?
We have spoken. I've spoken to a number of the grass-roots organizations that were incredibly instrumental in helping on the path to victory, and so we will be supporting their efforts as well in some of these races across the state.
You're a sneakerhead? Are you going to wear them with suits in Albany?
We still have to win in the general election, but if we are victorious there, during my orientation I plan to ask whether or not sneakers are allowed in the chamber. (Laughs.) It's very much a part of who I am, so you will absolutely see me wearing them in Albany, but it is to be determined whether or not they'll allow me to wear them in the chamber.
What pair goes well with a suit?
I actually have the perfect pair – I didn't buy, I held off on getting them – but they're Air Jordan 11s, and it's the graduation edition. It's all black and it's patent leather, and I think it would look very good with a suit.
Powered By
NEXT STORY: Will de Blasio's ballot proposals make a difference?