Mark Levine
Mark Levine on marijuana, e-cigarettes and the need to vaccinate
Mark Levine, New York City Council Health Committee chairman discusses marijuana, e-cigarettes, and the importance of vaccinations.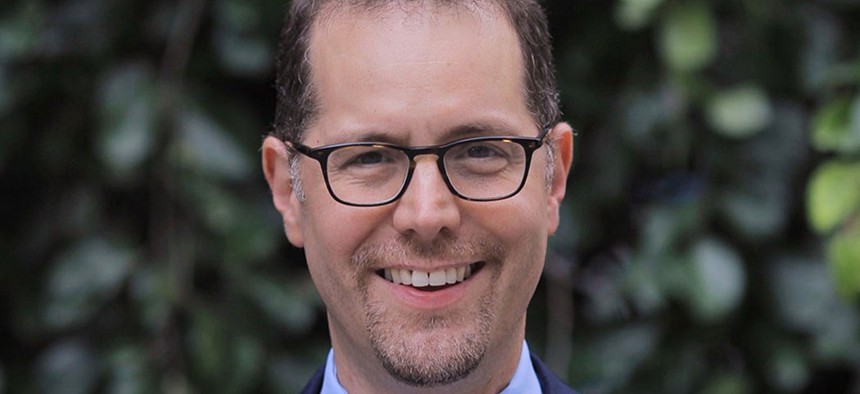 Who says a health committee has to be all about insurance premiums? Halfway through City & State's interview with New York City Councilman Mark Levine, the health committee chairman said it was the most fun interview he's ever done: "You're hitting all these cool issues."
But that's just because in his role, Levine has been hitting some of the most interesting issues of the day, such as marijuana, e-cigarettes and a measles outbreak in Brooklyn.
This interview has been edited for length and clarity.
It seems like every small business in New York City is advertising some form of cannabidiol, or CBD oil. But the city is planning to ban it this year, citing federal regulations. You're saying don't ban it, so are you asking the city to stand up to the Food and Drug Administration?
Yes. I don't think it should be banned. It is legal in many states. And there's no concrete evidence that it's harmful. It's been on sale in New York City for years, and we are potentially about to legalize recreational marijuana, and I don't think that prohibiting CBD is consistent or warranted by the science.
The federal guidelines on this are actually a little bit murky. Because one thing was approved as a treatment for seizures by the FDA, it's now considered an active ingredient and therefore, according to the FDA, shouldn't be added to foods.
New York City Mayor Bill de Blasio announced a plan in January to expand health care coverage for city residents. Has City Hall been doing enough to sell the program so far?
There is enormous misunderstanding about what the program is. Many people think that we passed single-payer in New York City. The truth is, this is a continuation of one of the most important things we do as a city, which is provide medical care through public hospitals, regardless of ability to pay.
There is an important new program which will help undocumented New Yorkers get access to primary care, which I strongly support. We want to strengthen and expand it so that the wonderful network of nonprofit community health providers outside of New York City Health + Hospitals are included – because these are organizations which have the greatest competency in working in immigrant communities with language abilities and cultural sensitivity and are located in immigrant neighborhoods.
Would that have to be done legislatively?
It could possibly be done legislatively. I think we're certainly exploring what kind of role the council could have in helping to make sure that every New Yorker who needs it is reached, and this is the best program it could be. But rollout is supposed to begin in August in the Bronx, so this is happening pretty fast.
Some state lawmakers are proposing an end to the religious exemption for vaccination amid a measles outbreak of more than 120 cases in Brooklyn. You tweeted positive things about vaccines, but do you think there's a legislative fix here?
The challenge in Williamsburg and Borough Park is not that people are citing religious law in seeking these exemptions. It really is emerging from unwarranted fears or underestimating the risks. And I think that by strengthening education and outreach and making sure that schools themselves have really tight systems for ensuring as many kids as possible are vaccinated, that we can improve this. I don't know whether the Supreme Court would allow us to strike down the religious exemption, but I'm certainly open to discussing it with my colleagues in Albany.
Gov. Andrew Cuomo supported raising the smoking age statewide to 21 and banning certain flavors of e-cigarette liquid completely. You have introduced a bill to ban similar liquids in the city. Are you moving forward with that, or waiting to see if the state will act?
Vaping has become epidemic among teens in New York. This is a highly addictive chemical, nicotine, that can hook kids for life. And they're being lured in by fruity, candy-ish sounding flavors that are clearly designed to appeal to kids, from cherry crush to chocolate mint to watermelon twist. I think that New York needs to follow the lead of other jurisdictions that have banned flavors as a means of reducing the allure for young people.We had a major hearing on this issue weeks ago and we definitely heard pushback from adult smokers for whom e-cigarettes have been a vehicle for leaving traditional smoking and they cited flavors as being important for that. So we're not unmindful of that consideration. But the truth is that an estimated 27 percent of New York high-schoolers are using e-cigarettes.
I very much hope that we will continue to move forward on the bill whatever New York state does.
There's always criticism that e-scooters and e-bikes are dangerous, that emergency rooms are full of victims. Do you see them as a public health issue?
Giving people new ways of getting around that doesn't pollute, that reduces congestion on the streets, is a win for everybody. Obviously safety is paramount, no matter what kind of vehicle you're on, whether it's a car, a bike, a motorcycle or a scooter, you've got to follow all the traffic laws. Adults can't ride bikes on sidewalks and people can't go against traffic. But the right response is to give people options and ensure that they adhere to traffic safety laws – not to simply ban outright entire modes of transportation, which have already proven to be popular and overwhelmingly safe in other cities, which are ahead of New York.
And look, there's a health impact of breaking our addiction to the automobile as well, which is emitting fumes that contribute to asthma and global warming. And cars themselves are leading to hundreds of fatalities a year in New York. I think it's unfair to brand scooters and e-bikes as being particularly dangerous.