New York City
Meet Renee Campion: NYC's first female labor relations commissioner
Office of Labor Relations Commissioner Renee Campion discusses what is on the agenda for the Office of Labor Relations and what she hopes to see accomplished in the near future.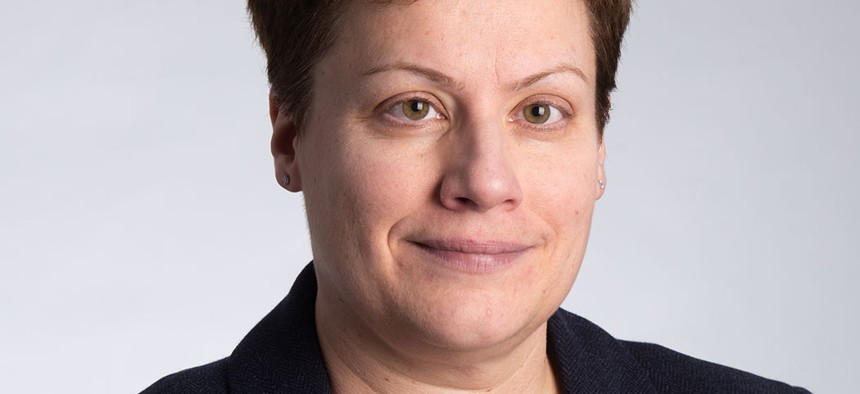 Labor relations in New York City was one of the first, biggest challenges for newly elected Mayor Bill de Blasio back in 2014. But his administration managed to reach labor contracts with every public sector union in the city after negotiations had halted under former Mayor Michael Bloomberg. Renee Campion was there for all of it, working for the Bloomberg administration in the Mayor's Office of Labor Relations for his entire 12-year tenure, then serving as first deputy commissioner under de Blasio. Earlier this year, she got a promotion, being named commissioner of the office, replacing Bob Linn who announced his retirement in January.
She runs an office of 140 people and is the city's chief labor negotiator during an especially busy time. Of the 360,000 unionized city employees, 37 percent don't have settled contracts in the latest round of bargaining – including those in the notoriously difficult Police Benevolent Association.
"There's a lot of work to do. A tough road ahead with all those contracts," Campion told City & State. "But we did it once before, in 2014 and 2015, when all the contracts had expired and we had to negotiate all the agreements. We're sort of in that place now."
So your job is about a lot more than contract negotiations.
That's the stuff that makes the papers. But we have the negotiation side, the health administration, employee assistance program and health care cost management. It's all sort of interrelated, in one way or another.
Something I'm very proud of is the employee assistance program. We have a dozen MSW's (employees who have a master's degree in social work) who handle our calls and in-person meetings with city employees, as well as their dependents and family members when they need someone to talk to from an employee assistance point of view.
I thought unions usually handle that kind of stuff. Are you only providing services to nonunionized employees?
No, it's everybody. The uniformed unions have their own employee assistance programs, but it doesn't prevent anybody from picking up the phone and calling our number and asking for help. The uniformed people tend to stay within their agency, but all 380,000 city employees would be able to pick up the phone and call and ask for help. And we could provide that resource for them.
The mayor is asking every single department to cut its budget this year. Is that on your mind as you negotiate labor contracts? Does that add pressure, knowing there's a slight budget crunch?
It makes it a challenge. I think there's a reality of fiscal restraints no matter what the economy has out there for us. We budgeted for the labor pattern that exists. That's already in the budget. So to the extent there are cuts made, or as different agencies are being asked to come up with additional savings, it doesn't directly, necessarily impact the pattern that we have.
You mentioned the labor pattern – that's using the graduated pay hikes that the city negotiated in 2018 with the United Federation of Teachers and District Council 37?
Right, there's a 2 percent (raise), a 2.25 percent, and a 3 percent. Which is a total of 7.25 percent, and then there's also two 0.25 percents that are available throughout the contract term, over the 43 months, so if you add in that half a percent, the total is about 7.95 percent. We'll be working with the other groups to come to settlements. For the most part, we come to voluntary settlements. And we expect to do the same thing now.
The Police Benevolent Association has been one of the toughest deals to reach, year in and year out. Are you approaching it differently this year?
We've engaged in bargaining for this round since late 2017 or early 2018. They filed for impasse in summer of 2018 and we started that process, where the (state Public Employment Relations Board) arranged for a panel. Our selection was (former labor relations commissioner) Bob Linn, and continues to be.
So he's not totally retired!
He's retired, as in he will be getting his pension (laughs). I have retained him as a consultant on a couple of issues, one being to continue in his role as the city's representative on the PBA panel. They filed for impasse, we picked the panel, and then they chose to litigate the city's selection of Bob. This impasse is for the contract that expired July 31, 2017, and there's a maximum of two years (of negotiation) required by law, unless the parties mutually agree to a different term, so that would be until July 31, 2019, so that's a few months away. Our door is always open for the PBA to come back to the table. To the extent that they want to come forward to the table, they know who I am. I'm a known entity. I've worked in the office for 17 years. People know me, they respect me. I think everybody sees me as an honest straight shooter.
You're the first woman in this position.
I am the first woman. And it's really exciting. In addition to being the first woman, I'm the ninth labor commissioner. That really points to the strength of labor relations in New York City for the last 53 years. There are other agencies that have had much more than nine commissioners in their existence.
Are you personally represented by a union?
I am not, no, no, no. I am purely management. Along with the mayor, I'm one of the few positions in New York City these days who are not represented (laughs). We have lots of one-star, two-star chiefs in the police department that are represented by unions.
Out of 380,000, we have about 360,000 represented employees, and 20,000 management or supervisory employees, who are people just not represented by a union. That's why there's 350 groups I have to negotiate with!
But as far as the point about being the first woman, I think it was just as important for my own staff to see a woman leading OLR. At the same time, I think it's very important – and I've gotten very positive reaction from a lot of the union representatives and union leadership – that they see a woman leading the management team. But it's nose to the grindstone now. I've got a lot of work to do.
What's your personal philosophy on labor unions? Should every public and private employee be in one?
New York City, we're a union town. We're very focused on the unions and what they've done for New York City. Having done this for 27 years, I know the importance and value of the union. I was never in one myself, but I understand it. When I'm sitting across the table from union representatives, I hope to show a respectful dynamic. There's no reason for anything else. I understand what their role is. They understand what my role is. At the end of the day, we will come to a settlement one way or another, mostly on a voluntary basis.
To the extent that those negotiations are successfully concluded, I think people can then deal with other issues that come up in city government. There are so many issues that go beyond the contract. Labor relations in New York is not a one issue experience. It's multifaceted and complicated.
We've seen the PBA protest outside the Prospect Park YMCA and follow the mayor to Iowa. What's the craziest thing you've seen as part of contract negotiations?
I wouldn't categorize it, necessarily, as crazy. It is their right to assemble and free speech and make their voices heard. To an extent, I would prefer, as a labor commissioner, that they had those conversations and were doing those things at the bargaining table. That's always what we're in favor of, all day long.
Nobody has ever inflated a giant rat outside your apartment?
I live on the Upper East Side. I've been there 25 years or so. I'm not aware that they've ever put a rat outside my building. I guess my tenure is short so far, so … (laughs) but I would hope that I have a good enough relationship with the unions. But I guess it's always possible.
Powered By
NEXT STORY: Queens lawmakers capitalize on congestion pricing