New York City
In Queens DA contest, Tiffany Cabán is the leftest of them all
Among the seven Queens District Attorney candidates, Tiffany Cabán's platform would take the office the furthest to the left.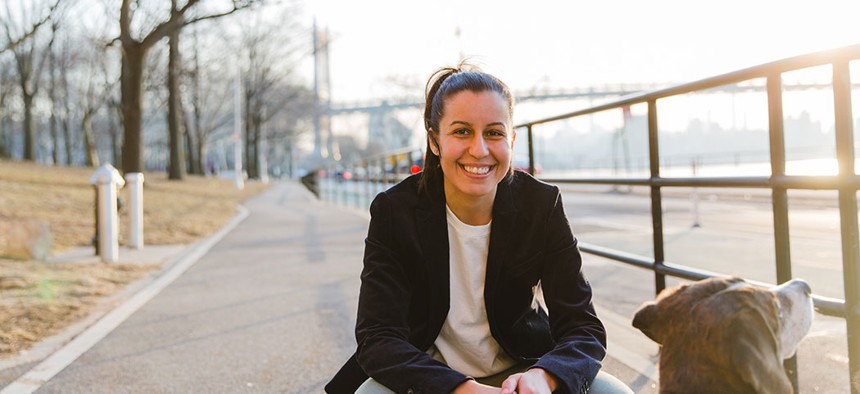 In the crowded and competitive race for Queens County district attorney, where everyone is running to the left of former District Attorney Richard Brown, Tiffany Cabán has ventured further left than others are willing to go. The 31-year-old has never held elected office, and doesn't have any experience as a prosecutor or a judge. Perhaps due to her inexperience, she has hit a few bumps on the campaign trail, with reports of "infighting and disarray" and turnover on her team and a campaign volunteer caught spying on another candidate.
But Cabán knows the criminal justice system intimately, due to her experience as a public defender. And her ideas for fixing the system, in practice, aren't as radical as one might expect. It starts, she explains, before trial, with prosecutors handing over evidence.
"When you don't have the evidence, how can you move forward with a case?" Cabán asked rhetorically, sitting at a long picnic table in her Jackson Heights campaign office early on a weekday morning last month. "When you don't have the evidence, how can your client make a decision on whether to take a plea or not? When you don't have the evidence, how can you prepare for a trial?"
In many states, evidence is handed over to the defense right away. The defense has all the information needed to write a big omnibus motion addressing all of the issues. But the way it has typically worked in New York is that the D.A. shares information bit by bit, Cabán said, and every time the defense gets a new piece of information, they have to write a new motion. And the clock stops ticking. The prosecutor is entitled to time to respond. The clock stops again. And so now you've lost, say, two to three months of time, just like that.
In fact, Cabán was transitioned off a murder case when she decided to run for office – and her former client still awaits trial. He has been in jail for two years.
As the nation comes to grips with the crisis of mass incarceration, activists, researchers and politicians are zeroing in on prosecutors as primary drivers of this problem – and in fact, New York passed legislation a little over a month ago that requires prosecutors to share this evidence early on in a case. Cabán, who served as a public defender for seven years, thinks the D.A.'s office, which sets the pace for the courts, is primarily responsible for dragging out the trial process by deferring proceedings and withholding evidence. She says it's the first thing she will change if she is elected Queens County's next district attorney.
Cabán has represented people on charges ranging from turnstile jumps to homicide. As a public defender, she observed flaws in the system firsthand. It's not the same view as of a judge or an assistant district attorney, positions (occupied by four of her opponents; the other two are career politicians) that are integral to the criminal justice process. But Cabán's perspective is from the bottom, defending people who are often disadvantaged and outmaneuvered from the moment they enter the system.
"The thing that is sort of surreal about when you represent somebody who's charged with something really, really serious, especially a violent crime," said Cabán, "is that you also see a person."
Cabán is tiny – 5'3" – and bursting with energy, zipping across her a small, mostly empty campaign outpost, as if trying to make up for her short stride. Clad in her standard uniform, a grey blazer pulled over a white-collared shirt tucked into denim, with reliable brown shoes (a relaxed take on a men's Cole Haan wingtip), she curses like a sailor – or perhaps like a Queens native. "Oh, fuck!" she said as she fumbled with a coffee maker, uttering an interjection that slipped out on multiple occasions. "I promise I do this at home every day!"
When answering questions about prosecution, she can sound a little rehearsed, responding like a politician sticking to talking points. "My philosophy is, you should ask two simple questions on every single case," she said. "How can we make sure this doesn't happen again? So what does it take to change behavior? Right?"
And to make communities safer, instead of measuring a prosecutor's success by the number of convictions or length of sentences, Cabán has these principles. "You're successful if you do three things: if you can show that you can reduce recidivism, if you show that you can decarcerate our city, and if you show that you can apply the law fairly across racial and class lines."
When District Attorney Richard Brown died this month, he had served Queens County for decades. For years, rumors had swirled around Queens political circles that Brown's seat would open up, and Cabán was among many who saw an opportunity for real change.
Brown became Queens' lead prosecutor during one of the toughest crime periods – the early 1990s, when New York City was in the thick of a serious battle for public safety, facing challenges like the crack epidemic and rising homicides. "There was a time where you couldn't walk around in the Far Rockaway," said New York City Councilman Donovan Richards, who represents Southeast Queens and Far Rockaway and also chairs the Committee on Public Safety. "I certainly heard from people older than me that you couldn't walk around there without a gun."
Brown's response to high crime was to aggressively prosecute every class of offense. His tough-on-crime approach was consistent with the prevailing theories around public safety in the 1980s and 1990s, like broken windows policing, a theory developed in 1990s crime-ridden New York City. The approach, fine-tuned by the mayor at the time, Rudy Giuliani, and his police commissioner William Bratton, involved taking people in for petty crimes, like breaking windows, to discourage and prevent more serious crimes. (Some social scientists and activists have attacked this premise and point to its disproportionate impact on communities of color.) But times have changed: Homicides have plummeted, the crime rate is at record lows in the city, and the national dialogue around aggressive policing and prosecution has shifted – as have the political winds in Queens.
Perhaps the biggest indicator of this shift is the candidate pool for Brown's seat. There are seven in the Democratic primary, scheduled for June 25 – Queens Borough President Melinda Katz, City Councilman Rory Lancman, Judge Gregory Lasak, Betty Lugo, Mina Malik, Jose Nieves and Cabán – and they're each clamoring to get to the left. (No Republicans submitted petitions.) They all say they will decline to prosecute nonviolent offenses like fare evasion and marijuana possession (which has already been limited in other boroughs), reduce or end cash bail – another measure that was enacted in Albany this spring – and significantly reduce the jail population.
While endorsements have been divided among the top tier of candidates in the race, progressive activists are creating a tailwind for Cabán. In March, her campaign was endorsed by Real Justice, a political action committee formed by civil rights activist Shaun King working to get progressive district attorneys elected nationally. Larry Krasner, the longshot former public defender who was elected district attorney in Philadelphia in 2017, was also supported by the PAC, as was Wesley Bell, the first black prosecutor in St. Louis County, Missouri, and Rachel Rollins, the D.A. in Suffolk County, which includes Boston. The Working Families Party also put its considerable clout behind Cabán. And though Katz clinched the powerful support of the Queens Democratic machine, Cabán also has New York City's Democratic Socialists of America behind her, a rising force in New York politics that propelled Rep. Alexandria Ocasio-Cortez into office.
State Sen. Julia Salazar, another DSA member, co-hosted a fundraiser for Cabán on April 11. Salazar and Cabán have some mutual friends, but she didn't really know Cabán until she read through her DSA application for endorsement and said she was surprised by how genuine she came across. "NYC DSA has a very, very thorough candidate questionnaire, and her responses were very thoughtful, very earnest," said Salazar.
Earnest is an apt way to describe Cabán. To explain how the criminal justice system neglects the circumstances that drive people to crime, she talks about her grandfather. As a child she was swept up by fantastical stories he would tell. As an adult, she began to contrast the patient, kind, funny grandfather she knew, with the domestic violence she also knew he inflicted on her grandmother. He served in the Korean War and came back mentally ill and abusive because of it. "What our justice system doesn't do, what our D.A. offices don't do is take a guy like that and say he's also somebody who served our country, who went to war, who came back with mental illness, self-medicated because he didn't have access to resources," Cabán said. "And where were our systems in place to support him so that he could support his family?"
"People are human beings," said Cabán. "They deserve dignity and respect throughout the process, and they deserve to have their constitutional rights preserved, and they deserve a defense. And they also deserve to be known. Because no matter what you are charged with, the idea should be that we should be doing less harm, and we should be ensuring less harm in the future."
Both sets of Cabán's grandparents are from Puerto Rico. They landed in the Bronx after emigrating to New York in the 1950s. Her parents, as young children, lived in the same housing projects in the Bronx and received housing transfers around the same time to another project – Woodside Housing Projects – in Queens, which is where they met.
Cabán grew up on the working-class side of South Richmond Hill, Queens – then a largely Hispanic neighborhood – south of Jamaica Avenue, where her parents still live, separately. Her father is a retired elevator mechanic and her mom a retired caretaker. She went to public school for elementary school and trekked to San Francis Prep, a Catholic school in Fresh Meadows, for high school. When it came time for college, she escaped an unstable home life (Cabán's dad is a recovering alcoholic, which she's talked about publicly) for Penn State, studying criminal justice.
"A lot of the time what separates me from my clients is access to resources," said Cabán. "It's privilege, right? The reason why I could say that I haven't repeated some of the things that my parents have done, that their parents have done, is because I've had the opportunity to access therapy, to have reparative experiences, to be able to engage in healthier dynamics. Because I've had the privilege – or luck really – of creating and having relationships with women who have been really patient and kind and open to hearing about my trauma history and helping me along the way." (Cabán has a girlfriend who lives in Bushwick.)
The only career public defender among the current and former prosecutors and government officials in the running, Cabán has positioned herself as the insurgent, running from the outside and conspicuously speaking the language of the left. Since their platforms are relatively similar at the top – Cabán, Katz and Lancman are broadly considered to be the frontrunners – the outcome of the election might come down to who has been the most consistent in their messaging.
"When you talk about everyone running on a progressive platform now, I don't think people have a choice. I've seen all of the candidates evolve. I think the electorate has evolved," said Richards, who was quietly meeting with each of the candidates when we spoke in April. (Two weeks later, the councilman endorsed Katz.) "People want to know people's records, and I think that's going to come into play. Our community is very intelligent and very knowing. Where were you? What were you advocating for? Where have you been on these issues?"
Cabán's campaign is grassroots-driven and has a small staff (just two people when I first reached out in late March) that reportedly has had to deal with turnover at the top, so she's relying on a large network of volunteers, many of whom volunteered for Ocasio-Cortez in her successful campaign to unseat former Rep. Joseph Crowley.
"I got in just about this time, near the end of petitioning," said Miriam Bensman, a former volunteer for Ocasio-Cortez who's now volunteering for Cabán. She wasn't confident that the liberal 29-year-old bartender had a shot in hell at ousting veteran lawmaker Crowley. "I was thinking, 'This is nuts,' and then I just felt moved. And I said, 'You know what, I'm going to do this, and I pushed other organizations that I knew. It seemed like a long shot, but I could see that there was this incredible grassroots energy around that campaign. We had hundreds and hundreds of volunteers."
That's what's happening again with this campaign, Bensman said. "I got involved, I went to the first meetings in December or January. I thought, 'You know what, this is harder. It's a much bigger district. Instead of 800,000, it's three times the number of people. It's a much bigger geography. But I think we have a real shot."
Bensman is right that Queens is a vast borough, which presents challenges for all of the candidates. With roughly 2.3 million residents spread across a 109 square mile land area, Queens is by far the largest borough geographically. Nearly half of Queens residents were born in another country, according to census data, and the World Economic Forum has called it the "language capital of the world." Each candidate will have to speak to a vast constituency, and none of them check every box.
"There's obviously some demographic benefits that each candidate might have, but there's some very large constituencies within Queens that don't have a candidate from within their group," said Evan Stavisky, a partner with the Parkside Group, a political consulting firm based out of Manhattan, who has a history of consulting in Queens.
For example, there's no African-American candidate, although the demographic makes up 20 percent of Queens. This isn't to say that people invariably vote with their ethnic group. In the Ocasio-Cortez-Crowley primary, Crowley carried the four African-American Assembly districts in Southeast Queens and split the Latino vote. But ethnicity is a factor.
Another factor is visibility. Having served Queens since 2007, first in his capacity as an assemblyman, and since 2014 as a city councilman, Lancman will likely do better in his council district than he might do in other parts of the borough. Likewise, Katz has deep ties to Forest Hills, having grown up there and represented her hometown in the New York City Council for seven years, between 2002 and 2009. The eastern half of Queens is more suburban and conservative, and might appeal to a candidate closer to the establishment like Katz, who has the support of the Queens County Democratic Party. As borough president, Katz is also the only candidate who has already won a borough-wide race.
Cabán might try to recreate the AOC playbook, and the progressives coalescing around her certainly hope she does. Ocasio-Cortez did not have to win the entire borough, however. She did well in younger, more gentrified white communities, which aren't reflective of the rest of the Queens. In fact, there's no other district that looks like that won by Ocasio-Cortez. Take Bayside and Douglaston, for instance, which are also majority white neighborhoods. They're older (the median age is 47.5), more establishment white neighborhoods with a lot of homeowners. Ultimately, adopting a similar strategy is not a perfect recipe for success.
But movements matter, and there's something to be said for timing. High-profile deaths, like 22-year-old Kalief Browder's suicide in 2015 after spending three years on Rikers Island, have drawn attention to civilian interactions with police and the criminal justice system, and the violent, even fatal outcomes that can result. Now, people are thinking about how prosecutors contribute to this cycle and reimagining the role of the district attorney's office. In races around the country, outsider candidates – such as Krasner in Philadelphia, who had never prosecuted a single case before taking office – began winning elections on platforms rooted in getting people out of jail, instead of getting people into jail. In March, Brooklyn District Attorney Eric Gonzalez announced Justice 2020, his sweeping reform agenda, aimed at reducing incarceration and transforming the system from the inside out.
"It's not what's changed in Queens," Stavisky said. "It's what's changed in the country."
Cabán has a philosophy about prosecution. She believes in looking at community and generational trauma as a root cause of crime. How do you do that from the D.A.'s office? First, change how success is measured for prosecutors.
"Everybody across the board is talking about these reforms: end cash bail, decriminalize poverty, and discovery reform. What I consistently say is how you do it matters. You could say I'm going to end cash bail and actually increase our incarcerated population," said Cabán. "If you keep saying that the metrics are convictions and sentences, than making those reforms are never going to have the intended impact. You have to change the driving reasons. So that's what happens on Day One."
Cabán has already started building her team for the office, which, she says, includes two former prosecutors with leadership and managerial experience, and she's working on building a steering committee of professionals. (She declined to name them because they are in other jobs and are not ready to go public.)
"We have allowed our system to be a place where we just punt public health issues to our D.A. offices, which really shouldn't be what's happening," she said. "When we talk about making sure crime doesn't happen and stabilizing communities and providing services, and being a clearinghouse for services to promote public safety, then what you need to do is also step back and acknowledge that you are not the expert in everything and making sure that we have educators in leadership roles in the D.A.'s office; that we have mental health experts in leadership roles in the D.A.'s office; that we have immigration attorneys in leadership roles in the D.A.'s office so that you have a team of people who buy into and believe in the system and the goals and the metrics in our communities, but are there to provide you with the support you need to be successful."
Cabán is a supporter of the No New Jails Initiative. As D.A., she would decline to prosecute low-level marijuana offenses, fare evasion, airport taxis, welfare fraud, sex work, massage parlors and unlicensed driving in any case. And, she'd end cash bail for all crimes – not just nonviolent crimes, which has been proposed by other candidates.
Would she abolish prisons?
That's not on her agenda, but she still has an answer. "I think that when we talk about prison abolition, I think we're not close to it," she said. "In a perfect world, that's where we would be. That's where we should be."
Correction: An earlier version of this post incorrectly said that Tiffany Cabán was the only Queens district attorney candidate who sought the endorsement of the Democratic Socialists of America. New York City Councilman Rory Lancman did as well. 
Powered By
NEXT STORY: Every day's Earth Day for Englebright and Kaminsky