New York City
Scott Stringer, millennial for mayor
New York City comptroller Scott Stringer wants you to know he's woke AF.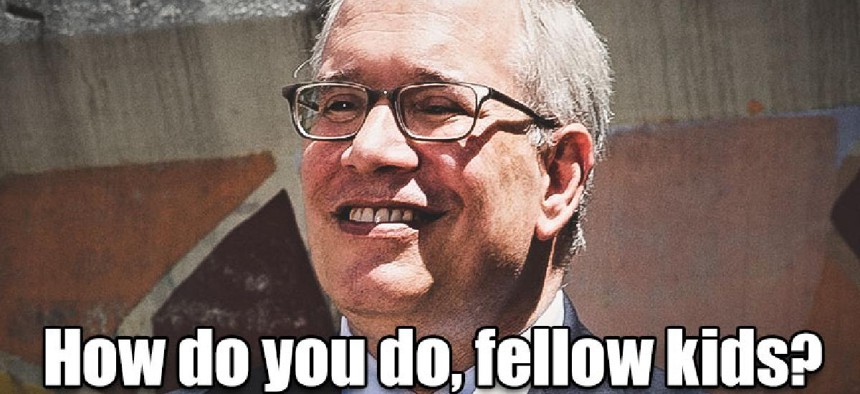 Scott Stringer hasn't even announced his campaign for mayor yet, and he's already making promises.
"I will always campaign on boat rides for all seniors, and I promise you that!" the New York City comptroller announced recently at the Moriah Senior Center in Washington Heights, Manhattan.
Stringer hadn't gone in planning to pledge free boat rides, but these were old friends. Stringer was a regular at Moriah during his days as Manhattan borough president, and even funded an annual Circle Line trip for the community. But since he began representing the whole city, Stringer hasn't had as much time to drop by. Even worse, the yearly boat rides stopped.
The seniors longed for those good old days. After giving a brief speech – "I just really wanted to come by and wish everybody a happy and healthy summer" – Stringer made the rounds, shaking hands and thanking folks for nothing in particular. One woman wordlessly handed him a 2-inch-tall origami boat that she had made out of a flyer handed out by Stringer's aides. She cracked a smile. Stringer did too. He posed for a picture before handing off the boat.
"This is the boat campaign. Bring back the boat. Just made a big campaign promise," Stringer said to his aides and the seniors within earshot. "I don't know how we're going to handle it!" the Democrat continued with a sarcastic twinkle in his eye. "Tax and spend liberals."
It was old-school politics at its best, and Stringer is a master of the style. But the world of Democratic politics in New York – a world that Stringer was born into, and has called home for decades – has changed dramatically.
The old ways of political patronage and fundraising are now openly derided, and years of political experience mean nothing if a candidate can't inspire. Stringer has adapted to the new state of play better than most, adopting progressive policies like pension divestment from private prisons and embracing a new crop of anti-establishment candidates. But the progressive movement has been a somewhat awkward fit for the establishment politico whose profile differs from many of his new allies. And now, with two years until the mayoral race, Stringer is laying the groundwork for the biggest campaign of his life, while hoping that New York City wants a 59-year-old career politician as its progressive standard-bearer.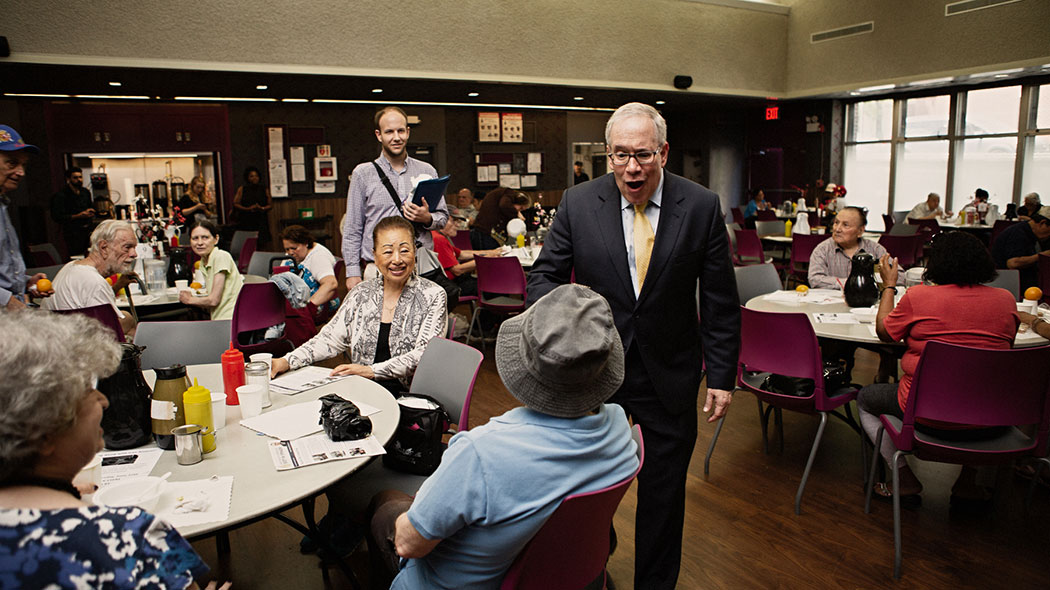 Some politicians speak in fully formed, ready-made quotes. Stringer is not one of those politicians. When Stringer talks, whether in conversation or on a stage, he often stops mid-sentence, jumping to the next thought, leaving the listener hanging. This, too, is how Stringer is running for mayor, doing everything to say he's running for the office without actually finishing the sentence. His chief rivals openly discuss their ambitions, but Stringer has been coy. He hasn't declared yet with the New York City Campaign Finance Board. Every time our conversation shifted to his campaign, he asked to go off the record. His hesitation may stem from the fact that Stringer has considered and aborted two mayoral bids before. In 2013, the then-borough president was poised for a run at Gracie Mansion before he decided to step a rung lower, seeing an opportunity in the comptroller's race. In 2017, Stringer seriously considered a challenge against New York City Mayor Bill de Blasio, who seemed vulnerable while under multiple investigations into his fundraising. But when it was announced that de Blasio wouldn't be charged, his reelection began to look inevitable – as did Stringer's reelection for a second term as comptroller.
His celebrity-stacked fundraisers have been featured in Vogue. But the rules of fundraising have changed.
But don't let there be any doubt – Stringer is running for mayor of New York City in 2021. He is term-limited from his job at 1 Centre St., and there's only one higher job in city government. And he's well on his way, at least by one metric – Stringer had, as of January, more than $2.3 million in his campaign account. That picture might change on July 15, when the other mayoral candidates release their latest fundraising numbers. But for now, Stringer is leading any other mayoral hopeful.
Stringer's flirtation with a primary challenge against de Blasio gave him a head start: He was able to transfer $1.4 million from his 2017 account. Stringer is, after all, the top fundraiser of the bunch. He's the candidate who's best connected to old Manhattan money. His celebrity-stacked fundraisers have been featured in Vogue. But the rules of fundraising have changed. In 2011, family friend Scarlett Johansson hosted a cocktail fundraiser for Stringer at a swanky Plaza Hotel residence before decamping to a second event, flanked by paparazzi. But that's not the right look for a progressive politician today. When Johansson appeared at another Stringer fundraiser last year, it was a panel discussion.
The fundraising changes aren't just stylistic. New city rules slash donation limits to just $2,000 and increase public matching funds. Stringer publicly complained that a recent law passed by the City Council retroactively standardizing donation limits was meant to punish him, making him return thousands of dollars he had already received in order to get the maximum amount of public funds. His likely mayoral rival who championed the bill, New York City Council Speaker Corey Johnson, won't have to make the same choice, since he started fundraising later and swore off any donations over $250. Stringer, by contrast, had more than 50 donors give him the maximum $5,100 donation in 2018 alone, including real estate developers Young Woo, Daniel Brodsky and Harold Fetner.
But Stringer is adjusting to the new rules in spite of his grievances. He has been throwing smaller house party fundraisers he calls "thoughtraisers" to hone his message. Rosemonde Pierre-Louis, Stringer's former deputy borough president, co-hosted a thoughtraiser in Harlem in May. Author Harold Holzer – who once served as then-Rep. Bella Abzug's press secretary – hosted one in June. So did Stringer's former press secretary, Audrey Gelman, who co-founded the coworking space The Wing.
"It's just a great way to build a citywide group of activists and advocates," Stringer told City & State. "The test is, if you get people excited, then they'll help. And we've really built this great group of people."
"C'mon! I'm on the young, millennial side!" – Scott Stringer
Stringer is doing the rounds with another group of senior citizens, this time at the YM & YWHA of Washington Heights & Inwood when a grizzled old man shouts at him from across the lunch table. "Hey Scott, I've got a question! When was the first year you entered into politics, 1937?"
The jokester, who would only give his name as "Tommy Hilfiger," cracked himself up, and Stringer acted hurt. "C'mon!" he pleaded, "I'm on the young, millennial side!"
That was one stop on a whirlwind, two-and-a-half hour tour of the Heights. Stringer grew up there, at 1 Bogardus Place, on a quiet, residential block lined with six-story brick apartment buildings that's barely changed since 1972. That's when Stringer first dipped his toes into politics, dropping leaflets at every door in those Bogardus Place buildings, telling the reliable Democrats of the Heights to vote for Stringer's distant cousin, Bella Abzug, in a congressional race. Abzug won, and Stringer caught the political Ab-bug.
Of course, like so many in politics before and after him, Stringer was just entering the family business. Besides Abzug, there was his district leader mother, Arlene Stringer-Cuevas, who briefly served on the New York City Council before working in the New York City Human Resources Administration. Stringer's late father, Ronald Stringer, was counsel to then-New York City Mayor Abraham Beame, and his stepfather, Carlos Cuevas, was once the New York City clerk and a deputy borough president in the Bronx.
Stringer followed in their footsteps early, becoming a boy wonder of sorts. He made the front page of The New York Times in January 1977 for being one of two teenagers appointed to his Manhattan community board. The Times even followed up and sent a reporter to write up the 16-year-old's first meeting, describing Stringer as underwhelmed while he took a trip to the vending machine for some candy.
But not everybody took so kindly to young Scott's appointment. The day the first Times article ran, a seventh-grade student named Rachel Eisler wrote a strongly worded letter to the editor. "I was indignant to note that (then-Manhattan Borough President) Percy Sutton appointed two boys to the Community Planning Boards," Eisler wrote. "Why should boys represent New York teenagers when girls constitute more than one‐half of this age group? Ideally there should be equal representation of both sexes."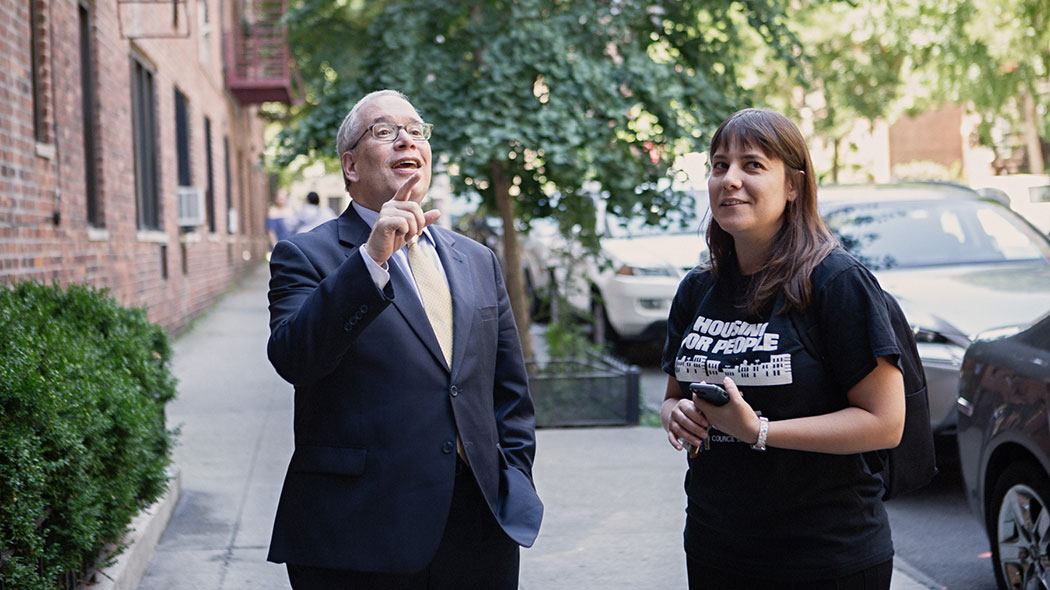 Four decades later, a similar dynamic is at play in Stringer's run for mayor. New York City has never had a female mayor, and the leading 2021 contenders are men. A few female candidates may jump in, like former New York City Council Speaker Christine Quinn, former de Blasio counsel Maya Wiley, and former Deputy Mayor Alicia Glen, but none of them have announced or even reported raising money. Of course, Johnson, Brooklyn Borough President Eric Adams and Bronx Borough President Ruben Diaz Jr. are all men. But Stringer may get the most pointed questions about why he's running, given that he's cultivated his political brand in recent years by endorsing a slew of young, female progressive insurgents. Most recently, he backed Tiffany Cabán for Queens district attorney, making him the only citywide elected official to lend support to her anti-establishment campaign. In that case, he said, Cabán reached out and asked for the endorsement because of his track record of backing similar candidates. Stringer was an early endorser of challengers to members of the state Senate Independent Democratic Conference in 2018, breaking with most of the Democratic establishment by backing candidates like state Sens. Alessandra Biaggi and Jessica Ramos. He backed state Sen. Julia Salazar in her primary win over a longtime incumbent and Queens Assemblywoman Catalina Cruz in her primary against an incumbent backed by the Queens Democratic Party. He endorsed Manhattan Assemblywoman Yuh-Line Niou over incumbent Alice Cancel in 2016, and Assemblywoman Nily Rozic in her 2012 victory over the Queens Democrats' pick. Stringer identifies as a progressive Democrat, but he wasn't ready to endorse Cabán's entire political platform, including fully decriminalizing sex work. "Very few people, if any, I've ever endorsed do I proudly agree with on every single issue or approach," he said.
To cynics, Stringer's record of endorsements might look like a way to boost his progressive credentials in a mayoral race that lacks a candidate in the mold of Rep. Alexandria Ocasio-Cortez. But lefty allies like Working Families Party state director Bill Lipton are quick to praise Stringer. "Every time the WFP pushed the envelope, Scott's pretty much there with us," Lipton said. "He has a real track record of supporting progressive insurgents."
Of course, Stringer hasn't always agreed with the progressive movement's picks: In 2018, he backed Gov. Andrew Cuomo over Cynthia Nixon. He has also stayed out of some high-profile races, like the recent special election in which Jumaane Williams was elected New York City public advocate, and the 2018 congressional primary in which Ocasio-Cortez knocked out then-Rep. Joseph Crowley.
With 2021 looming, Stringer's political strategy may backfire. Every time an insurgent wins, it makes Stringer's own well-worn establishmentpath to Gracie Mansion a little more difficult. Ocasio-Cortez, Biaggi, Ramos – maybe Cabán, pending the ongoing recount in the Queens Democratic primary – are all young women hungry for change. Most are people of color. None held elected office before, and some came from outside New York politics entirely.
"You never heard of AOC before this! You never heard of Tiffany Cabán before this!" said a former staffer of Stringer, who asked for anonymity to speak frankly. "They've demonstrated you don't need to actually have the traditional levels of experience. You don't need to have the traditional level of name recognition. You don't even have to have the traditional sources of support. … That's a serious game-changer."
By contrast, Stringer is the picture of tradition. He's a straight, white, Jewish, middle-aged man who has held elected office without a break since 1993. He's a family man, with two boys, ages 6 and 7, and a wife, Elyse Buxbaum, who is the deputy director of development at The Jewish Museum.
That could pose a challenge to Stringer winning over a new crop of progressive voters. "He can say, essentially, don't hold my demographics against me – age, race, geographic location – but I do think that's going to be the complicated narrative that he has to weave," Fordham University political science professor Christina Greer told City & State.
Stringer's case is further muddled by the fact that his major mayoral rivals all represent demographic change, in one way or another. Adams is black. Diaz is Latino. Johnson is gay, and would be one of the city's youngest mayors. Stringer's profile looks a lot like de Blasio's, but without the black wife and kids.
"OK, so you believe in all these brilliant women? Then step aside." – Christina Greer, Fordham political science professor
Stringer isn't blind to these facts, and he has a record of promoting diversity beyond the ballot box. His office has released annual reports pressing the city to increase its contracting with minority- and women-owned businesses, and he has made a major issue of pushing for racial and gender diversity on corporate boards. Stringer's leadership team is filled with women and people of color, and he has continued to mentor younger politicians like Ramos, who has publicly endorsed him, and Niou, who says he's her pick for mayor too. "He's clearly walking the walk," Niou told City & State. "And that is exactly what I want to see." 
Greer said Stringer could face the same criticism as presidential candidate Beto O'Rourke, who has been chided for his white male privilege and has said he would pick a woman as his vice president. "OK, so you believe in all these brilliant women?" Greer said. "Then step aside."
Niou believes that's something Stringer would actually do. "I think that everybody should be measured by their own merits," she said. "If there's a female candidate, a person of color candidate who's just as progressive on issues, and who's just as helpful to people of color to run for office, who's just as progressive (as Stringer), Scott himself would support them."
No matter the political winds, Stringer is clearly a top-tier candidate for mayor. Beyond his political connections and fundraising, Stringer has made his mark as comptroller. He's won awards for excellence in financial reporting, held lackluster agencies like the New York City Housing Authority accountable and has avoided any major screw-ups, short of publishing an error in a 2018 report on affordable housing that earned him some eye rolls and a riposte from the hostile New York Post. And most importantly for his future plans, Stringer has gained citywide name recognition while working in an office that's allowed him to publish white papers on a bevy of topics that are likely to become the backbone of his mayoral platform.
But his lane as a candidate – the experienced progressive choice – could be threatened by the same progressive wave that he's been riding. He's already directly competing with Johnson, a fellow Manhattan progressive gunning for votes on the left. But at any point in the coming year, a relative unknown without any political baggage could enter the race and outflank Stringer on the left, benefiting from the same kind of national coalition – and national financing – that propelled Cabán to a neck-and-neck contest with Queens Borough President Melinda Katz.
If the progressive coalition organizes, Fordham University political science professor Bruce Berg told City & State, "I think they'll do quite well. And that doesn't bode well for someone like Stringer."
"Stringer's got a good, good resume," Berg acknowledged, "but it may be that progressive politics are going to override what in the past has been a 'wait your turn' kind of culture."
In the back of Stringer's black government SUV on the drive uptown to Washington Heights, Stringer told a story. He and his wife were leaving home one recent Saturday night for a meeting about the 2021 campaign. "Why do you have to go?" his 7-year-old asked. "The campaign is two years away!"
"Daddy's been working on this for 20 years," Stringer's wife responded. "Long before you and I came around!"
The perpetual candidate is notoriously careful about cultivating his public image, to the point of obsession. Stringer's public statements get pored over, tweets reviewed and reporters get repeated check-ins from his team. This may come from a place of vanity, like all politicians. Or it may be born out of Stringer's respect for the voters, and the knowledge that they're always watching.
"If you think about it, voters are very smart," he told City & State. "Even with all the factors: money, editorial boards, canvassing. At the end of the day, people figure it out, right?"
Stringer was talking about how the voters backed the "outstanding" insurgents he endorsed. "Yes, they're people of color," he said. "Yes, they're women. But the work that they're doing is extraordinary."
You don't have to squint to see that Stringer, in his compliments, was also talking about himself. Age, race, gender – it's not everything.
"Qualification, merit, vision," he said. "You put that all together, maybe it's just about running the best candidate. You know, the best candidate wins."
Correction: An earlier version of this story misstated the timing of Assemblywoman Nily Rozic's first 2012 electoral victory, which occurred in the regular primary election.
Powered By
NEXT STORY: This week's biggest Winners & Losers