New York City
Dianne Morales wants to be New York City's first female mayor
Dianne Morales, an Afro-Latina woman who runs a South Bronx social services nonprofit, is running for mayor of New York City in 2021. The 52-year-old executive director and CEO of Phipps Neighborhoods, launched her bid last week.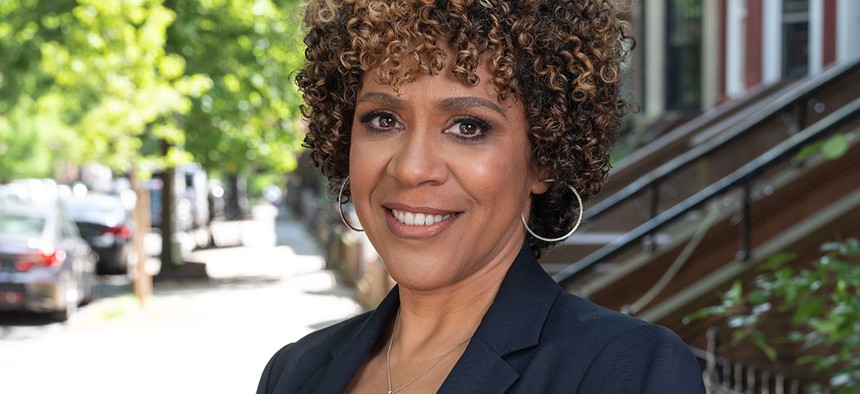 Dianne Morales, an Afro-Latina woman who runs a major South Bronx social services nonprofit, is running an outsider campaign for mayor of New York City in 2021. The 52-year-old executive director and CEO of Phipps Neighborhoods, an organization that fights poverty by providing educational, career-readiness and financial counseling programs launched her 2021 bid last week with an email to supporters. 
"It's time for a new type of leadership, and a new type of vision," Morales told City & State on Monday. "And that is more likely than not going to come from the outside."
Morales, a registered Democrat, hasn't run for office before and hasn't worked in politics, but she has been in the local government orbit for years in her role as a nonprofit leader. Since 2010, she's lead Phipps Neighborhoods, which works in the South Bronx. Morales also serves on the board of the Human Services Council, an umbrella group for social service nonprofits and she serves on New York City Mayor Bill de Blasio's Community Schools Advisory Board. When former Mayor Michael Bloomberg first took office, she helped launch the city Department of Education's Office of Youth Development and School-Community Services. This May, de Blasio tapped her to lead his Equal Employment Practices Commission, but by July, somebody else was appointed to the position. Morales told THE CITY she dropped out of contention to "launch a new venture." Apparently that venture was a run for public office, because the week after that story ran, on July 19, Morales filed with the state Board of Elections to run for mayor. 
"I am not a 'typical' candidate, but we are not living in 'typical' times," she wrote in her launch email. Morales, who is of Puerto Rican descent, described herself as a "first-generation Latina from a working-class family," and if elected, she would be the first female mayor and the first Hispanic mayor. Morales was born and raised in Bedford-Stuyvesant, Brooklyn and she still lives there today. She raised her 21-year-old son and 18-year-old daughter as a single mother. She graduated from Stuyvesant High School in the 1980s, and earned a bachelor's degree from Stony Brook before earning a master's in social administration from Columbia and a masters in education administration from Harvard.
Morales will be running on a platform that mirrors her current work fighting poverty. She said that she has firsthand experience in the delivery of city services, both as a recipient and a provider. "It's time to stop tinkering around the edges and really create some substantive change in a lot of different ways," she said.
Morales didn't get into specifics, but her campaign website hints at her critiques of the system. "She believes that our city thrives when every family has a pathway to economic opportunity and every child has access to quality education," Morales' site reads. "She refuses to accept the 'norms' of our children failing in school, our youth dying on the streets and our mothers living in disproportionate poverty."
The June 2021 Democratic primary for mayor is nearly two years away, but Morales is starting at a significant disadvantage compared to four leading contenders with deep ties in local politics. Brooklyn Borough President Eric Adams, New York City Comptroller Scott Stringer, New York City Council Speaker Corey Johnson and Bronx Borough President Ruben Diaz Jr. have been fundraising for what's expected to be a hard-fought battle to succeed de Blasio as mayor. Aaron Foldenauer, a litigator who unsuccessfully ran for City Council in 2017, has also registered to run for mayor. But all five are men, and many political observers have been waiting to see which female candidates would enter the fray. New York City has never had a woman serve as mayor. 
Monica Klein, a communications consultant and partner at Seneca Strategies, argued that Morales might have a chance at replicating the surprising success of other New York City women who have recently run for office for the first time. "From Alexandria Ocasio-Cortez's victory to Tiffany Cabán's rise to the IDC challengers, insurgent, progressive women keep defying expectations," Klein told City & State. "No one should be discounted two years out."
Morales herself was non-committal when asked if her politics align with democratic socialists like Ocasio-Cortez and Cabán. "I believe in real access and equity and I believe in things to help tip the scales on the disparities that are both institutionalized and systemic," Morales said. "If that would make me part of the left, then I would embrace that."
Morales hasn't hired any consultants yet, and isn't working with any elected officials. At this point, it's "1000% grassroots, friends and volunteers." But her announcement may give other potential candidates pause.
As a nonprofit CEO, Morales' profile is similar to that of Christine Quinn, President and CEO of homeless services nonprofit Win, and a former speaker of the New York City Council. Quinn is reportedly considering a run for mayor, but has yet to form a committee or raise funds. Maya Wiley, a senior vice president at the New School and former counsel to de Blasio, has also been consulting with allies about a potential run for mayor. Another woman who was considered to be a potential candidate, former City Council Speaker Melissa Mark-Viverito, is reportedly mulling a run for Congress in the Bronx, which would make a mayoral run unlikely. 
Of course, Morales doesn't need to look far to find a female opponent. Another Democratic candidate for mayor, Joycelyn Taylor, lives one block over from Morales in Bed-Stuy. Taylor is the 53-year-old CEO and co-founder of construction contractor TaylorMade. Taylor, who is black, is also founder and chairwoman of the NYC MWBE Alliance, which advocates for government contracting with businesses owned by racial minorities and women. Taylor's campaign provided a brief statement to City & State, saying "she's running as the insurgent common sense candidate who will be the first woman mayor of NYC." 
Morales may disagree, but was happy to hear about her neighbor. "That's a testament to Brooklyn generating female candidates for office!" she said. "I'm thrilled to have another woman in the race. I think it's our time."
Powered By
NEXT STORY: Chuck Schumer's ridiculously specific pressers