New York State
Picking up where Héctor Figueroa left off
Kyle Bragg, the new 32BJ president, reflects on Amazon, upcoming elections and advocating for workers.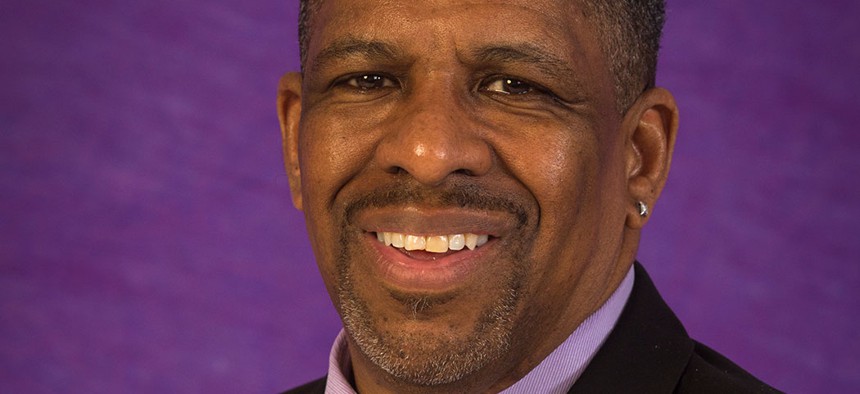 Kyle Bragg was voted president of 32BJ SEIU last month, taking over one of New York's largest and most powerful labor unions, after the sudden death of Héctor Figueroa in mid-July. Prior to being elected president, Bragg was secretary-treasurer of the union, which mainly represents building workers. He rose to this position after ascending the union's ranks side-by-side with Figueroa. 
Under Figueroa and Bragg's leadership, 32BJ made headlines by winning higher wages for airport workers and fast food employees. The union also threw its support behind the deal to bring Amazon to Long Island City, Queens. While other unions were critical of the Amazon deal, 32BJ made an agreement with the tech giant that was estimated to create as many as 3,000 jobs for its members. After the deal fell apart, Figueroa published an editorial in the Daily News that argued why the Amazon deal would've been good for the city and losing it was not good for the labor community.
Bragg spoke to City & State about how he plans on leading the union, his thoughts on this spring's historic state legislative session and what he thinks about failed Amazon deal. 
This interview has been edited for length and clarity.
Hector Figueroa had a big impact on 32BJ, with the fights for higher minimum wages for fast food and airport workers and such. How will you build upon his legacy?
Héctor built an organization that is more than any one individual, and together we are all responsible for the great achievements under his administration. In that regard, we've worked together with all of our offices, our member leaders, to create a vision and goals for the future. Now, we want to start thinking about what we're going to do going forward. In the 2021 to 2024 session, how do we build on the great victories that we've achieved in the past and continue to win for workers and to strengthen this organization? And so the process is in place.
What are some of your upcoming fights?
Well, we have a commercial contract fight that will take place throughout all of our jurisdictions. And we have a major contract here in the city and other parts of the region that expire by the end of December for commercial cleaners. So, that's primary right now. Organizing airport workers throughout our jurisdiction, here in the tri-state area. We are deeply invested in organizing fast food workers. And we won some great victories in fast food with the $15 minimum wage and the fair work week legislation and other things. And those workers are hungry for a union. So this is about giving them the right to choose and be unionized. 
Are there any bigger, longer term initiatives?
Yeah, well, we got to retake this country too. We have to focus on the presidential campaign. We will continue to focus on growing our union. We have a program here that we started some years ago, a hundred percent strong. Meaning that we want to achieve a certain percentage of our members who are active so that we can drive programming and strengthen the organization internally and have a great impact externally. We want to be able to continue to drive legislation that not only supports organizing but supports justice and equity, both economically and socially.
Are you endorsing any particular congressional candidates for New York?
We have plenty of congressional friends, people who've been advocates for this organization and our membership. We want to see an equitable immigration system in this country and that's been part of all of our everyday fights. We want to see the ability for workers to unionize and we think that can be done at the national level as well. We have an endorsement process based on our values and on our goals and commitments and a lot of this work is in conjunction with our parent union, SEIU. Especially the presidential campaign is a process that we will not figure out on our own. 
We had quite a historic legislative session this spring, were there any new laws passed that 32BJ is particularly excited about or opposed to? 
Obviously, we're very excited about the prevailing wage legislation that passed. Long-term we're looking at the next elections. In 2021 the entire council will turn over almost. And so our interest is making sure that we keep progressive voices in that council that will continue to be advocates and fighters for working families of the city. And so that's going to be a priority for us to make sure that we make sure that the right candidates are elected into office that will continue to fight for working people. I won't qualify any of the legislation in New York state right now that I was opposed to. I think there were challenges with some of the legislation and the end results. We're in the richest real estate market in the world. And so there's a balance and a challenge with how we engage legislatively when it impacts that industry. (32BJ Deputy Communications Director Amity Paye added that Figueroa had come out against the state Legislature's gig workers bill 24 hours before the end of session. She said this is because "Albany was rushing through a bill that would allow unions to collect union dues without giving the workers full union rights.")
What issues or proposed legislation is the union monitoring, at the city, state or even the federal level? 
We want to make sure that there are protections for gig workers. We are fighting for health care for airport workers. We just achieved a $19 hourly rate, which is a life-changer for these workers. And where we have the opportunity, where we have the strength and where we have the wherewithal, we will pursue these types of progressive changes both legislative and through organizing throughout our entire geography.
Back when HQ2 was still happening, 32BJ supported it because it had struck a deal with Amazon, even though Amazon was widely criticized for being anti-union, and was opposed by major unions like RWDSU. What would you say to those who call the company anti-union?
Let me start by saying that Héctor's Daily News editorial was spot on. I'm actually the officer who did the deal with Amazon, so obviously I was in favor of it. I think it was a missed opportunity for many reasons and I think the people who were anti-HQ2 are hard-pressed to really articulate what the victory was. Because we had the opportunity to take a company like Amazon, play with them on our home court, unionize a portion of their work and then to confront them on their labor policies. On top of that, we lost a countless number of jobs. People were agonizing over the tax breaks, but I think the benefits – the income that was going to be generated for this city, into this state – far outweighed any benefits that they were doing. And they had strict restrictions on how those tax dollars were going to be used. So, if they didn't achieve the job creation goals that were set out, then they weren't getting the money. 
We are losing young and talented folks who are starting out their careers to other cities and states because of the lack of opportunity here. Although things are good here, we could have had the ability to continue to attract younger talent into our city and generate more tax dollars and revenue into our city and state. 
So, that's a missed opportunity. And now Amazon's in Philly now, and that's a 32BJ city and so we still get a crack at them. But as Héctor far more eloquently articulated in his editorial, it was a total missed opportunity. And I can't see anywhere where people can claim victory for not having them in Long Island City.
Now HQ2 is gone, but Amazon still appears to be expanding its presence in the city. Do your members still stand to benefit?
Absolutely, we're talking to Industry City folks right now, I've been involved in those conversations. We believe it can be a great opportunity for the city as well. Setting Amazon aside, Industry City is one of the largest spaces in the city that will be developed in our current time. It will create good jobs and opportunities for New Yorkers. So, if Amazon is a part of Industry City, then we have the opportunity to go at them over being responsible employees in our city. If they land in any part of our jurisdiction, you can trust and believe that we'll be at them about being responsible employers and creating jobs that provide people with dignity and respect in the workplace.
Powered By
NEXT STORY: This week's biggest Winners & Losers