New York City
Will New York City ever get students out of trailers?
A Q&A with New York City School Construction Authority President and CEO Lorraine Grillo.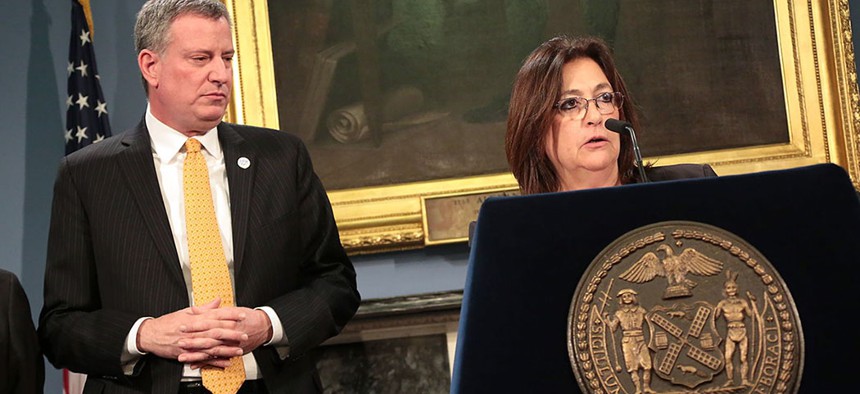 After about 25 years at the New York City School Construction Authority – and about a decade as president and CEO – Lorraine Grillo is a legend in the world of public building. So when New York City Mayor Bill de Blasio was searching for a new commissioner for his Department of Design and Construction last summer, he didn't have to look far. She soon unveiled a plan to reduce costs and construction timelines and was highlighting its successes after just six months.
Grillo talked to City & State about her dual roles, the effect of New York City's "Green New Deal" and her plans to get students out of trailers.
You've led two different agencies for about a year now. How do the jobs overlap?
SCA does new schools and rehabs existing buildings. DDC does everything else. On the public buildings side of DDC, it's very, very similar to the work at SCA. But I am learning a heck of a lot more about combined sewers and water pipes and the like on the infrastructure side.
Have you read Bronx Borough President Ruben Diaz Jr.'s recent report calling to reform the School Construction Authority?
I have to believe that the borough president had good intent in writing this. However, what would have been really, really helpful would be if he or a member of his staff had contacted anybody here at the SCA in order to give him some of the reasoning behind some of the things that we do – and to explain to him that the majority of his recommendations are already in effect.
The No. 1 recommendation is getting all students out of temporary trailers within five years. Is that attainable?
We have been very successful in getting rid of the transportables. But there are children in those transportables. So in order to get rid of them, you have to relocate those kids. It sounds easy, but it's not, particularly in very overcrowded districts. Parents are very clear that if they sent their kid to a particular school, they don't want to wake up the next morning to find that the kid has been transferred a mile away.
We have done tremendous work. When we started out, there were 354 transportables out there. We have removed over 200 of them. We already have plans for another 79 or 80. So you look at that and you say, "Sure, why haven't you removed those 79 or 80?" Because we're either designing a new building or we're looking for relocation space. All those other things play into it. So yes, would we love to just wake up one morning and demolish every transportable? Certainly. But I'm not going to displace students.
Is there a plan to get to zero at this point?
Of course. It's getting lower and lower. We have about 66 that will be remaining after we have moved all of these. But we're constantly, constantly looking for ways to eliminate the transportables. The best way, obviously, is to build new. And we do that wherever we can.
New York City just passed some pretty serious regulations for building emissions. Have the SCA and DDC already been meeting the new standards? Or will the regulations require a change?
Let me first let me speak for DDC. They've been heavily involved in the entire sustainability and resiliency project. They've adopted a lot of those kinds of things. I'm not sure about the emissions, but we are certainly meeting our goals on the DDC side.
Now let me give you a little background on SCA. Long before this administration and long before any of the sustainability and resiliency goals were set, SCA created its green buildings guide where we were already on the road to creating sustainable, resilient buildings. So yes, will we meet the goals? Certainly we will. And we're on the road to doing that.
My position on these things is we will get there. I don't want to jump into a new, innovative piece of equipment that hasn't been vetted and hasn't been tried out and hasn't been proven to work. This is taxpayer money and I want to make sure we are very, very prudent in how we spend it.
Is this National Grid moratorium on new natural gas hookups affecting any ongoing projects?
This morning, I cut the ribbon on a culinary arts kitchen for a school in Brooklyn. It's terrific, but there were some issues regarding that gas service. But because we work very, very closely with all of the utilities, National Grid stepped up to the plate, worked hand in hand with us to make sure that kitchen had gas. And we anticipate that we will be working with National Grid on all of the projects we have.
Working out a deal despite the moratorium?
This is not a private entity, and National Grid is sensitive to the fact that we are dealing with children and that they need to have hot lunches. And I think what they need from us is to see the long view. They need to be able to see what's in the plan. What's expected to open? Where those schools are? Whether or not there are other alternatives, like dual-fuel boilers and things like that we could potentially use. Yes, they have an issue, but they are doing their very best to work with us.
You talk a lot about community partnerships at DDC. Can you name any projects lately that have been changed as a result of community input?
On the schools side, we work closely with educators on the designs of these buildings, but we also work closely with the communities as far as the exterior of the buildings, the height of the buildings, that sort of thing. And I'll give you an example. We just broke ground on a school in Belle Harbor, (Queens). There was a question about the color of the facade. The community felt that it didn't fit with the current architecture in the area. We met with them, we came up with a solution, they agreed to it. And we made the change.
Same thing goes with DDC. We work with our sponsor agencies like Queens Public Library, for example. We work closely with them and the community at the design stage where everyone is participating and giving us their likes and dislikes. And that's where we go!
The SCA has a good reputation on working with minority- and women-owned businesses, but DDC has failed to hit its MWBE contracting goals in the past. Is the current goal realistic for DDC to hit?
Oh absolutely, I do. DDC has done a great job over the last couple years. When I first joined DDC a little over a year ago, I met with our folks in the MWBE group. And we are now changing what was strictly a compliance group to a business development group, which basically mirrors a lot of the things that we do over here at SCA. With that, and the legislation that was recently passed by the (state) Legislature on mentoring programs and raising the cap on discretionary spending and those kinds of things, I believe that will lead to them reaching the goal.
There have been a lot of requests in the Bronx to build the proposed new jail next to the courts, rather than at the NYPD tow pound site. Was it DDC that said it wasn't physically possible to put a jail there?
I'm not really familiar with that issue of the selection of the site. I have to be honest with you. Remember something. This is a joint project with the Department of Correction, the Mayor's Office of Criminal Justice and the Mayor's office themselves. Decisions like that are not made in a vacuum, and they're not going to be made directly by DDC. It will be a joint decision.