Betty Rosa
Regents chancellor decries proposed education cuts
With budgets in flux, Betty Rosa warns that a normal school opening in the fall might not happen.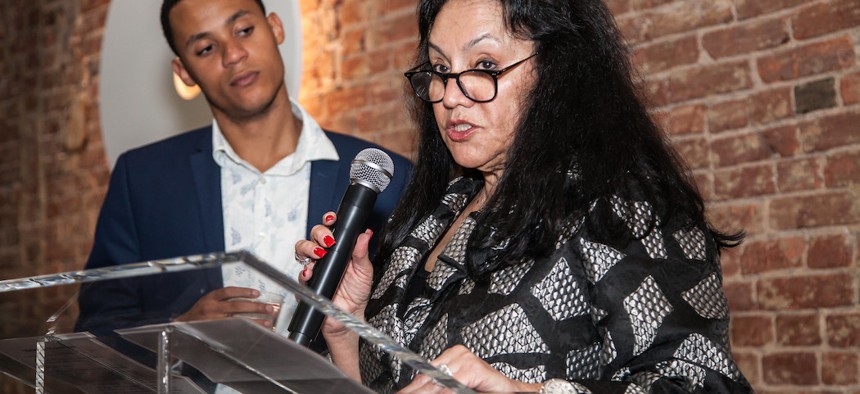 Schools across the state are in a tough spot. The governor has threatened to cut education funding by up to 20%, remote learning is continuing through the summer and potential fall reopenings will require extensive planning. State Board of Regents Chancellor Betty Rosa weighed in on some of these issues during a City & State webinar on Tuesday. She spoke about the impacts that proposed cuts would have on schools and students alike as well as how the state can begin rethinking its approach to education during these unprecedented times.
The responses have been edited for length and clarity.
Do you expect schools to be open in September?
I think I'm going to allude to the fact that as a former principal and superintendent, and someone who's looking at this situation pretty up close, I think that we will be having a very challenging time. We are going to open, we're just not going to open as we perceive or know education to look like in our landscape.
What do you make of the 20% cuts to schools that the governor proposed?
We are having what I would call a financial meltdown during this process. And these cuts will forever impact children. Forever. And not just in terms of trauma, and not just in terms of the (education) gap. Our most vulnerable students are going to pay the price. And the problem we have is that to even think about the conversation about "reimagining" (education), we can't even imagine, let alone reimagine. The truth of the matter is if we separate (schools from their safety net services) right now, to a great extent that is happening. If we do not address this issue in a holistic (way) as a full community in terms of New York state, and New York City and other communities throughout the state, we are forever changing the landscape of the children of this state.
With school budget votes coming up and the lack of clarity in terms of state funding, what can we expect to happen with those budgets?
I'm concerned that we have a situation that, if I had to predict, we're going to have many budgets that are not going to pass. And by design, I'm worried that they're not going to have a second opportunity. So we have issues not only with budgets not passing, but we also have issues of board elections. The timetable that has been put in place makes it very challenging for school boards to deal with this issue. The part that's very painful is that it just seems that we always talk about investments, and we always talk about investment in our most precious possession, our children. I get we're all in pain. I get that the economy's hurting. I get that in times like this, you have to roll up your sleeves and make sacrifices. But what I don't get is why it's always one of the most vulnerable populations, one of our most precious areas, educating our future. Our future relies on these investments. And how we can just automatically just say that we're going to decimate our future, it's very challenging to any educator.
The governor announced the Reimagine Education Advisory Council, which will work in partnership with Bill Gates and his foundation. What's the Regents' relationship with the council, and what recommendations do you want to see?
Right after the governor established his task force, we established with the support of meeting with our partners, various stakeholders and certainly the communication we had with some of the legislators, to really address the issue of creating a task force. And that task force is made up of teachers, stakeholders, parents (and) nurses. We have about 165 (people). They will join each of the regional conversations, because I'm a person that believes that these are the individuals that do this work every single day. Therefore the solution resides with the individuals that do this work every single day. I believe that billionaires have some solutions and have a contribution in this conversation. I do not believe that they are the individuals that should be engaged or involved in the reopening and redesigning of what we have to do for our school system.