Campaigns & Elections
Mondaire Jones: 'I told you I was going to beat all of them!'
The presumptive member of Congress isn't worried at all about absentee ballots.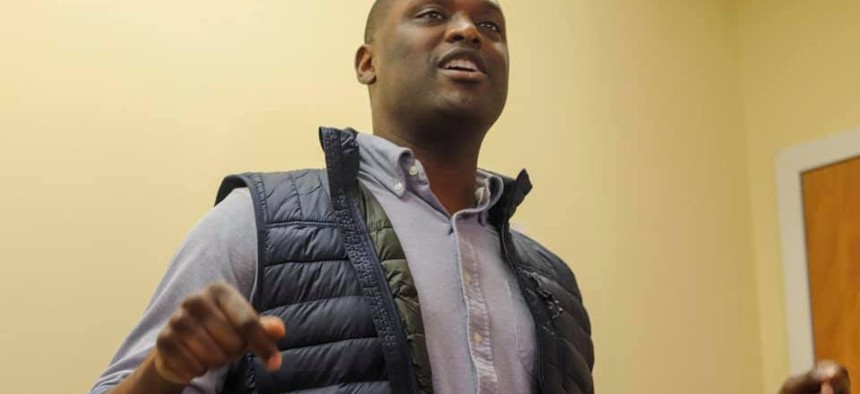 In May, City & State published a story saying that state Sen. David Carlucci seemed to be in a good position to win the Democratic primary in the 17th Congressional District. A month later, with all of the in-person votes counted in the race to fill the retiring Rep. Nita Lowey's seat, that forecasting was … off. Absentee votes have yet to be tallied, but Mondaire Jones has built up a huge lead in the race. With 43% of the vote in the eight-way race, he's up more than 23 points on his nearest rival, Adam Schleifer. Carlucci is in a distant third. And Jones wasn't going to let this reporter forget it. 
"I told you I was going to beat all of them!" he said in a phone interview Wednesday, the day after election day. "No offense, your reporting on this has been one of the most annoying things for me. So I'm glad that you can stop writing that shit!"
Jones, a 33-year-old attorney from Rockland County, hasn't officially declared victory yet, but he's well on his way to becoming one of the first openly gay Black representatives in Congress. His win would be historic, but his identity made the campaign more difficult. "I've experienced more racism running for Congress than I have experienced homophobia, there's no question about that," Jones said. "Including, frankly, racism from within the white gay community."
Jones caught up with City & State after Election Day to dunk on some of his opponents, talk about his relationship with the Congressional Black Caucus and revel in the Hudson Valley's changing representation.
How are the absentees looking for you?
I think that we are going to increase our lead. Religious leaders in the ultra-Orthodox community delivered 3,215 votes for Adam Schleifer (on Tuesday). So if you were to remove that, I would have gotten like over 60% of the vote. And of course, their votes are not going to be reflected in the absentee ballots. So you're going to get at least the trend that you saw yesterday. And I expect it will be even better for me after you count absentee. Probably will be better for Evelyn (Farkas), too, than Adam, is my suspicion. But I don't know. I did not expect Evelyn to come in fourth place after raising like $1.5 million and being the only viable woman candidate in the race. I think a lot of people are surprised by how poorly she performed.
I saw a map that showed you won almost every single precinct in Rockland County?
I won 55% of New City, which is literally where David Carlucci lives, it is his base. And then I got over 40% of White Plains, where (Assembly Member) David Buchwald lives and represents. It was extraordinary. I wasn't expecting that high. I had a sense, because when I was at Pleasantville High School yesterday, most people who were going in there seemed to be supporting me, or told me that they were. And if I can win in Pleasantville given the demographics there (72% white and a high median income), I think it makes sense. I'd like to win with over 50% of the vote, but I think we have a mandate regardless.
You haven't officially declared victory, right?
Ehh. Other people have declared it for me (laughs).
There's a thin line between declaring victory and just putting out a positive statement. 
I'll tell you this. Some candidates might be constantly thinking about absentee ballots over the next three weeks until they're counted. It's not going to be a second thought for me.
I'm currently writing about Rep. Sean Patrick Maloney, the first and only openly gay member of Congress in New York – 
I literally spoke to Sean maybe three hours ago. He was just like, 'In the 1980s, who could have predicted that you'd have two gay and two Black members of Congress from Westchester?' I'm both. You've got Jamaal Bowman (who is Black). Then you have (Maloney) as the other gay member of Congress. And then if you really want to do the Hudson Valley, you can throw Antonio Delgado (who is Black) in there. 
You got the endorsement from the Congressional LGBTQ Equality Caucus.
That's right. They were the first caucus to endorse me, actually.
And then the Progressive Caucus came after?
Yeah. And then after the poll came out, just a few days ago before the election, the CBC (Congressional Black Caucus) endorsed me, too. 
At the last second.
(laughs) Yeaaah, you know. Politics. In particular, one person. (Rep. Greg Meeks, the CBC PAC chairman, seemed to be looking for an excuse not to endorse Jones, even though he was the only viable Black candidate in the race.) But it is what it is. I'm just grateful. I'm excited to be an active member of the caucus. I'm not holding anything against anyone. I'm really excited just to be a team player in Washington. While being an independent voice and a forceful advocate for the people in my district.
Anything else?
I'm really excited, man. This is a really cool time in American history. In some ways it's the worst of times, but in other ways it's the best of times, to identify these silver linings and leverage these moments as opportunities to advance the progressive agenda and to get real reforms in areas like race and equality for the LGBTQ community.