New York City
Jumaane Williams was made for this moment
When New York's leaders were paralyzed, the public advocate made his voice heard around the world.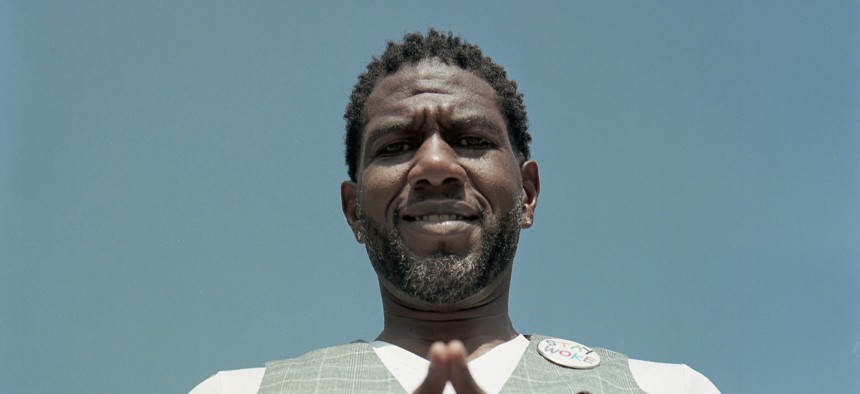 Jumaane Williams, the New York City public advocate, could feel the pain in his aging, 44-year-old knee on the hard concrete of Times Square. But the moment called for kneeling, so Williams lived with the physical discomfort for eight minutes and 46 seconds – the amount of time that Minneapolis Police Officer Derek Chauvin was originally thought to have knelt on George Floyd's neck before he died on Memorial Day. 
This was June 2, eight days after Floyd's death, and the self-described activist/elected official had organized a protest/press conference in an empty Times Square. Civil rights activists and more than a dozen elected officials joined Williams to assert New Yorkers' right to protest police brutality, taking a knee just after 8 p.m. in symbolic defiance of the mayor and governor's overnight curfew, enacted just the day before. 
Williams is no stranger to getting arrested for civil disobedience, having been arrested at least nine times, but it wasn't a real concern here. Elected officials were de facto exempt from the curfew.
Press-hungry politicians gathered around Williams, including New York City Council Speaker Corey Johnson and New York City Comptroller Scott Stringer, but the public advocate was the undisputed host. Nobody else spoke. 
With Times Square emptied out because of the coronavirus-induced shutdown, and the area cordoned off by the New York City Police Department, Williams didn't even need a microphone as he explained that he was there to bring back attention to Black people killed at the hands of police. "We don't want to lose focus of why people are here and what people are protesting about. So much of the media coverage is covering the wrong thing," he said, a reference to the looting of stores over the previous two nights that had been all over the news and social media. "My hope is that every time we talk about what's happening here, every single time, that the media bring it back to why we're here," Williams continued. "Bring it back to the reasons that the bucket has overflowed. The drips, the drips, the drips, the drips."
That was only one stop on Williams' citywide star turn over the last two months. He led protest marches against police brutality and systemic racism and saw New York City Mayor Bill de Blasio sign the bill he sponsored that codified New Yorkers' right to record the police on video. He negotiated with the police in the streets to save other protesters from arrest – a move praised by activists on the left and the New York Post editorial board on the right. Williams' voice was heard around the city and the world in Instagram videos shared by the rapper and entrepreneur Diddy. At a memorial service for Floyd in Brooklyn, where de Blasio was greeted with boos, Williams was cheered. The New York Times covered the growing desire among some progressives for a Williams mayoral run in 2021. Rolling Stone interviewed him, as did Vogue. In a chaotic moment, Williams often seemed like the nearest thing to a leader. 
What Gov. Andrew Cuomo was, thanks to his daily press briefings, during the height of New York's coronavirus outbreak, Williams was to the Black Lives Matter protests happening shortly thereafter. Except, unlike Cuomo, who has been blamed by experts for waiting too long to shut down nonessential businesses, no one could say that Williams was the reason the underlying problem was so bad in the first place. He was the person for the moment, whose entire political career – and entire life – had prepared him to become the spokesperson of the more assertively progressive New York that is reshaping Democratic politics throughout the state. 
What Gov. Andrew Cuomo was during the height of New York's coronavirus outbreak, Williams was to the Black Lives Matter protests.
In 1983, when Williams was 7 years old, the United States invaded the Caribbean island nation of Grenada to crush a military coup after the murder of Maurice Bishop, the small country's revolutionary prime minister. Williams was living in Starrett City, the massive housing complex in East New York, Brooklyn. His parents had both emigrated from Grenada before he was born, so Williams was raised knowing "the Island of Spice" as his own – "I've got spice in my blood," he says. The invasion, ordered by then-President Ronald Reagan, was widely condemned internationally, but Williams said he doesn't remember his family taking sides. "It was kind of matter-of-fact – 'This happened,'" he said. But the fact that the U.S. invaded a country where almost all the residents were Black wasn't lost on him. "I definitely had it in my head, the context of how America has treated people of a darker hue, generally speaking – in this country and its foreign policy."
Williams grew up protesting. His mother, Patricia, brought him to protest marches in support of Nelson Mandela, and when a Black family's home burned down in one of several racist attacks in the diversifying, adjacent neighborhood of Canarsie, they marched too. 
Williams' first hero was Martin Luther King Jr., and he said he read so much about the man that he'd correct his teachers if one of them said something wrong about King in class. A gift from his father, a book about Malcolm X, opened his eyes to Black nationalism, but Williams never felt like he needed to choose between the integrationist King and X, who argued for racial separation. And Williams found a connection to X, whose mother was also from Grenada. When Williams' cousin organized a tour of the island with X's widow, Betty Shabazz, Jumaane, just a college student at the time, got to tag along.
It was all a great education in activism, but not every kid who grows up reading about the civil rights movement gets elected to citywide office. Williams developed a pragmatic understanding of politics from past activists. Just as Williams admired both King and X, he has appealed to progressive activists while working within existing power structures since his college days. As an undergraduate at Brooklyn College, Williams led the United Students League, or USL, one of the CUNY school's two political parties at the time. Each had an aligned student newspaper, and USL would go to battle with Progressive Hatikvah Downtown, or PHD, every year – first at the polls, and then in student government meetings, competing for limited resources. He didn't become student body president – in fact he lost by just 97 votes – but it was a great training ground.
Years later, Williams would find a college paper he'd written at the time praising Bishop's democratic socialist policies. Williams had joined the Democratic Socialists of America after Sen. Bernie Sanders popularized the term in his 2016 presidential run, so Williams was tickled to find out he'd been a fan of the ideology since before it was cool. 
Despite those left-wing beliefs, Williams followed a decidedly traditional path into local politics. The white, Jewish, middle-aged politico Lew Fidler, a Brooklynite who would soon be elected to his first of three terms in the New York City Council, took the promising student under his wing and mentored him, bringing him into the Thomas Jefferson Democratic Club in Canarsie. The TJ Club is an old-guard political club, the powerful one-time home base of former Democratic Kings County Leader Meade Esposito, who was convicted on corruption charges in the 1980s. But it became the first political home for the young progressive Williams, who would carry petitions for the candidates championed by the club – typically moderate Democrats, like former Surrogate Court Judge Frank Seddio, who'd eventually lead the county party himself.
Williams found a career in activism, working as a tenant organizer in Flatbush while serving on his local community board. But when he decided to run for office, he didn't get support from the political establishment. Williams challenged New York City Council Member Kendall Stewart in a Flatbush-area district in 2009 and won, becoming one of the rare candidates to unseat an incumbent. He was encouraged to run by the Working Families Party, the progressive, labor-backed alternative to the Democratic Party, and the WFP became his top supporter as the county Democratic Party stood behind Stewart, despite two of Stewart's Council aides having pled guilty just months before to embezzling public money. 
Williams' partnership with the WFP and the largely white-led progressive movement only strengthened over his time in the Council. The young man with dreadlocks and diamond earrings formed a close working relationship with New York City Council Member Brad Lander from Brownstone Brooklyn – a prototypical white progressive – and the two became some of the highest-profile critics of the NYPD's stop-and-frisk tactics under then-Mayor Michael Bloomberg. 
But Williams wasn't totally a team player. After all, he challenged the eventual winner in the race for City Council speaker, Melissa Mark-Viverito, in 2013, even after she had been established as the choice of the Progressive Caucus. That was just one chapter in Williams' sometimes uneasy relationships with leadership. City Council Member Jimmy Van Bramer served alongside Williams under three separate speakers, "And he was always annoying the shit out of all of them, because he was always challenging them," Van Bramer explained. "He was always pushing, and yet he was productive – and he got things done."
Sure enough, Williams' public profile grew. He was one of a small handful of New York elected officials to back Bernie Sanders over Hillary Clinton in the 2016 presidential primary, and Williams was soon looking for a bigger platform than the Council. He ran for speaker again in 2017 and lost to Johnson, then established himself as a hero to New York's anti-Cuomo progressives in 2018 by daring to challenge the reelection of the governor's running mate, Lt. Gov. Kathy Hochul, on a DSA and WFP-backed ticket alongside progressive activists Cynthia Nixon and Zephyr Teachout. 
The Cuomo campaign apparatus threw everything it could at Williams, especially his history of relatively conservative comments on social issues. He'd come around way too late on supporting same sex marriage. He had fallen short of the unequivocally pro-abortion rights messaging expected of New York Democrats with statewide ambitions. Williams was in debt over a failed restaurant venture in the 2000s and had a home in foreclosure. Williams' past is full of what could be considered red flags for a candidate, but nothing seems to stick. His candor has probably helped – instead of dodging, or denying, he has almost always owned up to accusations, and tried to explain. 
He lost the primary for lieutenant governor with 47% of the vote to Hochul's 53%, but actually won the vote in New York City alone, 54% to 46%. That set up him for a relatively easy win in the special election for public advocate in 2019 – despite another round of negative headlines. A long record of school zone speeding tickets seemed to conflict with his pro-bike and pedestrian platform, and opponents were quick to jump on a leaked record of an arrest stemming from a 2009 argument with his then-girlfriend. (The charges had been dropped, and the arrest record sealed.) Even then, Williams was never "canceled." It was enough for City & State to ask last year, "Is Jumaane Williams made of Teflon?" Williams took office in March, holding the office that's first in the line of succession if something were to happen to de Blasio. And that job gave him the perfect platform for this year's protests. 
"He was always annoying the shit out of (City Council speakers), because he was always challenging them. And yet he was productive – and he got things done." – New York City Councilman Jimmy Van Bramer
De Blasio desperately wants what Williams has: the ability to speak about the intersecting issues of policing, racism and gun violence with nuance and authority. Williams has long focused on those issues, and they have affected him personally, as a Black man living his entire life in Brooklyn. That alone sets him apart from the other citywide elected officials. De Blasio, Johnson and Stringer are all white. De Blasio and Johnson both grew up in Massachusetts, never having to be stopped-and-frisked by NYPD officers as a teenager. Williams did, and he's lucky he never got caught selling marijuana., as he has admitted to doing as part of his push to legalize weed.  At a time when liberals are reflecting on the underrepresentation of people of color in leadership positions, Williams is the one who has saved one of America's most diverse cities from having all-white leadership. 
Williams also has a serious claim at being one of the best public speakers in city politics – which is particularly impressive given his Tourette's syndrome that causes frequent verbal tics. His 2019 election night victory speech, where he spoke about struggling with his mental health, was praised citywide and watched around the world. He's never hesitant to show emotion, and he has frequently been brought to tears. "(Admitting) my mistakes and my errors and being human about it is the only way I know how to do it," he said. 
In a difficult few months for New York City, Williams made few political errors. In fact, when progressive activists occupied City Hall Park and demanded that the city cut the NYPD's budget by at least $1 billion, Williams may have been the only one to get through it unscathed. Johnson promised to try to reach $1 billion in cuts, then had to publicly apologize for coming up short after negotiating the budget with de Blasio. The mayor himself never promised anything, but then tried to spin the budget as having $1 billion in cuts when that wasn't true even by the most generous accounting. Stringer released a plan that defunded the police by $1.1 billion over four years, then complained when his political rival Johnson didn't manage to negotiate a budget that hit the goal in one year. Williams seemed to play it the smartest, siding with the protesters early without naming a dollar figure. Once the budget was finalized, Williams shocked political observers by vowing to block the city from collecting property taxes if City Hall didn't enact a hiring freeze on the NYPD and remake the system of police officers in schools. De Blasio's office essentially brushed off the threat, saying the typically weak public advocate position didn't have the authority, and the budget was enacted as usual. But Williams told City & State that, while he acted a bit too late in July, he fully intends to flex his City Charter-granted muscles in the next fiscal quarter, starting October 1. Will it lead to a lawsuit over the office's powers? 
The move is classic Williams, taking an activist stance and trying to twist government into achieving it. But this is a heavier lift than usual. It's not just sponsoring a controversial bill to create a new inspector general for the NYPD, it's threatening to withhold billions of dollars from the city of New York. The Office of the Public Advocate's lack of power can actually be a superpower for those holding it. It grants the appearance of authority with hardly any responsibility. So while de Blasio gets blamed for everything that happens in his government, while Johnson has to work with his 50 City Council colleagues, and while Stringer has to answer to pensioners, Williams is free to voice the frustrations of the protesters at the barricades. 
De Blasio desperately wants what Williams has: the ability to speak about policing, racism and gun violence with nuance and authority. 
Of course, there are many New Yorkers who want that to change, and have Williams run for mayor next year. But Williams, who adamantly denied any interest in the position while he was running for public advocate, isn't running – even if his denials have gotten a bit softer in the past couple months. "I never fit the mold of an elected official, so that's pretty dope," he said. "But at the same time, I think I am supposed to have this job, and that's what I'm going to ask (voters) again," in 2021. 
Given his popularity, Williams could probably get reelected easily next year and again in 2025. With that term expiring at the end of 2029, he could settle into the job for a full decade. The idea must be tempting. Williams recently got engaged to India Sneed, an attorney at Greenberg Traurig. They're raising her 12-year-old daughter, Amelie, and just adopted a dog, a cockapoo named Nutmeg. Williams and Sneed moved intoa home in Fort Hamilton, the Army base in the southwestern corner of Brooklyn, and are planning a 2022 wedding. 
Cuomo also has plans for 2022: reelection to a fourth term. Williams isn't on the guest list, but many of those close to him expect him to try to crash the celebration, whether by running for lieutenant governor again, or even taking on Cuomo directly. Not everyone takes kindly to the idea of another Williams campaign. "I think that's stupid. The governor has never been stronger in New York state," said a Democratic operative. Running for lieutenant governor again would certainly be easier, but it raises the question of why exactly Williams would want to be in a position that's traditionally been subservient to the governor. If Cuomo won, he'd just cut the office's already barebones budget, the operative speculated. "What do you hope to gain by being lieutenant governor to Andrew Cuomo, who hates you?"
Of course, Williams' last statewide campaign gave him a platform to criticize the way New York's been run under Cuomo, something that allies saw as worthwhile in itself. That he came so close to upsetting Hochul was just a bonus. "A lot of people in the game are playing chess about what I'm going to do next. And I've never really done that," Williams claimed. "I try to not get too high, not get too low and just keep moving forward and doing the work."
Powered By
NEXT STORY: How far left are New York's rookie Democrats?