Personality
Famous feminists from NY
Supreme Court Justice Ruth Bader Ginsburg was just one of the women who helped proliferate the women's rights movement in the 1960s and 1970s.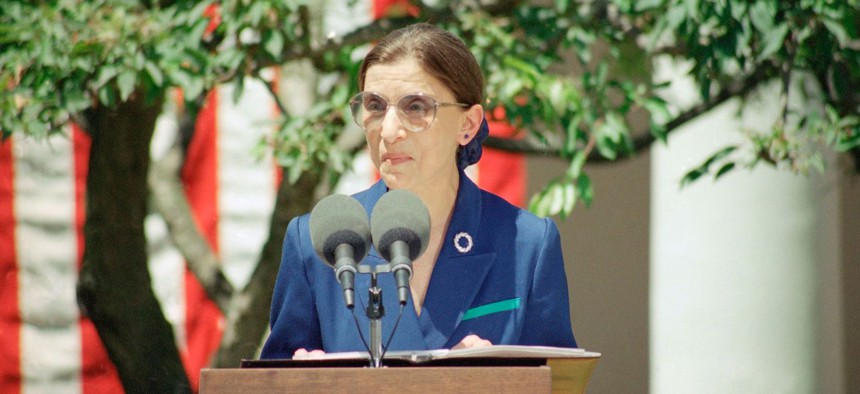 Former Supreme Court Justice and Brooklyn native Ruth Bader Ginsburg, a pioneer of the women's rights movement in the 1960s and 1970s, died on Friday.
Ginsburg became the second female justice on the U.S. Supreme Court in 1993 and the first Jewish woman and first woman from New York to serve as a Supreme Court justice. Prior to her career as a jurist, Ginsburg got her start in New York City, which spawned the careers of many leading feminists of the late 20th Century. 
Ginsburg worked with many of these women as she became the first female professor to ever receive tenure at Columbia University, where she worked from 1972 to 1980. Ginsburg also worked as a litigator and director of the Women's Rights Project of the American Civil Liberties Union, which is also based in the city, during the 1970s.
Ginsburg's contemporaries who led the modern women's rights movement included politicians, authors and activists. Here are some of the most important ones:
Shirley Chisholm
Brooklyn-native Chisholm became the first Black woman to get elected to Congress and the first Black woman to run for president. Prior to entering into politics Chisholm worked as a nursery school teacher and ran two day care centers. In 1959 she became the educational consultant for the city's Division of Day Care. And in 1964 she was elected to the state Legislature before she was encouraged to run for Congress by her constituents in Brooklyn.
Chisholm served in Congress for seven terms, from 1969 to 1983, and during that time developed her own catchphrase: "unbought and unbossed." In Congress, Chisholm advocated for minimum annual incomes for families, extended day care hours and school lunch. She also criticized the Vietnam war, suggesting that the U.S. should focus on combating its own racism and poverty rather than engage in warfare abroad.
In 1972, she launched her presidential campaign, which caused issues within the feminist community of that time, which was primarily dominated by white women. None of her contemporaries lent their support to her campaign. Despite losing her presidential campaign, her historic run inspired numerous women to run for office as did her ability to speak candidly about racism and sexism.
In 2018, it was announced that a statue would be erected in Chisholm's honor in Prospect Park. Unfortunately, the statue, which was expected to be installed in the park this year, has been held up due to the COVID-19 pandemic.
Bella Abzug
Famous for her big hats and booming voice, the native New Yorker who represented Manhattan in Congress was one of the most recognizable figures in the women's rights movements during the 1970s.
Before her election to the House of Representatives, Abzug worked as a civil rights attorney in Manhattan and the ACLU. She was elected to Congress in 1970; her campaign slogan for the race had been, "This woman's place is in the House – the House of Representatives." Abzug served in Congress for three terms, where she spoke out against the Vietnam War, called for President Richard Nixon's impeachment, championed women's rights and introduced the first bill to protect civil rights for gays.
She left the House to run for Senate against Daniel Patrick Moynihan in 1976 but lost the race. She ran for New York City mayor against Ed Koch in 1977 and lost.
Florynce Kennedy
The civil rights lawyer, typically referred to as "Flo," was known for representing individuals facing discrimination. 
Kennedy became one of the first Black women to graduate from Columbia University's law school in 1951, though she was not admitted to the school until she threatened to file a discrimination suit against them if they denied her entry. 
She worked for a Manhattan law firm before opening her own firm in 1954. And in 1966, Kennedy began to turn toward political activism, when she founded the Media Workshop organization, which aimed to address racial prejudices in journalism and advertising. She also helped found the National Organization for Women, with Betty Friedan, that same year.
In 1971, she founded the Feminist Party and in 1975, she founded the National Black Feminist Organization. Kennedy also became an integral part of the legal team in New York that worked to legalize abortion within the state.
Gloria Steinem
Steinem still remains one of the most visible and recognizable feminist figures around, though her career in activism began a long time ago.
She came to New York City in 1960 to become a journalist and in 1963, Steinem was launched into the national spotlight after she posed as a Playboy Bunny at the Playboy club in Manhattan to expose the rampant sexism present there.
In 1971, Steinem founded Ms. Magazine which became one of the first national magazines to address women's issues and highlight feminist thought. Steinem has lived in the same Manhattan apartment for half a century, according to The New York Times. 
Betty Friedan
In 1963, Friedan published "The Feminine Mystique," which became a catalyst for the women's rights movement. Her seminal work highlighted the unrealistic expectations placed on women to be completely satisfied with domesticity as well as the lack of career opportunities available for women. However, she has been criticized for focusing solely on the issues facing white and middle-class women.
Born Bettye Naomi Goldstein, she married Carl Friedan in 1947 and the couple moved to Rockland County. After they divorced in 1969, Friedan moved to Manhattan with her family.
She founded and became president of the National Organization for Women in 1966, and remained the organization's president until 1970. Friedan also founded the National Association for the Repeal of Abortion Laws (known today as Naral Pro-Choice America) in 1969 and the National Women's Political Caucus in 1971, alongside several other famous feminist thinkers and leaders of the time.
Florence Howe
Thought of as the "mother of women's studies," Howe is often credited with expanding the focus on women's literature and women's studies in academia. 
While she was working at various universities, teaching women's studies in the 1950s, Howe realized that there was limited literature available on the subject she was teaching. In 1970, she created the Feminist Press to create the materials she was looking for herself. In 1971, she joined the faculty at the State University of New York College at Old Westbury and brought her publishing house with her. The Feminist Press published works by many reknowned authors, such as Zora Neale Hurston, Charlotte Perkins Gilman and Barbara Ehrenreich. The Feminist Press is still in operation today.
Brenda Feigen
A chief feminist thinker and lawyer in the 1970s, Feigen co-founded Ms. Magazine alongside Steinem, founded the ACLU's Women's Rights Project with Ginsburg and also helped found the National Women's Political Caucus. Feigen ran for a seat in the New York Senate in 1978, though she did not win. She continues to practice law, although she no longer lives in New York.
Geraldine Ferraro
Ferraro, who was born in Newburgh, New York, became the first woman to become a presidential running mate in 1984, alongside Walter Mondale.
But before jumping into the presidential race, Ferraro began her career as a criminal prosecutor in Queens. It wasn't until her children were in school that Ferraro went to work in the Queens District Attorney's office. Ferraro served as a congressional representative from Queens for three terms. During her time in Congress she helped pass legislation that would make it easier to access spousal retirement benefits, which was a big concern for many women at the time. She also co-sponsored the Economic Equity Act, which sought to accomplish many of the same goals as the Equal Rights Amendment and supported federal funding for abortions.
Powered By
NEXT STORY: Ginsburg: the epitome of New York grit