Interviews & Profiles
In the Bronx, Elisa Crespo could make LGBTQ history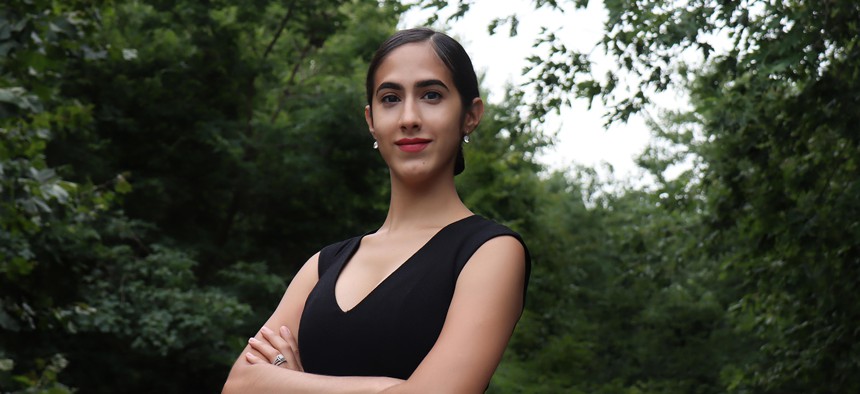 When New York City Council Member Ritchie Torres won his City Council seat back in 2013, he made history as the first openly gay elected official from the Bronx. Now, LGBTQ history could be made again in District 15, where Elisa Crespo is vying to replace Torres – who's headed to Congress – in a crowded special election next year. 
Crespo would be the first openly transgender lawmaker elected in New York City, as well in the state as a whole. And very likely, she would also be the first former sex worker to hold office – or at least the first to speak about it publicly.
Crespo spoke with City & State about the significance of electing someone with her background to office in New York and the importance of having trans voices in government. But she's not running, nor does she expect to be elected, because she is trans. Crespo also spoke about how democratic-socialism can help the Bronx amid the COVID-19 crisis, as well as her impression of the new ranked-choice voting system her race would be among the first to utilize.
This interview has been edited for length and clarity.
What inspired you to run for City Council this year?
I was one of the young people who was inspired by people like Bernie Sanders and (Alexandria Ocasio-Cortez). 2015, going into 2016, was a life changing year for many of us. And I was very concerned with the direction that our country was going in, concerned with some of the statistics of the Bronx. And for a while, I had struggled with whether or not I would run because of my unconventional story. Once I started to own my own story and feel comfortable in my skin, and understand that all of the reasons why I thought folks wouldn't support me are actually the reasons they will support me, that's when I decided to go for it.
Tell me about that unconventional story. I understand you would be a first if you won your race in more ways than one.
I had a very unstable childhood, moved all around New York City. In high school, I realized that I was different. I could never quite put my hands on what it was. In high school, I first met an older trans woman of color. And after I met her, it all kind of made sense to me and clicked that this is who I was. How I felt inside didn't match how I was born. I started my transition at 15 as a high school student. So that's part of my unconventional story – being the first LGBTQ woman of color to run for public office in the Bronx. When I first transitioned 15 years ago, there was very little opportunity for trans women of color in the private sector. We had to really hustle to survive, to take care of ourselves and to fulfill our transitions. Most of the trans women that I was growing up around, that I was hanging out with, were engaged in sex work, and had convinced me that that was what I should be doing. They were my role models, and we didn't have trans women of color on TV or running for office. So that's what I thought I was supposed to be doing right? These were all things that when it came time for you to make the decision to run for office, I knew I would have to be transparent about and, I did. These are things that made me think, "Is the Bronx ready for me, is the Bronx ready for my story?" Ultimately I figured out that there are a lot of people just like me in the Bronx. 
As the push to decriminalize sex work in New York grows, how important is it to actually have someone who has engaged in sex work before represented in public office?
It's incredibly important. I think that most people from the outside look at people who engage in sex work and don't fully understand it. As someone who was a former sex worker, I understand why sometimes we resort to this to survive. Sometimes people get confused and think that we're out here trying to encourage people to engage in sex work, and that's not what I'm doing at all. I would never want anyone to engage in sex work. But I understand why sometimes people have to do it, particularly trans women of color. I also think people forget that it was just last year that the Gender Expression Non Discrimination Act was passed in Albany, where prior to that it was legal for employers to discriminate (against) people and fire them based on their gender identity. It's important for people who have that lived experience to be able to stand up and speak about the struggles of people who have stories like mine. How can you speak to something if you haven't gone through it yourself? You would never understand what it's like. 
You're a dues paying member of the New York City DSA, how did you feel about not getting their endorsement this time around?
We did seek their endorsement. They decided they weren't interested in endorsing in this race, for this seat, and that's fine. There's no hard feelings. The reason I joined the DSA is because I believe in their movement, I believe in the work that they're doing, which is really centered around the working class people and their struggles. And I think that this is another one of those things where we have to educate the people of the Bronx that DSA is not pushing anything that is harmful for us. DSA is not socialism in the way that some of our elders understand it in other countries. This is a democratic socialism. I don't consider myself a socialist, but I support what they're doing. 
You were wondering if your district is ready for someone with your story. This is not, say, Western Queens you're running in. As a trans woman of color who is a former sex worker and DSA member, it seems like it could be a tough path to make inroads.
I think it would have been tough no matter where I was running, even if I was in Western Queens or in Bushwick, Brooklyn, this would be tough.This system was not built for people like me. It's not about the fact that I'm a dues member of DSA. It's just, we have never been given an opportunity or a space to be able to present ourselves as a formidable candidate. But I have never run my campaign based on my identity. I've never run it based on me and my story. It has always been about the working people in this district and the struggles that they face every day. I need people to understand that people like me can understand that I can represent people that are different from me. Just because I had to engage in survival sex work as a young person, doesn't mean that I'm not capable of fighting for this community like anyone else, doesn't mean that I can't deliver, and doesn't mean that I don't understand people's struggles.
Has the new ranked-choice voting system influenced the way you've been campaigning, or the way you've interacted with other campaigns in this race?
We definitely have reached out to other candidates to see what it looks like going forward, implementing some sort of rank choice voting strategy. I just think that it's gonna take time before candidates in this city fully understand what it means to run for office in a ranked-choice election. I think it's still a very, very brand new concept. And I think that in a dog-eat-dog city, like New York City, where politics is very, very visceral and sometimes dirty, it's going to take people some time to figure out that running dirty malicious campaigns or attacking your opponents is actually not beneficial to you. Candidates are not used to working together and being friendly to one another, unfortunately, and I've had my fair share of that in this race.
What do you make of the new lawsuit to delay ranked-choice voting? Is there enough time before your election to educate voters?
I have faith in the people of the Bronx. I believe that they have the knowledge to understand how ranked-choice voting works. But I do think that the Board of Elections and the Campaign Finance Board have to aggressively engage in outreach and education. I think we can do it. I don't think the people of the Bronx – I don't think it's that hard for them to understand. I support ranked-choice voting and the voters of New York spoke and we should not go against what they voted for.
The Bronx has the highest unemployment rates in the entire city, and the borough has been hammered by COVID-19. What are your plans to help alleviate some of the pain that long predates the pandemic?
Unequivocally the number one issue in the 15th councilmanic district is addressing the Great Depression levels of unemployment. The core part of my platform calls for a public option for employment. That begins as a municipal apprenticeship program, where we bring labor to the table and we organize these programs. But ultimately the goal is (that) anyone who wants and needs a job should be able to get one. And for those who have historically been marginalized from the private sector – formerly incarcerated individuals, homeless individuals, at risk youth, seniors, homeless people – we should be creating targeted programs for them that create pathways into city service jobs. The private sector cannot always fulfill or meet the demands of unemployment. 
You're in a relatively crowded field, what about your background and experience do you think makes you most qualified to represent the district?
I have both interned and worked for government officials at different levels of government. I have a good knowledge of the legislative process, of constituent services. I have a track record of delivering for constituents in the Bronx and helping them solve their issues. I began my organizing and activism as an elected student leader, fighting alongside other Black and brown students at CUNY. I'm not new to the Bronx, I've been here for 10 years. I understand the issues that Bronxites are facing. And aside from that, trans people should be anywhere that decisions about us are being made. The people who have faced the most marginalization and oppression are the ones uniquely fit to be providing solutions and are the ones who should be at the decision making table. I'm a real working class person, and we have to move away from this notion that if you haven't done X, Y and Z, then you're not qualified to run for office. But the interesting thing here is I do have government experience. I'm not walking into the City Council clueless.