New York State
Chuck Schumer: America's Brooklynite
The new U.S. Senate majority leader is obsessed with New York. Can he deliver long-awaited help from Washington?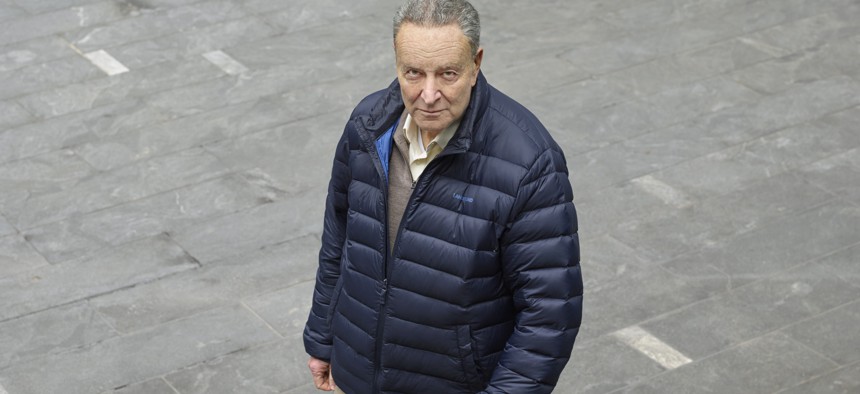 The day after Trump-supporting insurrectionists stormed the U.S. Capitol on Jan. 6, U.S. Sen. Charles Schumer shocked members of Queens Community Board 2 by appearing at their Zoom meeting. "When we set this call up, we did not know what the events of yesterday would be," Schumer apologetically said to explain why he would only be online for 20 minutes instead of the usual 45 minutes he spends at community board meetings. Never mind that the nation was in the midst of national crisis, the president was just days away from his second impeachment and Schumer – then the U.S. Senate minority leader, whose Democratic Party had just won control of the chamber – was poised to become one of the three most powerful lawmakers in the country.
The surprise community board appearance embodies Schumer's brand of politics and governance. Despite his national prominence and power, Schumer still visits all 62 counties in New York every year. He continues to regularly hold his trademark Sunday press conferences around the state on niche problems and obscure local issues. 
As a man singularly dedicated to all things New York, from how U.S. Department of Agriculture regulations affect Greek yogurt production upstate to spotty mail service in Westchester, Schumer's ascension to Senate majority leader – the first from the Empire State – means he'll have the power to deliver for his home state better than he ever has. Despite decades in politics and increasingly important job titles, Schumer, age 70, has in many ways tried to remain true to his political roots as a 20-something Assembly member known for physically filling in potholes. Already, Schumer is delivering for New York, announcing before inauguration day that he had secured from the incoming Biden administration an additional $2 billion in federal disaster aid for the state to help cover coronavirus expenses.
Schumer is a man singularly dedicated to all things New York, from how USDA regulations affect Greek yogurt production upstate to spotty mail service in Westchester.
"I can't overstate how phenomenal this is for our state," Lt. Gov. Kathy Hochul told City & State, about Schumer's new role as U.S. Senate majority leader. "I mean, Chuck Schumer is beloved in New York City – or he's well known. People from Buffalo think he's from Buffalo – he spends so much time in every corner of the state."
Schumer is well versed in upstate issues, but he is decidedly not from Buffalo. The first Jewish Senate majority leader grew up in Sheepshead Bay, Brooklyn, where he graduated from James Madison, the same public high school attended by Sen. Bernie Sanders and former Supreme Court Justice Ruth Bader Ginsburg. Except for college and law school at Harvard, Schumer never left Brooklyn. He lives in Park Slope, and his congressional district was inherited by Anthony Weiner when Schumer upset former Republican Sen. Al D'Amato in 1998. New York magazine has called Schumer's way of speaking "Brooklynese."
"I can't overstate how phenomenal this is for our state." – Lt. Gov. Kathy Hochul
While some progressive activists have questioned his leadership of the opposition during the Trump era, mainstream Democrats say Schumer is an effective pragmatist who rose to his new position by working with colleagues and obtaining tangible results. "Chuck has always been a very, very skillful political person," said Rep. Jerry Nadler, a Democrat from Manhattan's West Side who has known Schumer since college and worked with him when both were young Assembly members. "He's always also been able to get people's confidence, and he's deserved it, because he's always earned it and shown it." 
Decades of grassroots politicking and Washington dealmaking has finally led to where Schumer is today. "This is definitely 'man, or person, meets moment,'" Democratic consultant Bruce Gyory said. "He's really a master legislator. He's very good at crafting meaningful compromises that advance the ball." Gyory specifically mentioned the comprehensive immigration reform that Schumer helped usher through Congress in 2013 as just one key example of Schumer's legislative prowess in action.
Now, as one of the three most powerful lawmakers in the country, those skills will serve not only the nation, but his home state as well. Schumer became minority leader in 2017 after Senate Democrats elevated him from Democratic Policy Committee chair. During that time, his ability to increase federal investment in programs important to New York, such as mass transit, health care or clean energy, was severely constricted by having a Republican majority in the Senate and, for all of that time, either a Republican-led House or a Republican president. Now, having a Democratic House of Representatives – with many high-ranking New Yorkers in other leadership positions, including Democratic Caucus Chair Rep. Hakeem Jeffries – and a Democrat in the White House, may allow him to deliver on progressive priorities and New York's needs. "This has been the zenith of New York's institutional influence in the Congress," Gyory said of the current session. Schumer regularly announces the gains he's made for New York in the Senate – many of the first press releases of 2021 detailed the funds he won in the end of year spending bill passed in December. And as majority leader, with all the new responsibilities and national attention that will bring during turbulent times, Schumer doesn't expect to pay any less attention to his home state and its needs. "Ever since I was an assemblyman, I fought for New York every single day," Schumer told City & State, speaking through a mask that bore the names of cities across the state. "And I'm going to use the clout I have, of course, to help the country, but also help New York." 
"I know what I am looking for is for a line of communication to be open." – State Senate Majority Leader Andrea Stewart-Cousins
New York has many different needs including combatting COVID-19 and closing a state-estimated $15 billion budget gap. Schumer's first priority – balanced with confirming President Joe Biden's cabinet picks and holding an impeachment trial for former President Donald Trump – is passing a new stimulus bill that includes state and local aid for New York and its municipalities. That includes relief for struggling restaurants and funding for churches – especially in marginalized communities – that have been doing social work during the pandemic. President Joe Biden has proposed a $1.9 trillion package, which Schumer said could deliver more than $50 billion to the state. "I would expect New York's going to do very well in that proposal," Schumer said, adding that he's working to ensure that the struggling Metropolitan Transportation Authority gets what it needs from Biden's proposed $20 billion for mass transit. The agency has received $4 billion so far in coronavirus relief bills, but still faces an additional $8 billion shortfall and catastrophic cuts to service without more aid.
State Senate Majority Leader Andrea Stewart-Cousins expressed optimism about what Schumer's ascension will mean for New York. "I know what I am looking for is for a line of communication to be open," Stewart-Cousins said when asked about her hopes for a Schumer-led U.S. Senate. And she expects that to be the case with the senator, who she said is intimately aware of the problems facing New York. "We don't have to try and get on the same page in terms of the actual policy," Stewart-Cousins said. "How we get there – those are conversations, but they're conversations that are had with the same objective."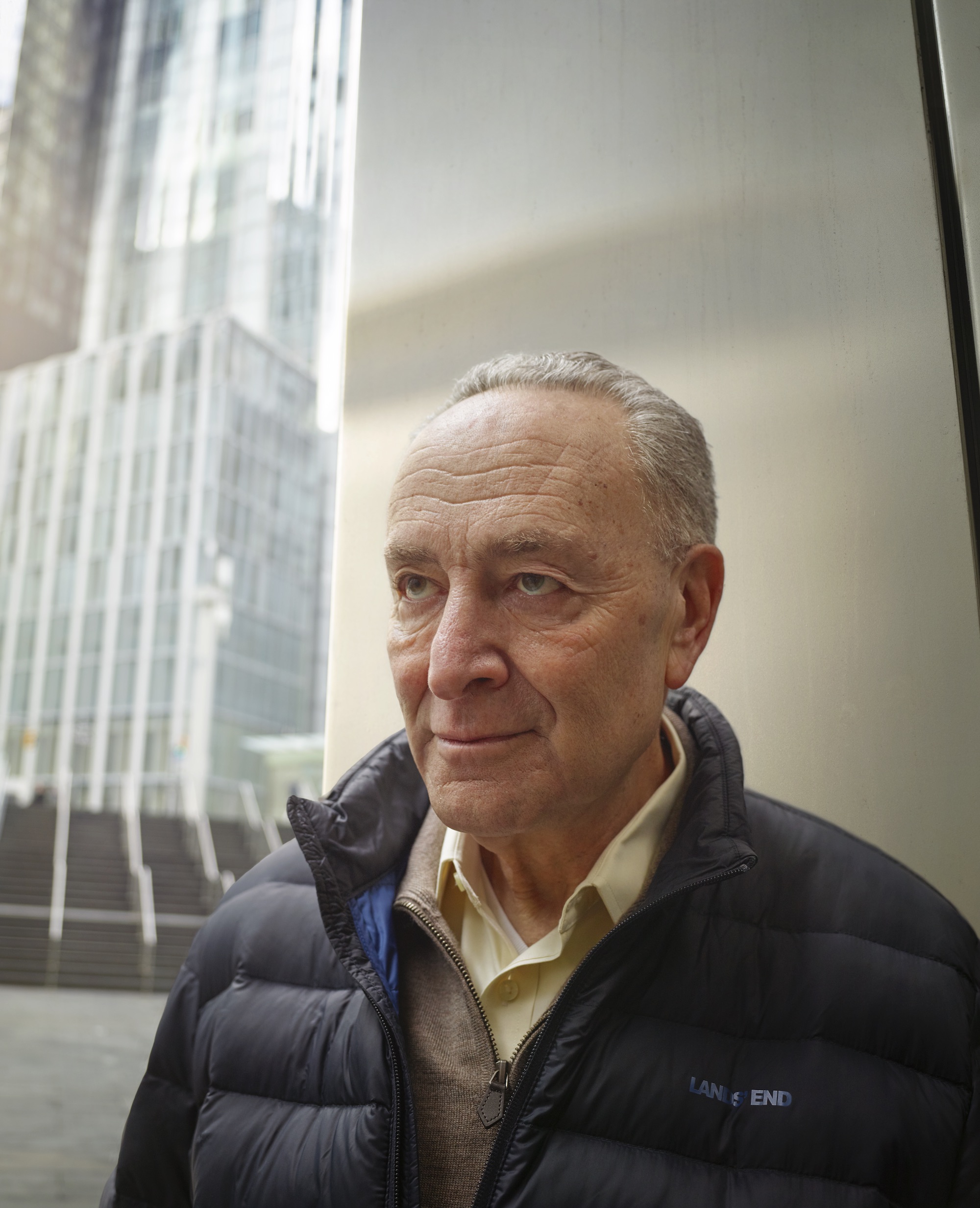 Gov. Andrew Cuomo, in his budget address Jan. 19, once again called on the federal government to provide $15 billion in direct aid to the state to close the full projected budget gap, lest New York be forced to cut spending and raise new taxes. The state Division of Budget released details based on receiving $6 billion from the federal government – the worst-case scenario estimate – but Cuomo asserted the full $15 billion is a "fair" ask from federal lawmakers that would allow him to pursue a variety of programs and agenda items he detailed as his alternate budget proposal. Cuomo also threatened to sue if Congress doesn't provide all $15 billion. 
The executive budget proposal that presumes only $6 billion in aid split over two years is balanced in part by a temporary 2% tax hike on the state's highest earners, estimated to bring in $1.5 billion, which Cuomo's budget director Robert Mujica said would be nixed with full federal funding. However, Stewart-Cousins and Assembly Speaker Carl Heastie have both expressed interest in a new millionaire's tax independent of new financial aid, reiterating that stance after Cuomo's budget address. "While we desperately need help from the incoming Biden Administration and our federal partners," Heastie said in a statement, "we must also ask the wealthy to do more." Members of the state Legislature have myriad proposals on new taxes on the wealthy, including a new tax on billionaires' capital gains and a tax on second homes.
"It's very beneficial for all New Yorkers to have a majority leader from our home state … because of (his) extraordinary ability to bring home the bacon." – Luke Perry, professor of government at Utica College
Cuomo has previously expressed disappointment with Schumer, notably attacking the senator near the outset of the ongoing coronavirus crisis over the first coronavirus relief package, which gave New York far less per case of COVID-19 than less-impacted states and forced Cuomo to delay proposed cuts to Medicaid in order to get billions in federal aid. "I say to Sen. Schumer, it would be nice if he passed a piece of legislation that actually helped the state of New York," Cuomo, who has always had a cool relationship with the state's senior senator, said in early April. Christina Greer, a professor of political science at Fordham University, said she hopes that Schumer's new position will lead to a better working relationship with the governor and the new Senate majority leader. "There are many times that Gov. Cuomo abdicates his responsibility, because he says, 'Oh, well, it's the federal government,'" Greer said. "So I'm really hoping that, with Chuck Schumer in charge, Andrew Cuomo can get the resources he needs, so he can actually move this conversation forward." 
Cuomo has faulted the federal government for many deaths in the state's nursing homes and has criticized the slow and disorganized national rollout of testing, procurement of protective equipment and vaccination. And he has in recent months lamented the lack of support that New York has received, both during the coronavirus pandemic and historically, from the federal government. "We've established that the state's short term $15 billion economic deficit must be addressed by Washington and the inarguable truth that Washington has assaulted New York for the past four years and that we must demand justice and fairness from Washington finally," Cuomo said during his State of the State address.
Cuomo is not Schumer's only intra-party critic in his home state. Although the senator enjoys net-positive public approval ratings, particularly among Democrats, some in his party's left wing cite his prodigious fundraising to argue he is too close to Wall Street and complain that he has been too moderate in the past. "Extreme caution is being used because we understand who these folks have been, that they haven't prioritized the progressive policies that most Americans are calling for," Jawanza Williams, director of organizing at VOCAL-NY, a progressive advocacy organization, said of establishment politicians such as Schumer. Williams recently took part in a protest near Schumer's Brooklyn apartment demanding he help pass the Green New Deal and Medicare for All. 
"I'm really hoping that Schumer rises to the occasion, and doesn't abdicate some of his powers just because he thinks he can work with Republican sycophants." – Christina Greer, professor of political science at Fordham University
Political observers have speculated that Schumer may face a left-wing challenge in the 2022 Democratic primary, possibly from Rep. Alexandria Ocasio-Cortez. "Folks are prepared to primary if he does not prioritize passing progressive policy, protecting our democracy and meeting people's immediate, concrete, material needs," Williams said. 
But for now, New York's senior senator is focused on using his newfound power to deliver on a host of urgent social needs that were ignored by the federal government under Trump. Schumer's to-do list is much longer than that first stimulus package, in particular with an eye toward infrastructure. During his campaign, Biden made a $2 trillion climate change mitigation and infrastructure investment package a key component of his economic plan. Schumer expressed optimism that the long-delayed Gateway tunnel project to build new commuter rail tunnels under the Hudson River will finally get the go-ahead from the Biden administration. "That's been a dream of mine, I've worked very hard to bring that together," Schumer said. "All they have to do is sign a piece of paper and it starts going forward." 
Schumer added that transit across the state, not just downstate, is in dire need of funds. He said that expanding broadband in poor rural and urban areas of the state is another top priority for him, as well as bringing new, green infrastructure in addition to repairing roads, bridges and sewers. Schumer told the Syracuse Post-Standard that he plans to propose a $1 trillion infrastructure package that would include many of these priorities, including money to transform the crumbling Interstate 81 in Syracuse, a long-percolating issue in Central New York. He said that incoming U.S. Department of Transportation Secretary Pete Buttigieg expressed support for replacing the elevated highway with a community grid. 
Another high priority is the repeal of the $10,000 cap on state and local tax, known as SALT, deductions that passed as part of President Donald Trump's 2017 tax overhaul. The change harmed Democratic states with higher tax loads, such New York, and state leaders have been advocating for repeal ever since. "SALT is very important," Schumer said. "And we hope that our Republican colleagues will work with us, but we have to get that done."
Historically, congressional leaders have delivered for their home states. "It's very beneficial for all New Yorkers to have a majority leader or (House) speaker from our home state, regardless of one's partisan allegiance, because of the tremendous legislative power and influence this affords, and extraordinary ability to bring home the bacon," said Luke Perry, a professor of government at Utica College. In 2019, Senate Republican Leader Mitch McConnell, then majority leader, announced he got $1 billion in federal funding and new tax breaks for Kentucky with large sums for construction projects and tax breaks for spirit distillers – which also helped him before his 2020 reelection. Former Senate Majority Leader Trent Lott of Mississippi used to be called the "King of Pork Barrel Spending" because of the lucrative federal contracts he delivered to his home state during his time in power. Lyndon Johnson, when he was the leader of the Senate before he went to the White House, helped pass the 1958 National Aeronautics and Space Act and helped ensure that Texas was home to much of the space program.
Others in New York have ideas of what that might translate into, aside from the priorities that Schumer has himself laid out. Hochul said she expects that Schumer's ascension will be good news for cleaning up the Great Lakes. Perry said he expects to see increased investment and development of Rome Laboratory – a research and development lab for the U.S. Air Force – and Griffiss Business and Technology Park, which are economic hubs in the upstate city of Rome. Gyory said research and education institutions tend to do very well in states that are home to congressional leaders. Stewart-Cousins said she hopes to see new federal attention paid to providing affordable housing, which is a big issue throughout downstate. "I don't even know what the federal government is willing to do in terms of investing in housing," Stewart-Cousins said. 
But Schumer is taking leadership in a Senate with a 50-50 split, where Vice President Kamala Harris will serve as the tie-breaking vote. This gives Schumer very little wiggle room for when it comes to passing spending bills and legislation. It's unclear whether Schumer will employ workarounds that would avoid Republican filibusters and allow massive budget-related legislation without a single GOP vote – something Sen. Bernie Sanders is advocating for as the new chair of the Finance Committee. And flat-out eliminating the filibuster – something Schumer has not taken a position on – is unlikely to happen. "I'm really hoping that Schumer rises to the occasion, and doesn't abdicate some of his powers just because he thinks he can work with Republican sycophants," Greer said. But even then, just one errant Democrat could stand in the way of policy that would benefit New York, and Schumer will likely need to work to ensure his coalition remains solid. Because the Senate has a bias toward sparsely populated, rural states, and therefore toward Republicans, the Democratic majority includes red-state moderates. Many eyes are on Sen. Joe Manchin in particular, a conservative Democrat from West Virginia, and the leverage he could now have in deciding key legislation. "Look, we're all going to have to work together as a team," Schumer said. "And so far we've had good unity."
Although Greer expressed some skepticism that Schumer will be able to give the same degree of attention to New York with his new responsibilities, Hochul had no such concerns. "I tell you, I will still expect to see him, if there's a flooded street because of an ice jam in West Seneca New York, even with his title, he'll still be standing there with his boots on," Hochul said. "He never missed a beat, even as minority leader… And I think that's something we should not take for granted." 
With reporting by Zach Williams.
Powered By
NEXT STORY: Richard Gottfried on his golden jubilee