Kathy Hochul
8 things to know about Kathy Hochul
With the sexual harassment allegations against Cuomo, New Yorkers are Googling his second in command.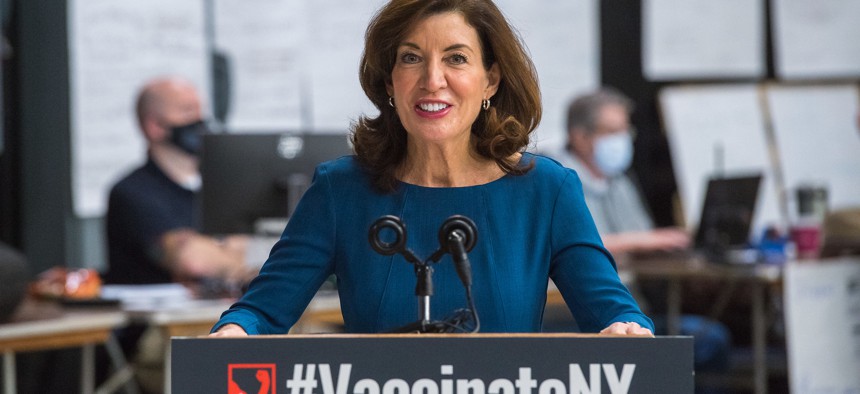 For someone accustomed to playing second fiddle, Lt. Gov. Kathy Hochul has been in a lot of Google searches this past week in the light of sexual harassment allegations against Gov. Andrew Cuomo and calls to remove him from office. Here's a rundown of what you should know about her.
1. How to pronounce her last name: HO-kuhl
2. Hochul used to be a member of Congress! She generated a lot of buzz when she won the special election for the 26th District in 2011, since it was a heavily Republican seat in Buffalo, but she only served one term. Due to redistricting, she had to run for reelection in the newly drawn, and even more conservative, 27th District, and she narrowly lost to Chris Collins in 2012.
3. She's actually Gov. Andrew Cuomo's second lieutenant governor. She joined the ticket in 2014, after Robert Duffy announced he wouldn't be seeking reelection. Both her and Duffy are from Western New York.
4. She's everywhere. Seriously, Hochul has an almost supernatural ability to be at (and seemingly enjoy) every economic development event, ribbon-cutting, campaign Zoom and keynote address.
5. While the position of lieutenant governor is most akin to vice president (with nowhere close to as much political power as the top dog), she does hold significant sway over New York's Regional Economic Development Councils.
6. Jumaane Williams challenged her in the 2018 Democratic primary for lieutenant governor. While Hochul has operated in lockstep with Cuomo, Williams had a vision for a second-in-command that would serve as a check on the governor's power. An adversarial relationship between the two offices isn't without precedent (remember Betsy McCaughey Ross?), but Hochul persevered in the election.
7. So far, she has issued a statement in support of "an independent review" in the wake of Lindsey Boylan and Charlotte Bennett's accusations. At the time of publication, she has not said anything else since Anna Ruch's accusation.
8. If Cuomo were to resign or be impeached, she would be next in line to be governor of New York. This is probably why so many people are Googling her. It's also probably why you're reading this article.
Powered By
NEXT STORY: Shelley Mayer: Show me the education money