Interviews & Profiles
How the fight for StuyTown and Peter Cooper Village was won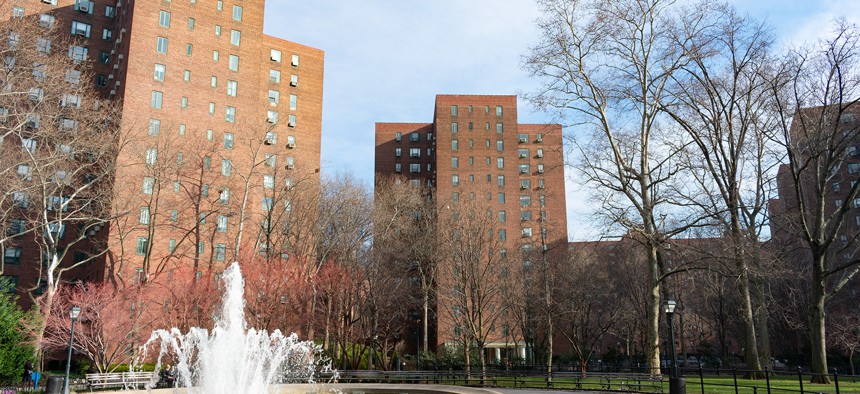 Daniel Garodnick was the former New York City Council member who helped organize tenants in Stuyvesant Town and Peter Cooper Village, the 80-acre complex of 110 apartment buildings in Manhattan, when the post-World War II development's original owner MetLife put the entire property up for sale in 2006. Garodnick, 48, wasn't just the local council member at the time; he also had been a resident for almost his entire life. That explains his personal involvement in helping a grassroots effort face off against developers and big corporate investors to protect the rights of middle-income residents in "StuyTown" and "Peter Cooper," as both are fondly known.
Garodnick now writes about the experience in his new book "Saving Stuyvesant Town: How One Community Defeated the Worst Real Estate Deal in History," which releases April 15. The book includes how StuyTown and Peter Cooper, between First Avenue and the East River, and running from 14th Street to 23rd Street, were first built in 1947 for returning war veterans. Garodnick writes how residents from the beginning organized, seeing an end to a white tenant only policy and later resisting the impacts of an immediate rent increase that would have resulted from the expiration of a 25-year tax abatement.
Garodnick in an interview with City & State discussed how his book details the events that unfolded once MetLife sold the development to Tishman Speyer. Residents in their fight for rent protections saw the real estate investment company default on its loans in 2010, leaving real estate services firm CWCapital to take over as owner from 2010 to 2015. The property is now under the control of investment manager Blackstone and Ivanhoé Cambridge, a Canadian real estate company. Garodnick also talks about his upbringing in the apartment complex, how longtime residents compare to the younger, more transient residents of recent years, and a warning against losing a development that's home to more than 30,000 residents. This interview has been edited for length and clarity.
Tell me about your background and interest in writing about Stuyvesant Town and Peter Cooper Village.
I'm a lifelong New Yorker and grew up the first four years of my life in Stuyvesant Town. Then my parents made the big move across the street to Peter Cooper Village, where we had a little more space and the benefit of air conditioning. For 48 years, I was a resident of StuyTown and Peter Cooper Village. To be honest, I don't think I ever, ever really thought about leaving. It was home. But almost three months ago, my wife and I moved to be closer to our kids' school.
At the time it was built, StuyTown and Peter Cooper were intended to be affordable housing for veterans returning from World War II. I think most people recognize it as a place that is different. It was representative of the middle class in New York, and something worth protecting. My book covers the history of Stuyvesant Town tenant activism, from housing policies in the early 1950s, to delivering rent protections in the 1970s and then defeating the worst real estate deal in history in the 2000s. Both StuyTown and Peter Cooper are among the last bastions of middle-class housing in New York City. I thought it was important to tell the story of this committed group of residents who came together against big real estate to preserve a middle-class community.
Who should pay attention most to the StuyTown and Peter Cooper story?
Any community that is seeing its rent protections expiring or being challenged for one reason or another. And that happens frequently. In the years just before the collapse of the housing market in 2008, there was a prevalence of investors who were looking to get rich by pushing rent-stabilized tenants out of their apartments as quickly as possible. State law has changed to make that much more difficult today, but there are frequently tax abatements and other programs that are on the verge of expiring too. This book is a template for how to organize when your community is on the brink.
How does today's StuyTown and Peter Cooper Village differ from the past?
It's much younger. It's more transient. Historically, it had been a place where everybody became a resident for as long as they possibly could. Today, it could be a short-term rental with roommates right out of college or graduate school. But it's still a mix between shorter-term residents and those who are longer-term. The latter are people who came in and got a rent-stabilized apartment and continue to occupy it. Today's new tenants go in there and don't have the same protections.
The new people moving in are paying market rates, correct?
Well, it depends on how they get in. They may be if they walk in off the street into the leasing office. And in many cases, rent is being shared by several roommates because it gets expensive.
Please talk about the current landlords and their commitment.
How long are the current landlords going to stick around being landlords, that's the question. They expressed a desire to be long-term owners of the property, much like MetLife. They also used an investment fund to buy Stuyvesant Town and Peter Cooper Village that was built on longer term, more patient returns.
How did StuyTown and Peter Cooper Village survive the test of time so well, and what have the new owners done to make it more competitive in today's market?
MetLife had an interest in keeping the community well-maintained and protected. And it had the resources to invest into fixing things when they broke down. In contrast, that is not the case in many communities and many buildings around the city. One of the observations I make in the book is that in predatory investing, you frequently have people coming in buying buildings, then letting them fall apart, taking out every dollar they possibly can and moving on. They made a different move with StuyTown and Peter Cooper. They actually made it even more beautiful and provided even more amenities to attract newer, more affluent residents.
Your book is trying to point out the dangers of possibly losing what became a much-needed community development in Manhattan. How does this serve as a warning to other apartment complexes?
Well, StuyTown and Peter Cooper were on a path to becoming totally unrecognizable as a middle-class community. They hung luxury rental banners from the sides of the buildings and started making changes that were designed to appeal to newer, more affluent residents, like getting rid of a supermarket and replacing it with a gym. That was the path we were on for a while. Without the tenants association, the support of elected officials and housing advocates, that would have been the future. It would have become a fully market rate luxury product unaffordable to nearly everyone. But instead, we were able to significantly stop the bleeding and to deliver an extraordinary outcome at a moment when we had very little leverage.
When I was growing up, I counted firefighters, nurses, construction workers, teachers and small-business owners as my neighbors. To a large degree, that same middle-class demographic exists today. But many people are quietly struggling to hold it all together. So this is a cautionary tale, and it's also a reminder that affordable housing at all levels of the income spectrum should be at the forefront for policymakers.
Powered By
NEXT STORY: Rachel May, a different kind of upstate Democrat