Interviews & Profiles
Andrew Giuliani is banking on name recognition in a long shot run for governor
The former mayor's son may have worked for Trump, but that might not be enough for GOP voters.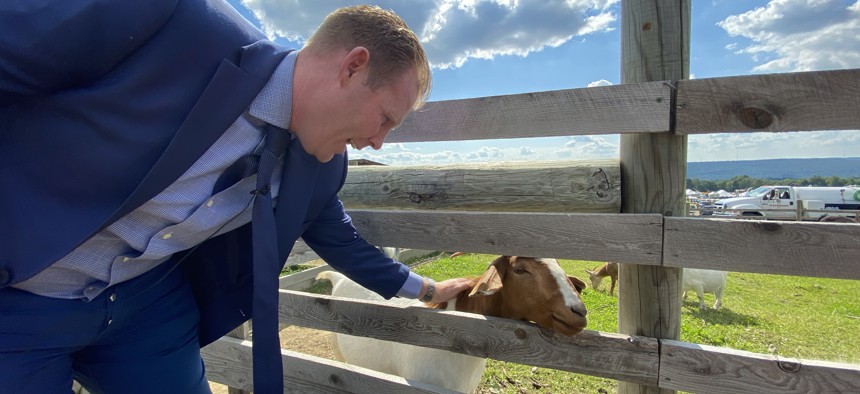 Andrew Giuliani is easy to spot in the crowd at Empire Farm Days. The Republican candidate for governor is the only guy wearing casual knit sneakers and Jacob Cohën slacks at the largest agricultural trade show in the Northeast. He leaves no doubt about where he comes from every time he shakes a hand or slaps a back. "I'm out of Manhattan," he tells one after another. "I'm one of those downstaters, but that's OK." He might not know much about the nuts and bolts of combines, or recognize the name of the local member of the Assembly, but the 35-year-old son of former New York City Mayor Rudy Giuliani can relate in another way to the types of conservative voters he needs to win the GOP nomination next June.
It starts with the name. While Rudy Giuliani might be a target of scorn on the political left nowadays because of his association with former President Donald Trump and their joint efforts to overturn the results of the 2020 presidential election, the former mayor had plenty of fans among the people who talked to his son at Empire Farm Days. "He's just a stand-up guy," Bruce Reeves, a farmer from Baldwinsville, said about the former mayor in an interview. Andrew Giuliani then shifts the conversation to the "defund the police movement" and "Second Amendment rights." Reeves had not heard of any other GOP candidates for governor, and he likes what he hears from Andrew Giuliani. "What do we got to lose?" he says of electing the millennial son of Rudy.
Appearances at events like Empire Farm Days are Giuliani's way of overcoming some big disadvantages in his long shot campaign for governor. He cannot compete with Rep. Lee Zeldin in fundraising or endorsements, but Giuliani has a famous name, hustle and command of the culture war clichés that could appeal to GOP primary voters. That might not be enough to get him elected as the first Republican governor in two decades, but it could go a long way toward changing the public's perceptions of him.
He used to be best known for loudly repeating his father's words at Rudy's 1994 inauguration as mayor, which was lampooned by comedian Chris Farley in a "Saturday Night Live" skit. Andrew attracted additional attention as an undergrad at Duke University after several incidents led to him being kicked off the golf team. He then sued the school claiming he was guaranteed a spot on the team and lifetime access to the Duke golf facilities, but the suit was later tossed. His appointment years later as a White House aide during the Trump administration – which included a lot of time hitting the links with the president – only added to his reputation as a lifelong beneficiary of nepotism. Rivals like Zeldin of Long Island – the front-runner for the GOP nomination for governor – and former Westchester County Executive Rob Astorino have experience as elected officials and connections to the state party, but Giuliani touts something else. "I'm a politician out of the womb," he told reporters while announcing his campaign in lower Manhattan in May. "It's in my DNA." His suspect claim of being the most experienced candidate in the race with "parts of 32 years in politics and government" and "parts of five decades in politics" inspired a fresh round of mockery in the media.
His candidacy has not fared much better since when it comes to the mainstream media. 
He got burned at a Schenectady bakery after staging a campaign event there uninvited. "If I were going to host a political candidate, it wouldn't be Andrew Giuliani. It would be someone with more traction, to put it diplomatically," the owner told The Daily Gazette. "I'm at a loss here." New York magazine wrote about how his campaign was less about politics and more about dealing with lingering issues following his parents' public divorce. Father and son were estranged for years, though they eventually smoothed things over in time for Rudy's political influence to power Andrew's rise in right-wing circles. "(The author) pushed a narrative and it is what it is," Giuliani said of the magazine story.
Andrew Giuliani's campaign was dealt a big blow when he did not get a single vote from party insiders at a gathering in June where they deemed Zeldin their preferred choice. That fact alone highlights the limits of his father's name and helps explain why an Upper East Side native is appealing to voters directly by attending events like the Lewis County Fair and Empire Farm Days while making appearances on right-wing media outlets. "It's just a matter of going and meeting as many voters as possible," Giuliani says following an impromptu appearance on Newsmax – where he was briefly a paid contributor – minutes after the release of the damning report by state Attorney General Letitia James on sexual harassment allegations against Gov. Andrew Cuomo.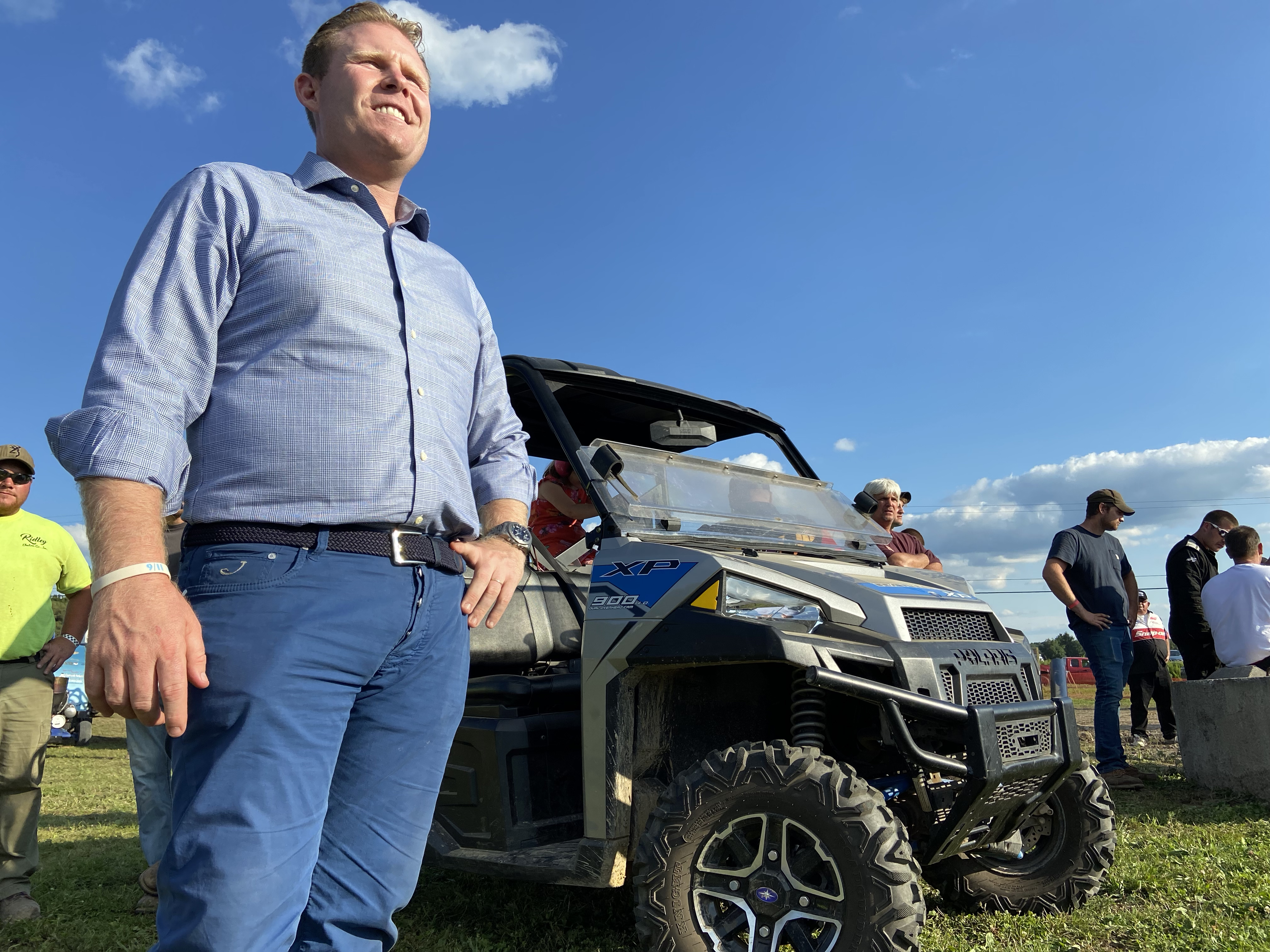 The report gives Giuliani a chance to hate on the Democrats while grandstanding with potential voters. "Do you think Tish James is going to run?" Monica Cody of Cazenovia asks him after he approaches a table where she is sitting with her husband Bill Cody and their children. "You know what? Good question," Giuliani responds. "We were just talking about it. I think there's a good chance that she does. I think there is a good chance that she does." He explains how the state Senate could convict the embattled governor if he were to get impeached. Bill and Monica Cody are no fans of Cuomo, but they have some questions about who might replace him:
"Giuliani, he's definitely running?" Monica Cody asks.
"Yeah, that's me, so I'm running," Giuliani replies.
"You're Rudy?" Bill Cody interjects.
"No, I'm Andrew. I'm his son," Giuliani replies.
"You're running? Not your dad," Monica Cody asks.
"No. He's not running. I'm running," Giuliani responds.
"Well good luck. You know who else is running?" Monica Cody adds.
Giuliani explains that there is a guy named Zeldin and a guy named Astorino – but he says he is the guy to beat based on a poll his campaign released weeks before that showed him with an 8-point lead on Zeldin. "You get my vote!" someone yells from a nearby table as Giuliani goes on about how he is going to stop the "AOCs of the world" from hurting the good people of upstate New York. Monica Cody asks where he stands on the use of agricultural land for green energy. Giuliani responds with a long-winded answer. "There's nothing that actually we can implement as a way to actually take over what's happened, let's say downstate at Indian Point or as a way where we can do clean fracking, let's say on the Southern Tier over here," he says. "We've just seen this kind of quick rush to green energy and renewables without actually saying: 'Well, can the grid actually handle it yet?' It can't handle it yet. So it's not actually in a place right now where we actually can power our state with." That was not exactly what the Codys were getting at.
"What about 94C landowner property rights?" Monica Cody asks. Giuliani asks for an explanation. Bill Cody explains that 94C is a controversial state law that streamlines the process for locating renewable energy projects in places like central New York. This drives up demand for agricultural land and places limits on zoning laws imposed by local governments. Giuliani pivots back to a key campaign talking point. "This has happened on so many different issues – not just energy, not just agriculture – where you continue to see the Cuomo administration centralize power in Albany and all that," he says. "Yeah," replies Bill Cody, but his wife still has doubts that Giuliani is up to the task of protecting upstate farmland. "My concern is that anybody that's (dealing) with the Legislature has to be well informed," she says in an interview. Still, they say they are willing to give Giuliani a chance in the absence of other attractive candidates. They have never heard of Zeldin, and Bill Cody says Astorino – who lost the 2014 gubernatorial election to Cuomo – is too "weak" to challenge the forces of liberalism run amok.
Opposition to Democrats is a theme that Giuliani returns to at Empire Farm Days. The political left will defund the police while he will "back the blue" and allow them to do their jobs as they see fit. "Stop, question and frisk worked in the '90s in New York City," he says in an interview. "It's not as dangerous as it was 35 years ago, but we see crime going up." He also harps on the dangers of critical race theory, though he struggled to define exactly what that term means. "The theory is this original sin in the United States of America that we cannot recover from," he adds. "We are continually divided on racial lines, on religious lines, it's kind of a continued push of that." Giuliani does not differ much from Zeldin and other Republicans when it comes to identifying what they say is wrong with Democrats, but he has a knack for putting it in uniquely personal terms. "(Cuomo) described himself as Italian (while) grabbing people," he tells One America News Network during a late afternoon appearance from the hill overlooking Empire Farm Days. "As an Italian, I'm offended that he would actually even say that and group us in like that. That's beyond disgusting." Then it's back to bashing the Democrats with voters in person at a tractor pull down the road.
The Manhattanite is no expert on the rural sport of measuring how far a turbocharged tractor can drag a weighted sled down a dirt track, but Giuliani does know a thing or two about appealing to the types of people who will pay $20 on a Tuesday night to watch their favorite drivers compete. Giuliani is sipping a spiked seltzer and introducing himself to as many people as he can amid the cacophony of screaming engines and billowing smoke. Many of them have never heard of him, but they get an idea of what he stands for as soon as they hear his last name. "This is all grassroots people," homebuilder R.J. Windhausen explains. "I can tell you right now there ain't 10 of them up here that want anything more than Trump." The former president has not expressed any public willingness to endorse his former golf partner despite Giuliani's efforts to talk up their connection, but the long shot candidate for governor may not need it if everything goes well for him on the campaign trail.
His family name gives him an in with voters at a time when he is pushing hard to be taken seriously as a candidate. He cannot offer voters policy nuance or the benefit of much political experience except for a few years as a liaison to sports teams and small businesses as a White House aide. Party elites have already gotten behind Zeldin. However, long shot candidates have staged upsets before in Republican primaries. Businessman Carl Paladino beat former Rep. Rick Lazio to become the 2010 GOP gubernatorial nominee despite his lack of institutional support. Giuliani has reported having just a few hundred thousand dollars to compete against Zeldin, who has amassed a multimillion-dollar war chest for the primary.
Giuliani has also had to adjust his campaign messaging since Cuomo's resignation by joining other Republicans in labeling his successor, Gov. Kathy Hochul, as just another out-of-touch Democrat who is pushing supposedly unconstitutional vaccine and mask mandates on law-abiding New Yorkers. The boos a Giuliani sign got at a recent baseball game at Citi Field, and the unflattering headlines it generated, highlight his ongoing struggles in being taken seriously, but Republican voters see him differently – at least judging by the reception he got at Empire Farm Days. "I said to my wife, 'Hmm, that's Rudy's boy right there,'" Windhausen said in an interview. "He introduced himself, and I'm not into politics, but I'll listen and see what he has to say."