Interviews & Profiles
Wait a second, is Curtis Sliwa making sense?
As a Never Trumper running against a former cop, the Republican candidate for New York City mayor isn't finding many allies.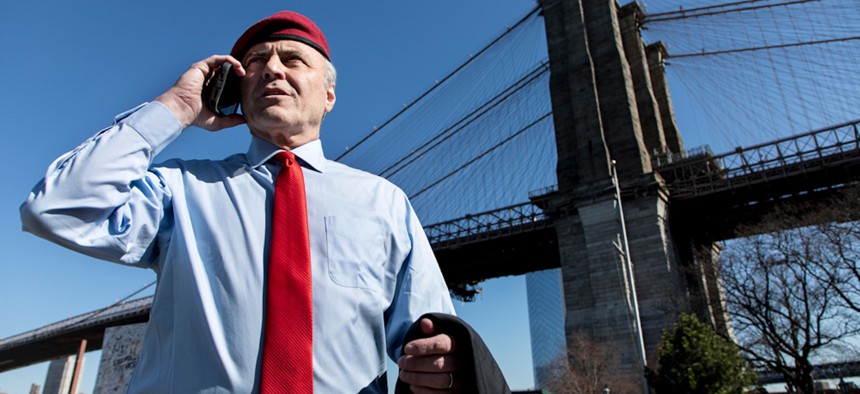 Curtis Sliwa, at home in Manhattan among his 15 cats, is arguing with himself. The Republican nominee for mayor of New York City explains his biggest problem when he meets voters who know and love him from his three-decade talk radio career.
Here, the candidate adopts a mocking voice to play a member of his newly adopted political party.
Republican: "It doesn't matter anyway. Dominion! Smartmatic!"
Sliwa switches to his natural gabble, a beautifully sleazy Brooklynese: "I say no, no no."
Republican: "Curtis, you know they stole the election!"
Sliwa: "They did not steal the election. Biden and Harris won."
Republican: "Oh you know they stole it! Why should I vote for you? They're not going to count your votes! They use the same equipment." 
Sliwa: "I say they don't use Dominion and Smartmatic. Can there be some chicanery? Yes. But I trust the process."
Republican: "Curtis! You're so hopelessly naive! They're not going to let you win!"
The play comes to an end. Sliwa adds a coda: "I spend most of my time with Republicans convincing them to vote."
I spend most of my time with Republicans convincing them to vote.
– Curtis Sliwa
Sliwa is a classic figure of the New York tabloids, a character most famous for roaming the streets and subways over the past 42 years in his red beret and red track jacket. He provoked the mob and got shot, then admitted that he'd previously faked his own kidnapping to earn publicity. He was in a yearslong relationship with now-Queens District Attorney Melinda Katz, then when things went south, he threatened to run against her, the mother of two of his three children, for Queens borough president. He was suspended from his contributing gig at NY1 after making lewd comments about then-City Council Speaker Melissa Mark-Viverito. Sliwa now lives in a studio apartment with his wife, Nancy Sliwa, and the 15 cats.
But in a Republican Party that welcomes conspiracy theories, cultivates anti-vaccination beliefs and widely fails to acknowledge former President Donald Trump's loss in the 2020 presidential election, Sliwa's politics are refreshingly grounded in reality. You have to be a little crazy (or as Sliwa prefers, "eccentric") to run citywide as a Republican in 2021 – after all, Sliwa is incredibly unlikely to win in November. But he might just be the best thing the city's diminished opposition party could hope for this year. And Republicans who have been with the party longer than Sliwa's 19 months might just learn a lesson or two on how the party's candidates could perform better in hostile areas. 
To put it simply, the numbers don't look good for anybody running in New York with an "R" next to their name on the ballot. There are nearly 3.4 million active enrolled Democrats in New York City to 500,000 Republicans – a nearly 7-to-1 voter advantage. Even if Sliwa got every single one of the nearly 1 million independent voters to back him, it wouldn't come close to making up the difference. Sure, only about one-quarter of New York's 5 million active registered voters typically vote in the mayoral election, but to avoid getting blown out – let alone winning – a Republican has to win over some Democrats.
That job got way harder for Sliwa the minute that Brooklyn Borough President Eric Adams won the Democratic Party mayoral nomination. And Republicans know it. "Had the Democratic nominee not been Eric Adams, Curtis would have had a great rationale to run, being the guy who's been in the New York City media market for 40 years fighting crime," said Chapin Fay, a Republican strategist who consulted for Sliwa's primary opponent, Fernando Mateo. "But the Democrats nominated a cop. ... For (Sliwa), who's a single-issue candidate, they took away that single issue."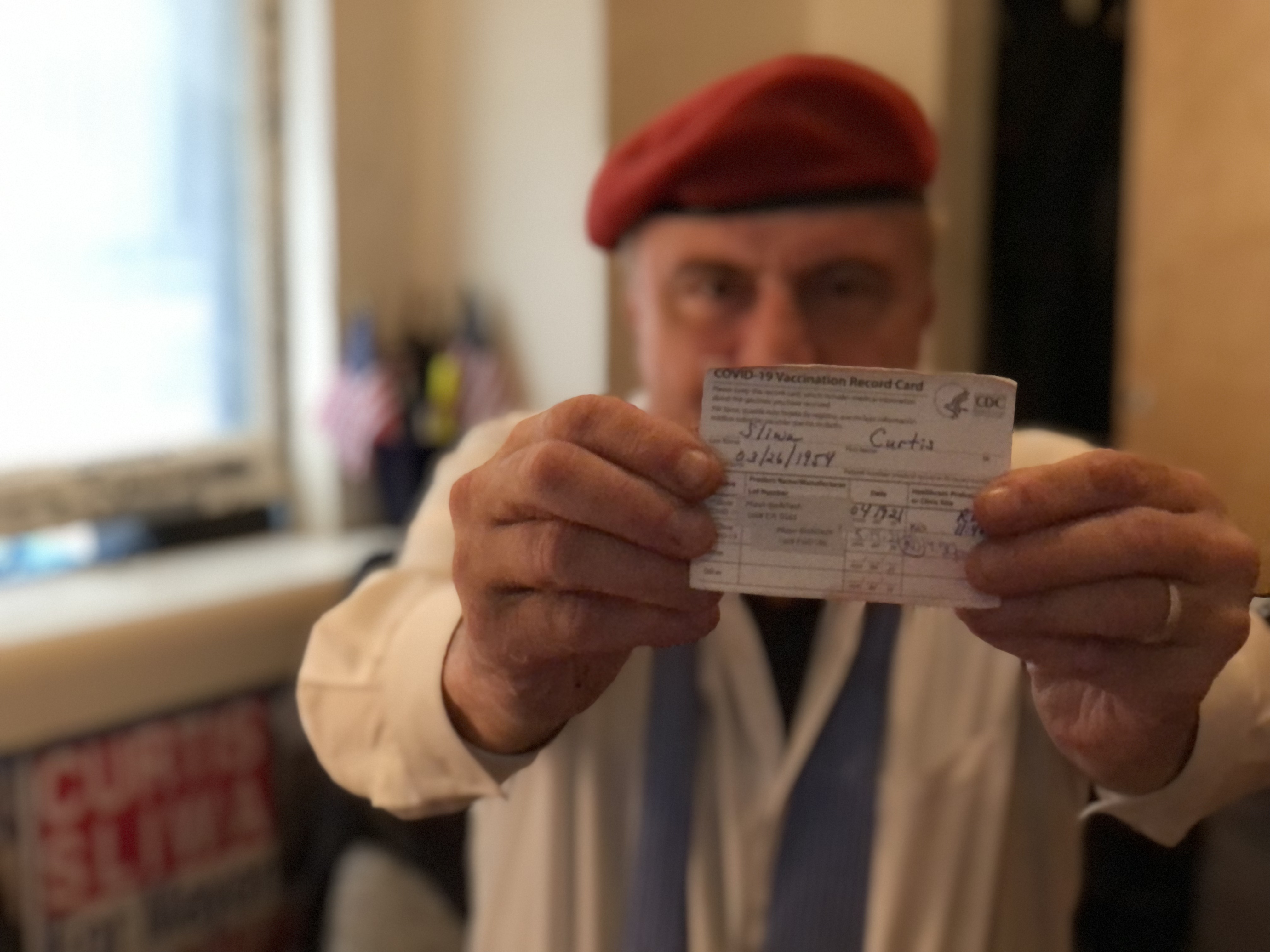 That doesn't mean Sliwa isn't trying. He's still talking about crime as much as he can. But it's hard to draw a contrast on the issue with Adams, who even got Ed Mullins, the notorious social media troll and president of the Sergeants Benevolent Association, to donate to his campaign. Trying to get an advantage, Sliwa has resorted to posting Twitter memes suggesting that Adams has been soft on crime as borough president. "It's almost as if he has baptized himself as the law and order candidate," Sliwa said. "I don't need to do that."
But don't be surprised if Sliwa decides to dip himself in the baptismal font at St. Patrick's Cathedral anyway. He has ​​been campaigning by stunt in an effort to get attention in a race that seemed over before it started. He walked over the George Washington Bridge holding a milk carton with Adams' face on it, asking if he actually lives in New Jersey, where the Democrat co-owns an apartment. And in a made-for-TV clip, Sliwa comforted a shirtless homeless man who interrupted his press conference on homelessness.
Lay out the facts about Sliwa's slim chance to win, and you might get a call from Maria Sliwa, Curtis' sister and public relations guru, who will say how hard the candidate is working. Rudy Giuliani and George Pataki also faced long odds against Democrats, and they won, she said. Curiously, she also name-dropped Gina Raimondo, who was elected in 2014 as the first Democratic governor of Rhode Island in 22 years. "These things can happen," Maria Sliwa said. "They do happen against such odds."
Forget Democrats – Sliwa has struggled to win over the city's Republican establishment. In large part, that's due to his opponent. Adams, after all, was a registered Republican from 1995 to 2002 and ran on a relatively conservative platform in the Democratic primary. He sparred with the teachers union; he talked about shrinking government; and, most of all, he talked about crime. After getting the nomination, he took pains to reach out to business leaders, even taking a prime speaking spot at the SALT New York conference, an annual hedge fund industry meeting. The Manhattan Institute's annual Alexander Hamilton Award Dinner could have been an evening for the Republican nominee to hobnob at the conservative think tank's event with some of the city's financial elite. But Sliwa didn't get an invite and was treated on equal terms with his Democratic foe.
Politics is a tough sport, and he's a street fighter. 
– Rob Astorino, Republican candidate for governor, on Sliwa
"Violent crime is surging across the country. Public school systems are failing our children. Our prisons are failing both our citizens and those incarcerated. And woke insanity is threatening our constitution and fundamental freedoms," said Paul Singer, the hedge fund manager who chairs the Manhattan Institute. "In Eric Adams and Curtis Sliwa, we have two mayoral candidates who are open to our advice and share many of our priorities. Whoever wins, this would be quite a change from the de Blasio years."
Some of the Republican luminaries at the gala there couldn't help but imagine alternatives. "There's a lot of people that could've and should've run. But they chose not to," said Rob Astorino, the former Westchester County executive who is planning to run for governor for the second time in 2022. But Astorino could find some good in Sliwa's campaign. "Politics is a tough sport," he said. "And he's a street fighter."
Like many figures in Republican politics, Sliwa is dismissive of elites. After Adams spoke at the SALT conference, Sliwa took a crack at spending time with Wall Street types – dismissing his opponent and the two previous mayors to be elected as Republicans in New York City in one fell swoop. "I'm not like Giuliani and Bloomberg when it came to that," Sliwa said. "I am the street guy. And I'm not talking Wall Street."
Bloomberg, for the record, went with his new party, the Democrats, rather than his old one, and endorsed Adams for mayor.
But unlike most other figures in Republican politics, Sliwa's distaste for elites extends even to New York City's other famous elected billionaire: Trump. Sliwa may be a four-times-married outer borough New Yorker with a knack for branding who first earned tabloid fame in the 1980s, publicly fought with former New York City Mayor Ed Koch, made peace with Rudy Giuliani and threatened to run for office many times before actually joining the Republican Party and making the ballot – but that doesn't mean he likes the other guy. Sliwa identifies as a "Never Trumper" who wrote in his own name for president in 2016 and voted for Independence Party candidate Brock Pierce in 2020.
For that, Sliwa said he has felt isolated from his own party. "If you're not a Trumper, you're exiled. You're persona non grata. You are a person of no consequence," he said. That might have caused Sliwa some issues in the Republican primary – the county organizations in Manhattan, the Bronx and Queens endorsed Sliwa's opponent, ardent Trump supporter Mateo. Sliwa got the Brooklyn and Staten Island organizations and, with greater name recognition in an undercovered primary, easily won with 68% of the vote to Mateo's 28%.
Trump wasn't a huge problem for Sliwa in the primary, but he'll be a huge problem in the general. Some Republicans who didn't support Trump have left the party. Bloomberg has embraced the Democratic Party. So has Joe Lhota, the Republican mayoral nominee who got just 24% of the vote in 2013 and is now supporting Adams for mayor. The Republican Party in New York "has disintegrated," Lhota told City & State. "I left the party because of Donald Trump. Donald Trump does not, to me, represent what the party once represented." How's Sliwa, then? "Look, if no one else wants to run … " Lhota lamented. "(However,) I absolutely think he's better than Mateo."
And it has been Sliwa's goal to prove that his way – distancing himself from Trump – is better than the party's way – embracing the former president and cheering on a potential 2024 run. Sliwa is a jokester, but his campaign hasn't been a joke. He had a respectable $2.63 million in campaign cash as of the latest filing in late August, though Adams had $5.93 million and the expectation of outside spending from groups that want to get in his good graces. Sliwa may have the lukewarm support of the state's Republican Party – its leaders are clearly more interested in the 2022 gubernatorial race, which they see as more winnable than the mayoral race – but in some ways, he's running an independent campaign. He's running on the Republican and Independent Party lines. The Conservative Party, normally a safe bet to endorse the Republican nominee, is staying away and backing former New York City Police Department Officer Bill Pepitone instead.
But any association to Trump is probably harmful. "Realpolitik in New York City, Donald Trump is a dealbreaker. Regardless of what you think of him, the math just doesn't work for Donald Trump supporters," said Fay, the Republican strategist. "I don't know if there's a place where the former president is less popular than New York City." A September Siena College poll showed that just 24% of registered voters in New York City had a favorable opinion of Trump. 68% had an unfavorable opinion.
In the California gubernatorial recall election, leading Republican Larry Elder embraced Trumpism in a situation no less daunting for the party than the New York City mayoral race and didn't come close to winning.
Sliwa wants to present an alternative for the Republican Party – even in a loss. "Hopefully they'll learn something from my run and realize, wow, the guy had success in these areas where normally a Republican would not," Sliwa said. "Because we're not going back to when Bloomberg was mayor or Giuliani. Those days are over, the demographics are different. That voting bloc is gone."