Eric Adams
Questions and answers about Eric Adams' housing history, office space and voter registration
City & State reached out to the Brooklyn borough president's mayoral campaign.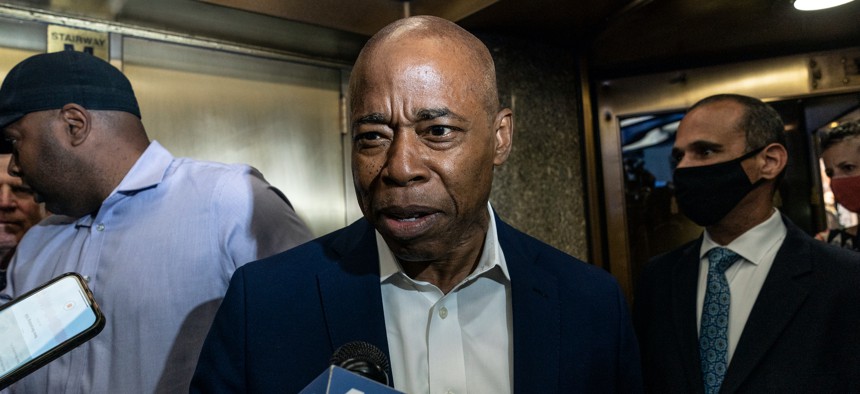 On Wednesday morning, a new report from The City revealed that Brooklyn Borough President Eric Adams, who leads in every recent poll of the New York City mayoral Democratic primary, failed to disclose that he owned a Brooklyn co-op while running for state Senate in 2005.
This news follows last week's Politico report that raised the question: Where does Adams live? 
After a series of detective-style stakeouts at Borough Hall, Politico reporters and unnamed "sources on rival campaigns" observed Adams arriving near midnight four nights in a row, sometimes not leaving until the next morning. Politico noted that "other people were spotted entering the building in the middle of the night" as well. Adams also had lived at his government office during the onset of the COVID-19 pandemic in New York City. 
That information, paired with other evidence suggesting he isn't a regular presence at his townhouse in Bed-Stuy and that he co-owns with his girlfriend an apartment in Fort Lee, New Jersey, left journalists and opposing candidates with several questions about Adams, and whether or not he lives in the city at all. 
To quell concerns about his residency, Adams invited several journalists to take a tour of his Brooklyn apartment. The tour raised new questions in some quarters, like why weren't there any fruits or vegetables in the renowned vegan's fridge and why does he sleep with sneakers next to the head of his bed? 
Adams' E-ZPass records indicate that the borough president only visited New Jersey seven times, between May 17, 2020, and May 16, 2021, and Adams said he had also taken the bus there three or four times as well. 
But even if he doesn't live in New Jersey, many New Yorkers remain unclear about a few things pertaining to Adams' residential history and how it lines up with his voter registration, his campaign's use of office space belonging to the firm of an attorney for the Brooklyn Democratic Party and what exactly he is doing at Borough Hall in the middle of the night. So City & State reached out to the Adams campaign with some of the top questions about one of the most curious campaign kerfuffles ahead of next week's primary:
Adams remained registered to vote at a co-op apartment at 425 Prospect Place, Brooklyn, which he bought with a previous girlfriend, until 2013. In 2013 he registered to vote at a rental apartment in Crown Heights, and in 2017 he registered at his Bed-Stuy address. During the Bed-Stuy house tour, Adams told City & State's Jeff Coltin that he lived there in the mid-2000s, had "already moved out of 425 Prospect Place before purchasing this," and he and his current partner lived in the house "prior to purchasing the co-op" in New Jersey in 2016. Adams bought the house in 2003. Between 2007 and 2013, Adams represented a state Senate district that includes the Prospect Place apartment but not his Bed-Stuy house. City & State asked the Adams campaign when he moved out of the Prospect Place apartment and when he moved into his house in Bed-Stuy. Adams campaign spokesperson Evan Thies responded via email that Adams "moved out of Prospect Place in 2013; moved in to Bed-Stuy building in 2017." City & State followed up to ask why Adams previously said he lived there before 2017. Thies said, "He bought the house then. Maybe that was the confusion. His primary residence was Prospect Place."
Adams didn't declare annual rental income on the other units in his Brooklyn townhouse in his tax returns from 2017-2019, which he estimated on a separate disclosure form ranged between $5,000 and $50,000. His explanation is that his accountant told him that he didn't need to declare the income if he actually lost money on the rentals. (Most accountants disagree with this advice and Adams said he would amend his return when Politico asked him about this, but he hasn't yet released amended returns.) How did Adams lose money on rental income from multiple units for three years in a row? Thies said, "There were months of lost rent and needed repairs to pay for." 
Adams frequently joins remote events from offices belonging to Abrams, Fensterman, the firm of Brooklyn Democratic Party attorney Frank Carone, but Adams' campaign expenditure disclosures don't show any rent payments to Carone's firm. Politico reported on June 8 that the Adams campaign said the rent may have been bundled into other payments to the firm. Asked how much the campaign is paying Carone's firm for use of that space, Thies provided an invoice dated June 15 from the firm for $680.07, covering the period since January 8. (A message for Carone at his office wasn't returned before press time.)
When Adams posted photos in recent years of his fridge stocked with fruits and vegetables, it was a different model than the fridge in his Bed-Stuy home. Asked why that is and where were those previous photos taken? Thies responded, "new fridge." 
Is it legal to use Borough Hall as a residence? Borough Hall appears to be in a park zoning district. "A physical inspection of the property would be required to determine how the building is occupied and whether or not there are any violating conditions present," Andrew Rudansky, press secretary for the city's Department of Buildings, told City & State in an email, in response to a query about the legality of living in Borough Hall. "DOB has not received any recent 311 complaints related to suspected illegal occupancy in this building." Asked about the legality of the arrangement, and whether Adams should be paying rent to the city if he sleeps in his office several nights a week, Thies said, "Eric works hard on behalf of the people of Brooklyn, late into the night."
Adams has said he stays at Borough Hall because he works such long hours campaigning and serving as Brooklyn borough president at the same time. Politico raised questions about this explanation, noting "a review of (Adams) 2021 schedule obtained through a Freedom of Information request shows little official work. During the second week in April, for example, Adams attended only three events and had a smattering of calls with staff." So City & State asked the campaign, what exactly is Adams doing for such long hours and what are some specific projects that he worked on there as borough president in recent weeks? Thies responded, "The Borough President is responsible for tens-of-millions-of-dollars in discretionary spending for critical projects around Brooklyn, has a Charter-mandated role in the City's land use process, and leads Brooklyn on issues ranging from healthcare access to food distribution to public safety initiatives." 
Some observers also have questioned why borough president staffers are working in the middle of the night and whether it is fair to them to work such long hours. When asked by City & State what Adams' government staffers are doing in Borough Hall until 4 a.m. and if they had the option to not come in, the Adams campaign noted that he has been leading pandemic relief efforts such as mask distribution since last year. Thies said, "Eric's Borough Hall employees are as committed as he is to delivering for the people of Brooklyn."
With reporting by Jeff Coltin