Personality
Huge 'Vax Daddy' Ma explains how he will hack the New York Assembly
The coder details how his legislative campaign might help Queens just like his celebrated website helped New Yorkers book vaccine appointments.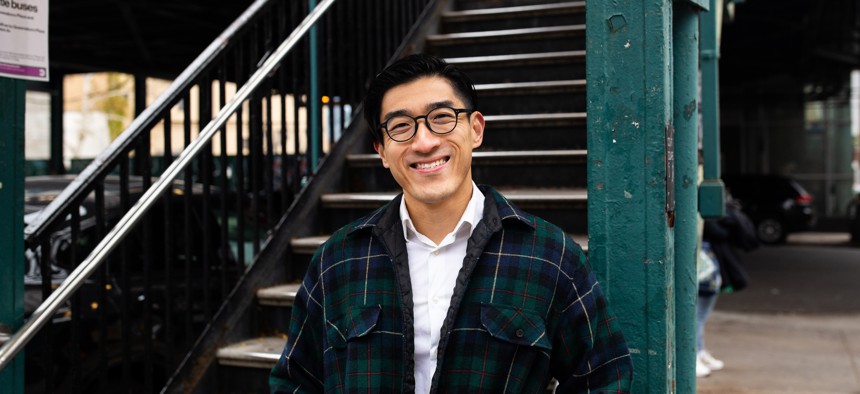 Huge "Vax Daddy" Ma gained a catchy nickname months ago for creating a website that helped New Yorkers navigate the confusing world of vaccine appointments. His next challenge is getting elected to the state Legislature.
The political newcomer faces a potentially tough primary race for an Assembly seat in western and central Queens. Incumbent Assembly Member Cathy Nolan – who did not respond to a request for comment by publication time – has represented the district since before Ma was born. Activist Mary Jobaida has also announced her own campaign for the seat after losing the 2020 primary to Nolan. "Vax Daddy" for his part says his ability to solve problems will impress enough voters on the campaign trail to win him the Democratic nomination next June, with Republicans presenting little opposition in November. 
City & State caught up with Ma to learn about his political ideology and thoughts on the big issues facing the district and beyond. The interview has been edited for length and clarity. 
So what does being "Vax Daddy" have to do with serving in the Assembly?
I grew up a problem solver. I spent my free time using my skills to build a tool that I believe helped hundreds of thousands of New Yorkers get the vaccine. When I did that, I did it because I didn't believe that the government was meeting our needs, and now when I think about the big issues in society in New York, I also do not believe the government is meeting our needs. So, I'm going to use my platform and attack these big problems with urgency and with creativity.
The state Legislature is a strange place under one-party rule by Democrats. Liberals are the moderates and Marxists are the real lefties. How would you fit in?
I would be open to working with anyone that shares my values and believes that housing is a human right and that health care is a human right and that we need to act urgently on climate change.
Does that mean you would support state-level, single-payer health care?
Yes.
It sounds like you value pragmatism but are generally left-leaning on most issues, though you are still reading up on some. Is that fair to say?
Yeah. That would be fair.
So what do you have against the longtime incumbent, Cathy Nolan?
I'm focusing on the issues of today.
Your longtime neighborhood of Astoria is one of many undergoing great change. What would you do about it?
I remember when I used to wait for the train at Queensboro Plaza and I could see for miles around me. Today, you're surrounded by tall buildings. Change is hard for a lot of people, but I personally believe in a New York that welcomes new neighbors. I'm looking forward to state-level measures to expand the supply of housing everywhere.
If elected, you would be one of just a few Asian Americans in the Legislature. 
Asian American representation – not only at the state level – but nationally is very low. That has to change, and if I can take this risk with my career and my reputation, then hopefully maybe it will encourage others to do the same.
A lot of candidates in recent years have declined to take money from one type of donor or another, like people associated with the real estate industry. How about you?
I will not take money from corporate interests.
What does that mean?
Corporate PACS and limited liability corporations.
What about others, say a real estate executive?
I would say it really depends. 
You have lived most of your life in Queens, but you spent some years after college in San Francisco. How do you think it compares to the Big Apple?
It's a very different vibe. They're both great cities, great coasts. There is a spirit of entrepreneurship in San Francisco that I would love to replicate here in New York. I moved out there for economic opportunity, as many people move, and I'm glad to be back and looking forward to working for all my neighbors.