Interviews & Profiles
Kamillah Hanks is 'encouraged' by mayor's safety plan
The chair of the New York City Council's public safety committee said there's still a lot to be considered about the mayor's gun violence blueprint.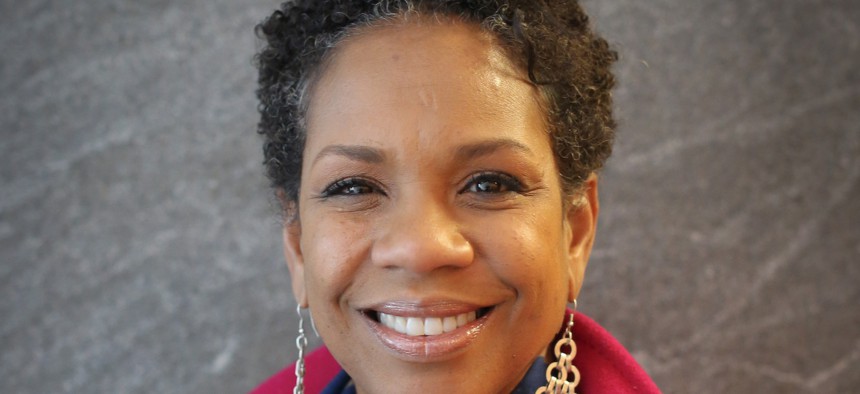 The release of New York City Mayor Eric Adams' plan for ending gun violence earlier this week triggered a raft of responses, from enthusiasm to concern. But among the most watched of those reactions is that of Kamillah Hanks, a new City Council member from the North Shore of Staten Island who was recently appointed to chair the council's public safety committee.
Though Hanks is likely to align with Adams on a basic philosophy of reforming the NYPD without defunding it, Hanks' role as public safety chair will involve oversight of the department and the policies that Adams implements. For now, Hanks is reserving detailed judgment of the new blueprint until she learns more about how it will be rolled out. 
"Things are really tough out there," Hanks, who is a mother of four, told City & State recently. "My son is a year younger than that young man that was killed who wanted to be a police officer," she added, referring to Jason Rivera, one of two NYPD officers who was killed while responding to a domestic disturbance call last week. "That's all of our sons, right?"
City & State caught up with Hanks this week to talk about Adams' Blueprint to End Gun Violence, her approach to leading the public safety committee and her priorities for the 49th district. 
Responses have been edited for length and clarity.
What was your reaction to the mayor's Blueprint to End Gun Violence?
I ran a primary and a general election on public safety. We know that that is the top concern of New Yorkers in all five boroughs. So we were very encouraged and happy that now there's something that has been put together. And my initial comments about it is that it covers all the aspects that people are talking about. It's not only policing reform, but it also talks about how we're going to help people with local community groups, enhancing neighborhood safety teams and talking about partnerships. It's full of some preventative (measures), some intervention. Hopefully, when we really dig deeper – because we're still doing that – we could understand what it's going to look like on a district by district basis. 
Have you had discussions with the mayor about public safety – either prior to being appointed chair of the public safety committee or since?
What's very interesting is that the mayor and I haven't had an in-depth conversation, but when we were campaigning, when I would read what he was saying, we were really on the same page. I ran a not-for-profit, I ran a Youth Build program, I did economic development. So public safety has always been a priority in those spaces for me. You realize that the prevention is really where it is. How do you structure alternatives to incarceration? How do you look at the stakeholders, the things that they can be doing? How are you interfacing with law enforcement? I believe from very early on, without speaking to each other, we were very much on the same page. But in my capacity as public safety chair, I have to be very mindful that my job here is to make sure that the things that are proposed are well thought out, that it meets the concerns of the public. 
Are there positions on policing where you already know that you diverge from the mayor? Is there anything you think was missing from the blueprint?
I think that the biggest question in everybody's mind – and the biggest question in my mind – is the rollout. The blueprint is great. And now we want to know, how do we roll this out? How do we communicate? How do we support legislators, law enforcement on a local level, district by district, how do we do that?
Are you on board with the mayor's reimagined anti-gun units? Do you have any concerns about them given the problems with previous iterations of the plainclothes units?
So what do we know? We know the things that didn't work. We know the things that we needed to change. And I believe that on first blush – and it's very important that these are all cursory – I believe the intention is very different from previous. When we're intentional about, first and foremost, respecting people's civil liberties, then I believe that how we structure that is going to keep that in mind. I believe that the mayor's plan has taken a lot of those things into consideration. Now, are there going to be concerns and questions? Of course there are. It's not a one size fits all for each district. 
The mayor called on the state to allow judges to consider dangerousness when considering pre-trial detention and bail, and to revisit a law that raised the age of criminal responsibility to 18. Do you also support revisiting these standards?
These are going to be the controversial issues. As a council member, I would want to know how that plays out on the ground. A lot more needs to be learned and a lot more needs to be digested so each of us can make well-informed decisions. As my role as public safety chair, that's my top priority, to make sure that everybody understands that people have the ability to comment, to ask questions and have their concerns and questions addressed.
But as far as asking the state to revisit bail laws, would you be interested in seeing that too?
I think we have to revisit everything, because we're in a different time. When we know a little bit better, then we can do better, or we can address things and not make the same errors that we might have made before. 
The public safety committee is ideologically diverse – you have Republican members, moderate Democrats, Democratic Socialists of America-endorsed members. How will you approach leading that committee, which is going to have differing views on what kinds of police reforms are needed right now?
I've been at this a very long time, and you need the people that don't agree with you. You absolutely do. So I'm approaching it as, 'What's the purpose?' The purpose is keeping people safe. The purpose is making sure that the things that we do are respectful of human beings. So if that is the purpose of my colleagues on this committee, then we'll be fine. 
You've talked about creating a "master plan" for the North Shore. What are some of the highlights of that plan – related to public safety or not?
The priority is to look at the existing conditions. The existing projects, things that have kind of waned and some of the projects that have been proposed. We need to look at the 49th (district) with a map and say, 'Okay, this is the existing infrastructure, these are where the pain points are. These are where the issues that we've had with flooding and infrastructure issues and sewage from the two hurricanes (are). This is where we have traffic issues.' One of my top priorities is working with my colleagues at the state level on the BRT (Bus Rapid Transit) which is a big transportation project that has been proposed, and what could I do to lend some support to that? We are looking at putting in Staten Island's first community court, and that is significant in how we're going to look at our public safety blueprint – because we're going to have our own. We are looking at the conditions schools are in. We want to look at it as our own master plan has many spokes in the wheel, that all meet in one piece. Transportation affects public safety, it affects education. But public safety is going to take priority because again, you cannot have a society or a district or neighborhood or a community that doesn't feel safe. We have a housing project in Stapleton that hasn't had cooking gas in nine months. Now, what do you think is the result of the families living in this condition? That affects public safety, it affects your mental state. How you live is how you're going to look at the world around you. So we can't have people live in inhumane conditions, and then not expect to have issues coming out of that neighborhood.
Powered By
NEXT STORY: This week's biggest Winners & Losers