New York City
Adams' gun violence plan targets bail reform
Mayor Eric Adams unveiled a plan that includes calling for changes to state bail law and launching a new version of anti-crime unit.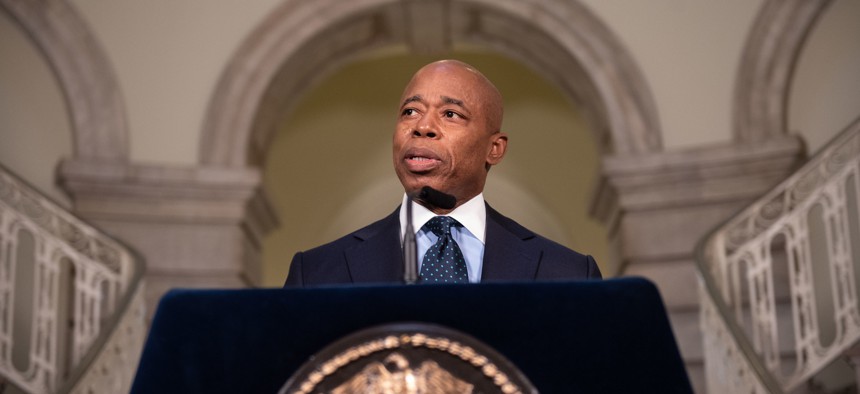 The first few weeks of Mayor Eric Adams' term have coincided with a rash of violence in New York City – a 19 year-old killed during a robbery at Burger King, a police officer killed and another wounded while responding to a domestic disturbance call in Harlem, a baby shot in the Bronx. That's in addition to other violent crimes, including the death of Michelle Go, who was killed after being pushed onto subway tracks in Times Square.
On Monday, Adams unveiled a public safety plan to address the rise in crime and shootings in the city during the COVID-19 pandemic – something he campaigned on aggressively. Adams' "Blueprint to End Gun Violence" includes deploying gun-violence focused New York City Police Department teams in precincts with high rates of violence, working with state police and federal law enforcement to increase gun trafficking detection at bus and train stations, and creating a quality of life task force to improve delivery of mental health and other resources to neighborhoods with rising rates of crime. "Statistically, New York City is still the safest big city in America, but we're not going to be satisfied with statistics," Adams said on Monday. "No matter how effectively we get guns off the streets, more just keep coming in," he added.
Adams, a former cop, said during his campaign that he would revive the NYPD's often criticized plainclothes anti-crime unit but revamp it as an anti-gun unit trained with a focus on community relations and equipped with body cameras. The neighborhood safety teams that Adams announced on Monday appear to be the reimagined version of those units, with Adams noting that they will not only wear body cameras but be identifiable as police. Those teams will start to be deployed in the next three weeks, focusing on 30 precincts in the city where 80% of violence occurs. Adams did not have an estimate on Monday for how much his multi-point blueprint would cost.
In addition to gun violence prevention measures that Adams outlined for the city, the new mayor called on state lawmakers to amend recent bail and criminal justice reforms – a thorny issue for Democrats in Albany – in order to make it easier to prosecute gun crimes. Adams called on the state to allow judges to consider the "dangerousness standard" when deciding whether to release someone facing charges. "Forty-nine other states, as well as the federal government, allow judges to consider a defendant's dangerousness. New York must catch up," Adams said on Monday. "Judges must be able to evaluate the defendant's criminal history and the circumstances of the alleged crime to detain those Individuals who pose an immediate threat to the safety of the community."
State Sen. Todd Kaminsky, a moderate Democrat from Long Island, supported bail and discovery reforms in 2019 but lost to Republican Anne Donnelly in a special election for Nassau County district attorney last fall that was seen as a referendum on bail reform. Kaminsky immediately voiced his support for Adams' proposed changes on Monday. "I have long believed – and as a prosecutor in the federal criminal justice system practiced this way – that allowing judges to take a defendant's dangerousness into account when determining bail is logical and appropriate," Kaminsky said in a statement. 
Adams also said that lawmakers in Albany should revisit the 2019 reforms to discovery law, which required prosecutors to hand over more types of information to defendants and to do so in a timely manner. "We must allow district attorneys to move forward earlier with gun charges," Adams said on Monday.
The mayor also called for the state to raise the penalty for gun trafficking, making it a felony to sell three or more guns in a single year – down from the current minimum of 10 guns – and to classify the possession of three or more guns as presumptive evidence of trafficking. Finally, Adams said the state should revisit "raise the age" legislation that lifted the age of criminal responsibility to 18 years old. Adams said that the law is being used as a loophole for kids under 18 to take the fall and claim ownership of guns that don't actually belong to them. "If a 16 or 17 year old is arrested on a gun charge, the NYPD should ask the individual where they got the gun from," he said. "If the individual refuses to disclose that information, prosecutors should have the ability to charge the individual in criminal court rather than family court."
New York City Council Member Tiffany Cabán, a former public defender and progressive Democrat, criticized Adams' call for bail changes, along with other aspects of his gun violence prevention plan. "I strongly oppose reversing common-sense bail reform, removing vital safeguards on the rights of the accused, expanding the use of facial recognition technology, and moving minors accused of gun possession out of family court and into criminal court," Cabán said in a statement, referencing Adams' statements on bail as well as a separate proposal to use facial recognition technology to identify people carrying weapons. 
Though leading Democrats in Albany have expressed hesitation to take up bail changes again, Adams expressed confidence on Monday that Gov. Kathy Hochul will be a partner in his goals. "She gets it," he said. "She has to make a determination from her team on what she's going to push forward, but I think she understands that we are at a real crossroads of safety in the city."